OCTOBER 31 UPDATE: Sony's latest episode in the adventures of Robert Landgdon starring Tom Hanks and Felicity Jones fizzled out at the box office with a dismal confirmed $14.9m debut in 3,576 theatres.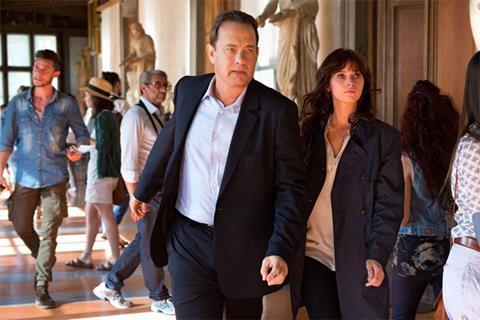 Inferno arrived as number two as Boo! A Madea Halloween held on to pole position and the top 12 generated $78m, dropping 31.3% against last weekend but gaining 19.7% against the comparable session in 2015.
However comparisons with previous Langdon instalments do not stand up well as Inferno managed roughly one-third of the $46.2m opening weekend that Angels & Demons delivered in 2009, dropping to 28% when adjusted to inflation to $51.9m.
Against the $77.1m 2006 debut of The Da Vinci Code, Inferno managed just under 20%, dropping to 16% against inflation-adjusted $92.3m. Ron Howard directed and Brian Grazer produced Inferno, as they did the previous two entries in the franchise.
Boo! A Madea Halloween added $17.2m for $52.6m via Lionsgate after two sessions – very comfortable given the reported $20m production cost but not factoring in marketing spend.
Jack Reacher: Never Go Back fell one slot to number three on $9.6m for $39.8m after two weekends, while Warner Bros' The Accountant held firm at number four on $8.5m for $61.3m after three.
Bollywood title Ae Dil Hai Mushkil debuted in tenth place via FIP on $2.2m from 302 sites.
A24 release the documentary Oasis: Supersonic at number 39 on $16,880 from 14 venues. The one-night-only release is available on iTunes and on-demand.
This week's wide releases are: Marvel Studios' Doctor Strange starring Benedict Cumberbatch through Buena Vista; Lionsgate's wards contender and war film Hacksaw Ridge marking the directorial return of Mel Gibson; and Dreamworks Animation's Trolls through Fox.

Confirmed top 10 North America October 28-30, 2016
Film (Dist) / Conf wkd gross / Conf total to date
1 (1) Boo! A Madea Halloween (Lionsgate) Lionsgate International $17.2m $52.6m
2 (-) Inferno (Sony) Sony Pictures Releasing International $14.9m –
3 (2) Jack Reacher: Never Go Back (Paramount) Paramount Pictures International $9.6m $39.8m
4 (4) The Accountant (Warner Bros) Warner Bros Pictures International $8.5m $61.3m
5 (3) Ouija: Origin Of Evil (Warner Bros) Warner Bros Pictures International $7.1m $24.7m
6 (5) The Girl On The Train (Universal) Mr Smith Entertainment $4.4m $66m
7 (6) Miss Peregrine's Home For Peculiar Children (Fox) Fox International $4.1 $79.9m
8 (7) Keeping Up With The Joneses (Fox) Fox International $3.4m $10.8m
9 (9) Storks (Warner Bros) Warner Bros Pictures Animation $2.9m $68.3m
10 (-) Ae Dil Hai Mushkil (Fox International Pictures) Fox International $2.2m –