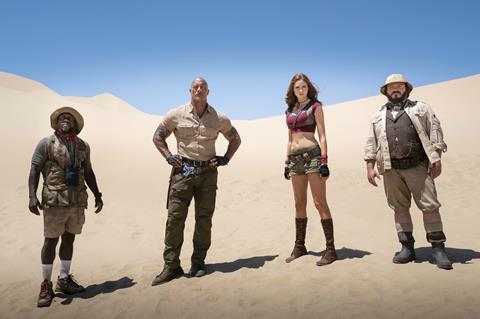 Frozen 2 has become the sixth Disney film to cross $1bn at the global box office in 2019 as Jumanji: The Next Level ruled international box office on an estimated $85.7m weekend haul.
Universal's rom-com Last Christmas surged past $100m worldwide, and Lionsgate/MRC's Knives Out climbed to $83.3m internationally.
SONY PICTURES RELEASING INTERNATIONAL
UPDATED: Jumanji: The Next Level brought in $86.8m from 52 markets as the early running total climbed to $153.6m, while worldwide has reached $212.9m.
Buoyed by debuts in 34 markets, the fantasy adventure starring Dwayne Johnson, Kevin Hart, Karen Gillan and Jack Black opened in the UK on $12.5m over five days including previews to beat the 2017 predecessor Jumanji: Welcome To The Jungle by 32%.
It opened in Russia on $9.3m including previews to track 22% ahead, and arrived in Germany on $4.5m including previews to finish double the opening of Welcome To The Jungle.
Elsewhere The Next Level opened in the Middle East on $6.4m including previews for Sony's second biggest opening of all-time; South Korea on $5.7m over five days; and Mexico on $5m, beating the first film by 78%. It debuted in India on $4m including previews, Spain on $2.7m, Japan on $2.2m, Ukraine on $1.5m, Hong Kong on $1.3m, Vietnam on $1.1m including previews, and Belgium on $1m including previews.
Coming up are Italy on December 25, Australia on December 26, and Brazil on January 16.
WALT DISNEY STUDIOS MOTION PICTURES INTERNATIONAL
UPDATED: A $76m global weekend for Frozen 2 raised the running total to $1.033bn to rank as the seventh highest grossing animation of all time, while internationally the film added $56.9m for $667.2m. It remains the number one film in South Korea on $85.4m after a $7.5m weekend, Japan on $67.3m after $7.1m, Germany on $39.8m after $4.3m, France on $37.1m after $4m, Australia on $15.5m after $2.5m, as well as New Zealand, Peru, Colombia, Central America, Chile, Ecuador, Paraguay, Uruguay, and Venezuela.
China is the top market on $111.4m, following a $5.5m session. The UK has delivered $49.7m after $4.3m, Russia $27.2m after $2.9m, Mexico $23.8m after $1.5m, Italy $17.4m after $1.9m, Spain $17m after $1.3m, Philippines $15.3m after $800,000, and Indonesia $14.1m after $700,000. Frozen 2 opens in Brazil on January 2, 2020.
It ranks as the highest animation release ever in South Korea, Indonesia, the Philippines, Malaysia, Thailand, Bosnia, Romania, Serbia, UAE and Ukraine, and is the second highest animation release of all time in India.
Fox's Ford v Ferrari added $5.5m for $86.8m internationally, and stands at $185m worldwide. Russia has pole position among the territories on $9.9m, followed by France on $8.8m, and the UK on $7.7m.
LIONSGATE INTERNATIONAL
UPDATED: Knives Out from Lionsgate and MRC coaxed a further $14.2m from 73 markets as the early running total climbed to $84m, as worldwide reached $162.8m. Brazil was the best of the new openers with a $1.1m number one result.
China is the lead market for Rian Johnson's all-star whodunnit on $27.3m and three weekends, while the UK has produced $10.9m after three to rank fourth, Australia $5.5m after three to rank second, and South Korea and Italy $3.2m and $2.8m in the second session respectively, both for fourth place.
Knives Out opens in Germany on January 2, 2020, and in Japan on January 31, 2020.
UNIVERSAL PICTURES INTERNATIONAL
UPDATED: Audiences continue to respond to Emilia Clarke and Henry Golding in Last Christmas as the rom-com crossed $100m worldwide. It earned $7.6m from 64 territories for a $66.9m running total, and $101.3m worldwide. The UK was the top holdover on $1.6m for $20.8m after five weekends.
Slasher remake Black Christmas opened in its first 37 markets, earning $3m led by $412,000 in France, $304,000 in Germany, $247,000 in Spain, and $230,000 in the UK. The Addams Family added $2.9m from 39 for $77.3m through Universal, $93.2m from all distributors, and $189.7m worldwide. Downton Abbey has reached $91.8m internationally and $188.6m worldwide and opened in China at number seven on $1.7m.
WARNER BROS PICTURES INTERNATIONAL
UPDATED: R-rated smash Joker climbed to $727.3m following a $1.8m weekend from 64 markets. The worldwide tally stands at $1.06bn, with the UK the lead market on $72.3m, France on $47.7m, Japan on $46.2m, and Mexico on $43.9m.
The Good Liar has reached $11.2m, and Edward Norton's noir adaptation Motherless Brooklyn stands at $6m.