Jupiter Ascending grossed $32.5m from a little under 10,200 screens in 65 countries led by $4.7m from 1,900 in Russia and $2.5m from 392 in France.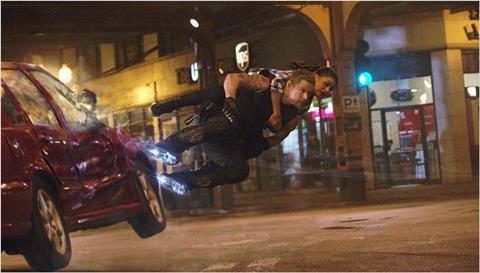 WARNER BROS PICTURES INTERNATIONAL
In South Korea Jupiter Ascending generated $2.1m from 561, while it took $2m from 623 in the UK and Brazil and Mexico generated $1.9m from 538 and $1.8m from 1,025, respectively. The sci-fi grossed $2.7m from 207 Imax screens.
The Hobbit: The Battle Of The Five Armies grossed $9.7m for $686.4m. China produced $8.7m to become the studio's second biggest release of all time.
American Sniper grossed $6.5m from 30 markets for $79m. The war film stands at $11.7m in Australia and $16.6m in the UK.
PARAMOUNT PICTURES INTERNATIONAL
The SpongeBob Movie: Sponge Out Of Water added $16.2m from 25 territories to reach an early $26.8m.
The family film opened top in Brazil on $4.6m from 508 sites for the second biggest animation launch outside school or national holidays.

It also debuted at number one in Spain on $1.9m from 329 and also opened top in Venezuela and Peru, earning $1.1m from 65 and $950,000 from 84, respectively.

The number one launch in Argentina delivered $910,000 from 153 while Turkey returned $683,000 from 102 for Paramount's all-time biggest animation debut and the seventh in animation history.

Mexico delivered $2.4m in the second session for $11.1m and Sponge Out Of Water is already tracking three times more than the original. The film arrives in Russia this week.

Project Almanac added $1m from 12 markets for an early $3.4m. The time-travel saga heads into the UK on February 20 and Germany on March 5.

The Gambler stands at $4.9m, while Teenage Mutant Ninja Turtles opened in the final market of Japan and produced $2.1m for first place as the international running total climbed to $286.7m.

WALT DISNEY STUDIOS MOTION PICTURES INTERNATIONAL
Big Hero 6 crossed $500m worldwide at the weekend to become Disney's fourth 2014 release to do so. It added $13.1m for $505.1m globally while the $12.7m international haul from 33 territories boosted the tally to $286.6m and $66.7m in Japan, where it ranked number one for the fifth consecutive weekend.

Big Hero 6 has generated $20.2m in Russia, $17.2m in Australia, $17m in Mexico and $16.3m in South Korea. It is set to open in France this week and China on February 28.

Into The Woods grossed $3.4m from 23 territories and climbed to $45.9m. The musical opened on $1m in Mexico.
FOX INTERNATIONAL
Exodus: Gods And Kings crossed $200m as $1.5m from nine markets boosted the running total to $201.5m.

Taken 3 grossed $11.2m from 50 to reach $183.8m and added $1.9m for $7.6m in Mexico after two weekends.

Night At The Museum: Secret Of The Tomb grossed $7.8m from 21 markets to reach $215.5m. The family sequel opened in France at number two on $2.9m from 630 and held on to top spot in its second session in Italy on $1.6m for $4.6m.

Kingsman: The Secret Service used $7.7m from to leap to $17.7m and opened in Australia on $3.5m for number one. The UK produced $3.4m in the second weekend for $12.7m.
Birdman has reached $33.9m and flew into Italy on $1m for a fifth place finish.
LIONSGATE INTERNATIONAL
The Hunger Games: Mockinjay — Part I debuted in China on Sunday (February 8) on an estimated $10m (Rmb 62m).
UNIVERSAL PICTURES INTERNATIONAL
The Theory Of Everything added $5.3m from 4 territories for $59.1, while Unbroken took $3.2m from 50 for $42.8m and Legendary's Blackhat has reached an early $8.7m. Ouija has grossed $48.3m and The Boy Next Door $2.4m.

Legendary's Seventh Son stands at $83.6m, of which $25.5m comes from China via Legendary East.
SONY PICTURES RELEASING INTERNATIONAL
Annie aded $2.3m from 31 territories for $36.9m while The Interview took $2.2m from 13 for an early $2.9m. The controversial comedy arrived in Germany on $918,000 in fifth place and opened at number four in the UK on $410,000 and arrived in Spain on $407,000.

Fury stands at $126m, of which Sony accounts for $80.3m and the $45.7m balance comes form financier QED International.
STUDIOCANAL
Shaun The Sheep debuted in the UK on $3.4m to most likely rank third.
Paddington climbed to $54.6m while The Imitation Game climbed to $24.3m.