UPDATED JUNE 29: Universal's global smash held on to pole position in its third weekend and used a confirmed $54.5m to become the fifth film to cross the half-billion mark.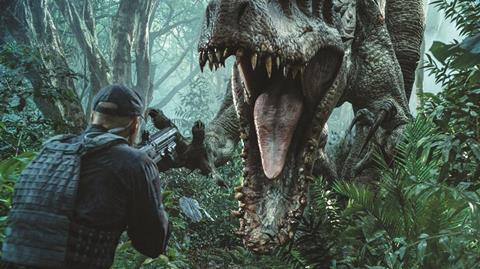 Jurassic World stands at $500.4m and combines with the $745.5m international haul for $1.246bn worldwide. The other four members of the $500m club are Avatar on $760.5m in 2009, Titanic on $658.7m in 1997, The Avengers on $623.4m in 2012 and The Dark Knight on $534.9m in 2008.
Disney-Pixar's Inside Out held firm at number two on $52.3m for a mighty $185.1m after two sessions. Last week Walt Disney Studios executives said the division crossed $1bn at the North American box office in a record 174 days for the studio.
The top two films are the latest drivers in what is shaping up to be a record year at the box office, fulfilling the predictions of many an industry observer. By June 24 figures on Rentrak showed box office had reached $5.303bn, an unprecedented high by that stage.
Back to the weekend box office and two new arrivals delivered less bombastic results.
Universal and MRC's R-rated comedy sequel Ted 2 featuring Seth MacFarlane and Mark Wahlberg opened at number three on $33.5m, a drop of just under 40% compared to the $55.4m debut of the 2012 original and 41.6% when adjusted to $57.38 for inflation. Sources said the budget for Ted 2 came to $85m inclusive of rebates.
MGM's family film Max arrived in fourth place via Warner Bros on $12.2m, a decent number considering some outlets have reported the budget at $20m.
Love & Mercy has amassed $9.3m after four weekends via Roadside Attractions and the distributor opened Escobar: Paradise Lost on $106,869 from 105. Focus debuted Alan Rickman's A Little Chaos starring Kate Winslet, Matthias Schoenaerts, Rickman and Stanley Tucci on $181,791 from 83.
Warner Bros released the documentary Batkid Begins and reported $19,437 from four venues.
Rialto's re-release of Carol Reed's 1949 Cold War noir classic The Third Man starring Orson Welles generated $24,832 from three venues.
Overall box office for the top 12 amounted to $174.1m and fell 28.2% against last weekend and fell less than a point against the comparable session in 2014 when Transformers: Age Of Extinction opened top on $100m and the top 12 generated $172.8m.
This week's wide releases are Paramount-Skydance's Terminator Genisys starring Arnold Schwarzenegger, Emilia Clarke and Jason Clarke and Magic Mike XXL featuring Channing Tatum via Warner Bros.
Confirmed top 10 North America June 26-28 2015
Film (Dist) / Conf wkd gross / Conf total to date

1 (1) Jurassic World (Universal) Universal Pictures International $54.5m $500.4m
2 (2) Inside Out (Buena Vista-Pixar) Walt Disney Studios Motion Pictures International $52.3m $185.1m
3 (-) Ted 2 (Universal-MRC) Universal Pictures International $3.53m –
4 (-) Max (Warner Bros-MGM) Warner Bros Pictures International-MGM $12.2m –
5 (3) Spy (Fox) Fox International $7.9m $88.5m
6 (4) San Andreas (Warner Bros) Warner Bros Pictures International $5.4m $141.9m
7 (5) Dope (Open Road) Sony Pictures Releasing International $2.8m $11.7m
8 (6) Insidious: Chapter 3 (Focus) Universal Pictures International $2m $49.8m
9 (8) Mad Max Fury Road (Warner Bros) Warner Bros Pictures International $1.8m $147.1m
10 (9) Avengers: Age Of Ultron (Buena Vista-Marvel Studios) Walt Disney Studios Motion Pictures International $1.7m $452.5m