Universal and Legendary's juggernaut will become the fastest film in history to reach the milestone on Monday, its 13th day in release.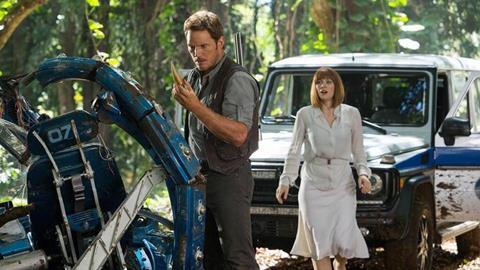 Jurassic World will take its place alongside Fast & Furious 7 as Universal's second film of the year-to-date to cross $1bn at the global box.
Studio chiefs also confirmed that the weekend's $106.6m North American haul set a new record as the biggest second-weekend session of all time.
In another new high-water mark the film crossed $500m internationally on Saturday in a record 11 days en route to a $584.4m running total.
As of Monday morning that figure combined with $402.8m from North America for a $987.2m global running total.
Universal and Legendary's Jurassic World continued to dominate the globe with two record second-weekend sessions internationally and in North America.
UNIVERSAL PICTURES INTERNATIONAL
UPDATED: Jurassic World added a confirmed $163.4m from international 66 territories via Universal Pictures International in the biggest second weekend for an international day-and-date release.
The film will this week pass the $640m lifetime total of Jurassic Park including first-run, re-issues and 3D to become the biggest in the franchise.
China leads the way on $164.4m, followed by the UK on $60.3m, Mexico $29m, South Korea $27.3m, Germany $26.3m, France $23.5m and Australia $23.4m.
Jurassic World has generated $17.8m in Russia, $17.2m in Taiwan, $15.6m in Brazil, $15.4m in India, $13.5m in Spain, $11.5m in Italy, $9.1m in Malaysia, $9m in the Philippines and $8.6m in Venezuela.
The adventure is the last territory to go and will open in Japan on August 5.
Imax generated $22.1m worldwide from 809 venues for $84m to cross $80m in a record 12 days that supplanted the previous 23-day speed record set by Avatar.
Universal and Illumination Entertainment's Minions ventured into its first four international territories and delivered $12.5m from Indonesia, Malaysia, Singapore and Australia, opening top everywhere except Australia where it ranked number two behind Jurassic World.
The Despicable Me spin-off scored the biggest opening weekend of all time for an animated film in Malaysia and the second biggest animated debut in Singapore behind Kung Fu Panda 2.
This week the family release arrives in the UK, Brazil and Poland among others.
Pitch Perfect 2 continues its run in 33 territories and grossed $1.3m for $94.7m and stands at $272.3m worldwide.
There are 13 territories to go including Chile this week.
WARNER BROS PICTURES INTERNATIONAL
UPDATED: San Andreas crossed $400m worldwide as $19.3m from approximately 9,200 screens in 67 markets elevated the international running total to $282.8m and the global haul to $415.5m.
The disaster film added $9.9m from 3,300 in China for $92.6m after 20 days in release and become on Sunday the studio's biggest release in Mexico, where $1m from 719 resulted in $28.3m.
The UK has generated $16.5m, South Korea $12.6m, Brazil $10.1m and France $7.6m. San Andreas arrives in Spain this week.
Mad Max: Fury Road surged past $200m as $5.1m from approximately 3,343 screens in 58 markets pitched the international running total to $202.7m.
The R15-rated action reboot opened in first place in Japan ahead of local release Love Live on $2.1m from more than 660 screens.
South Korea is the lead market on $29.7m, followed by the UK on $26.2m, France on $18.6m, Australia on $16.4m, Russia on $13.3m, Brazil on $11m, Germany on $9.1m, Mexico on $8m, Spain on $4.2m and Italy on $3.4m
Entourage grossed $2.7m from 1,619 screens in the UK, Australia and 30 smaller markets to reach an early $9.1m. It opened in the UK on $980,000 from 409 and opens this week in France.
LIONSGATE INTERNATIONAL
The Divergent Series: Insurgent used an $11.7m China debut on the cusp of the annual blackout blockade of Hollywood releases for several weeks to push the film past $290m and the $289m lifetime total of predecessor Divergent.

The YA adaptation has amassed $16.8m in France, $12.2m in Brazil, $11.9m in the UK, $9.4m in Australia and $9.2m in Mexico.
FOX INTERNATIONAL
UPDATED: Spy recouped a further $9.6m from 61 markets to boost the tally to $96m and opened at number three in France on $1.4m from 351 screens.
The UK generated $1.4m from 546 in second place for $11.3m after three weekends, while Germany delivered $1.1m from 622 for $3.9m after three.
Fox International Productions' Dragon Ball Z: Resurrection F used an outstanding $7.1m haul from nine Latin American territories to propel itself to $38m.
The film opened at number three in Mexico on a terrific $3.4m from 713 and scored Fox's sixth biggest number one debut in Peru on $1.2m from 195. The studio earned its sixth biggest opening weekend in Ecuador, where the film placed second on $476,000.
Poltergeist added $4.3m from 37 markets to reach $30.9m. Russia delivered the highest result of six new markets on $1.6m from 1,519 for third place.
The Longest Ride opened in the UK on $641,000 from 397 locations and stands at $23.7m internationally. Aloha stands at $3.8m.
SONY PICTURES RELEASING INTERNATIONAL
UPDATED: Insidious: Chapter 3 grossed $6.8m on 2,170 screens in 53 territories as the international running total climbed to $31.8m.
The horror debuted at number five in Argentina on $345,000 from 80, roughly 69% ahead of the previous episode.
Local Spanish rom-com Ahora O Nunca (Now Or Never) arrived in second place in Spain on a confirmed $1.8m from 428 to rank as the best debut of the year-to-date for a local title.