JUNE 22 UPDATE: A monster North American session saw Universal-Legendary's smash produce the second biggest second weekend ever to reach $402.8m, while Inside Out scored the biggest opening for an original property on $90.4m.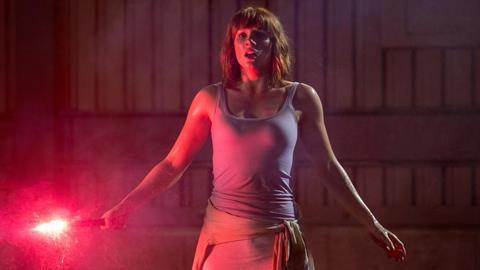 Jurassic World added $106.6m to cross $400m on its 10th day and set a new speed record in the process. The weekend haul beat the previous best second weekend of $103.1m set by The Avengers in 2012.
The action smash also bears the distinction of being the fastest North American release to cross $100m and every $50m staging post thereafter all the way up to $400m.
Meanwhile Disney-Pixar's Inside Out scored a record debut for a film based on an original property as it overtook Avatar's six-year $77m record. It ranks second in the Pixar opening weekend pantheon behind Toy Story 3's $110.3m from 2010.
Overall this was a powerful session as $242.4m from the top 12 fell 8.9% against last weekend and gained 43% on the comparable weekend in 2014 when the top 12 films generated $138.8m and Think Like A Man Too ruled the roost.
San Andreas in fourth place has reached $132.7m via Warner Bros and crossed $400m worldwide this weekend to stand at $415.5m.
Sundance hit Dope opened at number five on $6.1m via Open Road Films, while Love & Mercy dropped two places to number 12 in its third session and added $1.7m from 791 for $7.2m through Roadside Attractions.
ABCD (Any Body Can Dance) debuted via UTV on $444,195 from 146 sites. Eden launched via Broad Green Pictures in three venues in New York and Los Angeles, earning $20,213.
Universal's powerhouse run looks likely to continue this week when the studio unleashes its Seth MacFarlane comedy Ted 2 that also stars Mark Wahlberg. Warner Bros releases the family title Max with Lauren Graham, Thomas Haden Church and Jay Hernandez.
Confirmed top 10 North America June 19-21 2015
Film (Dist) / Conf wkd gross / Conf total to date

1 (1) Jurassic World (Universal) Universal Pictures International $106.6m $402.8m
2 (-) Inside Out (Buena Vista) Walt Disney Studios Motion Pictures International $90.4m –
3 (2) Spy (Fox) Fox International $11.2m $75.1m
4 (3) San Andreas (Warner Bros) Warner Bros Pictures International $8.7m $132.7m
5 (-) Dope (Open Road) Sony Pictures Releasing International $6.1m –
6 (4) Insidious: Chapter 3 (Focus) Universal Pictures International $4.1m $45.3m
7 (5) Pitch Perfect 2 (Universal) Universal Pictures International $3.5m $177.7m
8 (7) Mad Max Fury Road (Warner Bros) Warner Bros Pictures International $3m $143.8m
9 (8) Avengers: Age Of Ultron (Buena Vista-Marvel Studios) Walt Disney Studios Motion Pictures International $2.8m $449.4m
10 (9) Tomorrowland (Buena Vista) Walt Disney Studios Motion Pictures International $2.2m $87.9m