MARCH 13 UPDATE: Logan, Resident Evil: The Final Chapter near $300m.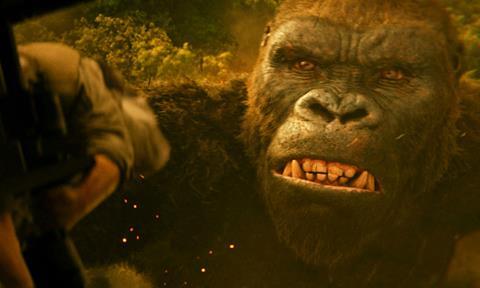 WARNER BROS PICTURES INTERNATIONAL
UPDATED: Legendary Entertainment and Warner Bros' Kong: Skull Island stomped into the international marketplace at number one, grossing $85.1m from 65 markets – considerably higher than weekend estimates.
The UK was the top market on $7.6m, 49% ahead of the number two title Logan. The action film starring Tom Hiddleston, Brie Larson and Samuel L. Jackson, stands on $7.4m in South Korea, followed by $6.2m in Russia and $5.7m in Mexico, on par with 2014's Godzilla.
France has generated $4.3m and Taiwan $3.6m – distinguished by a 101% increase from Friday to Saturday, a rare feat for a tentpole. Perhaps unsurprisingly, the Vietnam-Era storyline delivered the highest opening weekend of all time in Vietnam on $2.2m from 377 screens.
Australia has produced $3.6m, Brazil and Germany on $3.4m apiece, and Malaysia $2.7m.
The second instalment of the Legendary-Warner Bros 'MonsterVerse', following 2014's Godzilla reboot roared loudly on IMAX and took an estimated $4.8m internationally. Kong: Skull Island is the fourth highest-grossing March IMAX opening ever and the second highest debut without China, where it opens on March 24.
The LEGO Batman Movie added $5m from 59 markets, bringing the follow-up to The LEGO Movie to $116.3m. The UK is the animation's top grossing territory on $32.3m. Mexico has grossed $8.1m, Germany $6.7m, Brazil $6.2m, and France and China both on $5.4m. Australia is the next to receive the film on March 30.
FOX INTERNATIONAL
UPDATED: Retaining the number one position in eight countries, Logan starring Hugh Jackman added $69.1m from 84 markets in its second weekend to reach $284.4m.
According to executives the second session was 20% bigger than X-Men: Apocalypse and only 10% behind early summer 2014 release X-Men: Days Of Future Past in the same bucket of markets at current exchange rates.
China added $18.5m for $87.5m, Brazil $5.8m for $18.1m, the UK $4.8m for $21.1m, South Korea $3.4m for $13.1m, and Australia $3.4m for $11.3m. Japan is the next major market to open on June 1.
Logan earned another $1.8m from 438 IMAX screens for $27.1m, with $1.4m coming from IMAX screens in China.
Bollywood romantic comedy Badrinath Ki Dulhania from Fox International Productions and FoxStar, generated $8.7m from India and the UK. In India, Badrinath Ki Dulhania scored the biggest opening weekend of all time for March.
Hidden Figures scored another $5.2m in 45 markets. Fox executives reported strong debuts in France and Italy on $1.3m and $905,000, respectively. Combined with the $10.4m running total from Australia and $6.6m in the UK, the film stands at $43.3m internationally.
Assassin's Creed secured $769,000 from three markets, bringing the Michael Fassbender starrer to $185.7m.
SONY PICTURES RELEASING INTERNATIONAL
UPDATED:The horror-thriller Resident Evil: The Final Chapter delivered $6.5m from 34 markets for an international total of $280.2m and a worldwide tally of $306.9m.
Danny Boyle's sequel T2 Trainspotting added $2m from 38 markets, including five new openings. The film now stands at $33.2m.
UNIVERSAL PICTURES INTERNATIONAL
UPDATED: Fifty Shades Darker grossed $5.1m from 57 territories with no new openings, bringing the international gross to $256m. Combined with the US total of $112.9m, the erotic drama stands at $369.1m globally.
Germany is the film's top holdover at number three after adding $1.3m for $30.3m. The UK stands at $28.3m and France $23.2m, while Brazil is not far behind on $20.6m. Italy has grossed $15.8m, Australia $13.5m, Spain $13.3m and Russia $12.9m. Poland and Mexico have grossed $7.3m and $6.3m, respectively.
There are two more territories to open: The UAE on March 23 and Japan in late June.
Illumination and Universal's Sing exits the weekend on $309.5m after it brought in a further $6.1m from 43 territories. Russia opened well last weekend and held at number three on $3.1m for $14m. China ranks sixth in week four on $1.4m for $29.4m. Japan will be the final release this week.
M. Night Shyamalan's Split from Blumhouse Productions brought in $4.2m from 49 territories for $112.2m. France ranks fourth in week three with $1.4m for $8.9m. Mexico placed third on $589,000 in its fourth session for $7.5m.
Russia opens this week, Brazil on March 23 and Japan on May 12.
The Great Wall from Legendary and Universal added $2.2m over from 42 for $113.4m and the worldwide haul has reached $327.3m. The next and final release is Japan on April 14.
Amblin Entertainment's A Dog's Purpose, which Universal is distributing in 20 territories, added $1m in 17 for $19.1m. The family film stands on $79.6m including $7.8m from Mister Smith markets and China, where it has amassed $52.7m through Huaxia Film Distribution.
Russia opens on March 30 and Japan in late September.
LIONSGATE INTERNATIONAL
After passing the $400m worldwide mark earlier in the week, La La Land added $6.8m from 75 markets. The romantic musical has reached $268.4m internationally and $417m globally.
The acclaimed release starring Ryan Gosling and Emma Stone stands at $37.4m in the UK, a larger sum than three of the Twilight films and two of the Hunger Games films. China is the second-highest grossing market on $35.4m, followed by South Korea on $24.4m, Japan on $20.8m and France on $18.3m.
John Wick: Chapter 2 added $2.5m from 80 markets. The international total stands at $65.6m and $153m worldwide. The UK is the top grossing market on $7.3m after four sessions, followed by Germany on $6.5m after four. Russia has generated $6m, the Middle East $5m and Taiwan $2.6m. Italy is the next major market to debut this week.
WALT DISNEY STUDIOS MOTION PICTURES INTERNATIONAL
Disney executives expect Moana to cross $600m globally in short order. The animated musical opened at number one in its final territory of Japan where $6.3m delivered the third highest opening weekend for any Disney Animation release behind Frozen and Big Hero Six.
The film grossed $7m over the weekend for a $348.8m running total. The top three markets are France on $35.4m followed by China and the UK on $32.7m and $24.6m, respectively.
SIERRA/AFFINITY
Manchester By The Sea added $893,000 for $24.9m through Sierra/Affinity and Universal Pictures International, which accounts for $13.5m of the running total. Australia has produced $1.9m after six sessions and Germany $2.2m after eight.