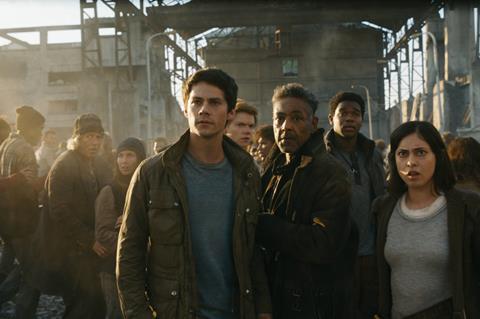 JANUARY 29 UPDATE: Maze Runner: The Death Cure ruled the international weekend, surging by $64.6m from 70 markets to reach an early $83.9m, powered by a $22.2m number one debut in China.

FOX INTERNATIONAL
UPDATED: Russia was next on $4.2m, where the YA adventure also debuted in first place, followed by South Korea on a $3.3m number three hold in the second session for $15.1m.
Elsewhere, The Death Cure opened top in Indonesia on $2.9m for Fox's fifth highest debut in the market, and arrived in the UK on $3m number three. In a slew of number one debuts, Brazil delivered $2.3m, Malaysia $2.3m, Thailand $2.1m, Spain $1.7m, and Hong Kong $1.5m. Australia produced $1.7m for $5.4m after two and the film ranks third.
In Latin America, The Death Cure debuted in Peru on $708,000, Argentina on $691,000, Colombia on $630,000, and central America on $489,000.
Ferdinand brought in a further $11.8m for $175.7m, rising to $18m in China after a $5.1m second session, and $9.9m in Brazil following $1.5m in the third weekend. The Greatest Showman added $10m for $133m and debuted in France in third place on $1.6m. The UK generated $2.7m in the fifth session to climb to $26.9m.
Three Billboards Outside Ebbing Missouri stands at $34.3m after an $8.5m session and arrived in Germany in fourth place on $1.1m. The UK produced $1.7m for $10.3m after three weekends and France stands at $2.8m after two.
The Shape Of Water grossed $3.3m for $13.9m and added $1.8m in director Guillermo del Toro's home turf Mexico to reach $9.9m and stay top in the third sessions. The fantasy drama earned 13 Oscar nods last week and will roll out in the bulk of the international marketplace throughout February.
CHINA UPDATE
Bollywood musical Secret Superstar with Aamir Khan brought in a further $19.7m for $67.5m.
SONY PICTURES RELEASING INTERNATIONAL
UPDATED: Jumanji: Welcome To The Jungle overtook the original Spider-Man at the weekend to become Sony's fifth highest worldwide release. The adventure added $18.7m internationally to reach $484m and brought in $34.1m worldwide as the running total climbed to $823 to squeeze past Spider-Man's $821.7m final tally. China is the lead market on $72.4m, followed by the UK on $46.2m, Australia on $34.8m, France on $25.9m, and Russia on $24.8m.
Insidious: The Last Key has become the highest grossing film in the horror franchise internationally as a further $7.3m from 53 markets propelled the running total to $81.1m. Insidious: Chapter 2 ranks as the second highest on $77.9m, then Insidious: Chapter 3 on $69.7m, and the original on $46.4m.
Oscar-nominated drama Call Me By Your Name has grossed $6.4m following a $1.9m weekend haul and opened in director Luca Guadagnino's home country Italy on $979,000
Help, I Shrunk My Parents, a local-language film from Sony Pictures International Productions, added $1.2m to reach $3m in its second weekend in four German-speaking countries.
WALT DISNEY STUDIOS MOTION PICTURES INTERNATIONAL
Star Wars: The Last Jedi crossed $1.3bn worldwide and is on track to pass $700m internationally on Sunday. A $9m global session elevated the tally to $1.311bn, while $4.8m raised the total to $700.7m internationally. The UK tops the leaderboard on $110.3m, then Germany on $81.2m, France on $64.2m, Japan on $62.6m, Australia on $44.3m, and China on $41.1m.
Pixar's Coco grossed $13.6m for $477.8m internationally, and stands at $680.6m worldwide. China has generated $183.5m, Mexico $57.8m, and France $31.5m.
THE POST
Steven Spielberg's Pentagon Papers drama The Post grossed $10.4m through all distributors including the Amblin Partners network and select Universal territories for a running total of $24.7m. It added $4.6m for $4.7m through Universal, powered by a $3m number one debut in France, and $931,000 in Brazil. The film stands at $3.5m after two weekends via eOne in the UK.
UNIVERSAL PICTURES INTERNATIONAL
UPDATED: Working Title's Darkest Hour stands on the cusp of $100m worldwide after the Winston Churchill drama starring Oscar-nominated Gary Oldman grossed $10.2m for $53.7m internationally and $13.1m for $98.9m worldwide.
Among the five new debutants, Denmark delivered $399,000. The UK generated a further $3.6m in the third weekend after a 20% drop to reach $20.9m and stay top ahead of new opened Maze Runner: The Death Cure. The second weekend in Italy brought $1.3m for $3.2m after two.
Pitch Perfect 3 added $1.7m for $77.3m and stands at $179.7m worldwide. Woody Woodpecker brought in $700,000 from nine territories. Benedetta Follia grossed $1.1m for $9.3m in Italy to rank fourth, while Spanish hit Perfectos Descondidos added $700,000 for $22.3m in the ninth weekend.
BOLLYWOOD UPDATE
Padmaavat, the controversial Bollywood film that has stirred outrage and violence in India for its depiction of a romantic dream sequence, grossed $5.1m internationally and stands at $9.7m worldwide. The drama debuted at number 10 in North America.
WARNER BROS PICTURES INTERNATIONAL
UPDATED: Geostorm added $1.5m in Japan for $6m and the film stands at $182.5m internationally. China leads the way on $65.3m, followed by Russia on $10.1m.
STX INTERNATIONAL
All The Money In The World opened in 14 territories this weekend and generated $1.7m for $17m including the UK, where Sony is releasing. The drama crossed $2m in its firth weekend in France and opened in the Middle East on $401,000.
LIONSGATE INTERNATIONAL
UPDATED: Wonder stands at $265.8m worldwide following a $9.8m international weekend that boosted the tally to $135.7m. The drama debuted in Germany on $2.1m. After 10 days of release, China has produced $18.4m and ranks as the second top market behind Brazil on $27.3m. 12 Strong added $1.8m for $5.4m and opened in the UK on $569,000.
SIERRA/AFFINITY
I, Tonya starring Oscar nominated Margot Robbie added $2.2m for an early $2.4m, fired up by a number one $1.8m debut in Robbie's home turf Australia. The drama arrives this week in Russia.
Molly's Game added $1.5m for $19.9m. In the fourth weekend the drama starring Jessica Chastain and Idris Elba brought in $242,000 in France via SND for $4.1m. It opens this week in Australia.