NOV 30 UPDATE: The Hunger Games finale held on to its number one berth over the North American holiday weekend to ensure that a Lionsgate or Lionsgate-Summit film has held the spot over the same period for the past five years.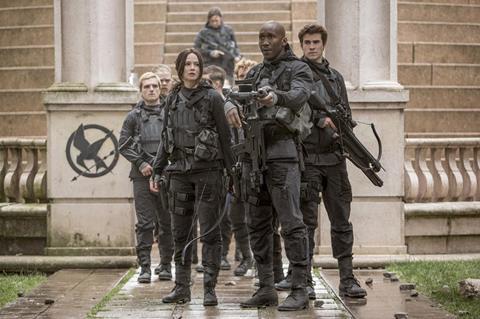 The $52m weekend haul for The Hunger Games: Mockingjay – Part 2 scored the seventh biggest gross for a number one film over Thanksgiving weekend and boosted the North American running total to $198.5m.
The film trails its predecessor but continues to perform well. Imax delivered $5.7m from 371 screens to boost the North American tally to $15.1m.
Pixar's The Good Dinosaur arrived at number two on $39.2m over the Friday-Sunday period, rising to $55.5m since the Wednesday opening day. This was the fourth biggest three-day and five-day debut for a film over Thanksgiving weekend.
MGM-New Line's boxing drama Creed opened via Warner Bros in third place on $29.6m over Friday-Sunday and took $42.1m in total following the Wednesday launch.
Fox's horror-drama Victor Frankenstein starring Daniel Radcliffe and James McAvoy bombed at number 12 on $2.5m from 2,797 sites rising to $3.6m since the Wednesday opening.
STX Entertainment continues to enjoy a solid first year at the box office as thriller The Secret In Their Eyes, slipped 32% in its second session and two places to number seven on $4.4m for $13.9m.
Fox Searchlight's awards contender Brooklyn starring Saoirse Ronan climbed three places to number nine after expanding from 111 to 845 theatres and adding $3.9m for $7.4m after four sessions.
Spotlight, another much-fancied title in the awards season, held firm at number eight through Open Road and grossed $4.4m for $12.3m in its fourth weekend.
Focus Features opened one of its awards hopefuls The Danish Girl starring Oscar winner Eddie Redmayne and Alicia Vikander in four venues for $187,318 for a superb $46,830 average. Universal holds international distribution rights.
FilmRise opened documentary contender Janis: Little Girl Blue on $24,861 in two sites. Content Media handles international sales.
Overall box office for the top 12 generated $173.3m and gained 4.3% on last weekend and 10.6% on the same period in 2014 when the tally reached $154.9m.
This week's wide release sees the arrival of Universal's horror-comedy Krampus.
Confirmed top 10 North America November 27-29, 2015
Film (Dist) / Conf wkd gross / Conf total to date
1 (1) The Hunger Games: Mockingjay – Part 2 (Lionsgate) Lionsgate International $52m $198.5m
2 (-) The Good Dinosaur (Pixar-Buena Vista) Walt Disney Studios Motion Pictures International $39.2m $55.5m –
3 (-) Creed (Warner Bros) Warner Bros Pictures International $29.6m $42.1m
4 (2) Spectre (MGM-Sony) Sony Pictures Releasing International-MGM $12.9m $176.1m
5 (3) The Peanuts Movie (Fox) Fox International $9.7m $116.8m
6 (4) The Night Before (Sony) Sony Pictures Releasing International $8.4m $24.3m
7 (5) The Secret In Their Eyes (STX Entertainment) IM Global $4.4m $13.9m
8 (8) Spotlight (Open Road) eOne Features $4.4m $12.3m
9 (12) Brooklyn (Fox Searchlight) HanWay Films $3.9m $7.4m
10 (7) The Martian (Fox) Fox International $3.2m $218.5m