UPDATED JULY 20: The $30m Chinese-language fantasy adventure secured top berth at the international marketplace ahead of Hollywood's Minions, which was the biggest global earner of the session, as well as China's superhero spoof Jian Bing Man and a bona fide US superhero in the shape of Ant-Man.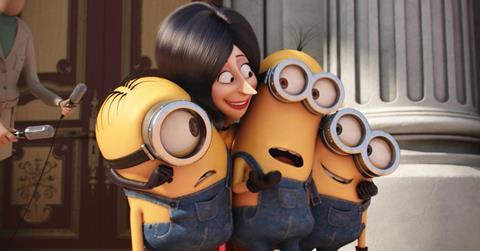 ASIAN TENTPOLES
Hong Kong-based Edko's $30m Chinese-language fantasy adventure Monster Hunt is based on the supernatural classic Strange Tales From A Chinese Studio and centres on the last descendant of the monster kings who tries to unite his race with humans.
Bai Baihe stars in the live-action film, directed by Shrek The Third co-director Raman Hui. The film grossed $72m over the weekend to stand at $99m.
Superhero spoof Jian Bing Man featuring a cameo from Jean-Claude Van Damme added $61m for $62.4m and Monkey King: Hero Is Back climbed by $22.5m to $70m.
Next Entertainment World's NLL – Battle Of Yeonpyeong from South Korea added $4m to reach $38m.
UNIVERSAL PICTURES INTERNATIONAL
UPDATED: Universal and Illumination's Minions was the biggest Hollywood film outside North America thanks to a confirmed $66.1m gross that held off a $57.2m debut from Disney/Marvel Studio's Ant-Man. Combined with $49.2m from North America, Minions ranked as the number one worldwide release on $115.3m. The international tally stands at $410.4m.
Jurassic World crossed $900m internationally following a $12.2m weekend take from 63 territories, overtaking $895.2m set by The Avengers to reach $902.3m and become the sixth biggest international of all time.
It was also due to overtake stablemate Fast & Furious 7's global tally of $1.512bn on Sunday (July 19) to rank as the fourth biggest worldwide film. The final release is scheduled for Japan on August 5.
Ted 2 added $7.1m from 40 territories to reach a lacklustre $66.2m. The 2012 original finished on $330.6m. Pitch Perfect stands at $96.9m and Unfriended $18.3m.
WALT DISNEY STUDIOS MOTION PICTURES INTERNATIONAL
UPDATED: Marvel Studios' Ant-Man opened day-and-date with North America in its first 37 territories to score a confirmed $56m, of which $3m comes from 182 Imax sites. The total rises to $113.2m worldwide factoring in the number one $57.2m North American launch.
In a quartet of number one results, the UK generated $6.3m, Russia $4.6m, Australia and Brazil $4m apiece. Mexico produced $5.6m for second place.
Elsewhere the Paul Rudd starrer grossed $4m in France and $3.6m in Taiwan. In a string of estimates the film delivered $2.8m in Malaysia, $2.7m in the Philippines, $2.6m in Thailand and $1.1m in Argentina.
Ant-Man opened top in all its Asia Pacific territories and delivered the biggest launch for a Marvel Cinematic Universe release in Hong Kong, Indonesia, Malaysia, the Philippines, Singapore, Taiwan and Thailand.
It also ranks number one in Israel, Ukraine, Turkey, Portugal and the Czech Republic.
Disney/Pixar's Inside Out grossed $21.3m from 48 territories to climb to $183.8m and opened top in Spain on $3m. It has reached $14.5m in South Korea after two sessions and stands at $29.2m in Mexico, $21.1m in Australia, $18.6m in Russia and $18.2m in France.
Avengers: Age Of Ultron stands at $937.5m internationally and $1.393.5m worldwide.
PARAMOUNT PICTURES INTERNATIONAL
UPDATED: Terminator: Genisys grossed a confirmed $21.5m from 64 territories to push the running total to $196m. The sci-fi reboot produced a strong number one debut in the UAE on $1.2m from 38 sites for new Terminator franchise and Arnold Schwarzenegger records and scored the studio's fourth biggest opening weekend.
In the second weekend Japan delivered $2.8m from 338 venues for $11.4m, Germany $1.6m from 722 for $5.9m, Argentina $977,000 from 134 for $4.1m and Spain $556,000 from 444 for $2.9m.
A sequence of notable third weekend hauls saw South Korea produce $2m from 470 for $22.7m, the UK $1.3m from 590 for $14.4m, Russia $935,000 from 1,390 for $21m, France $1.1m from 755 for $8.8m, Brazil an estimated $1m from 509 for $10.1m and Australia an estimated $844,000 from 267 for $9.5m.
WARNER BROS PICTURES INTERNATIONAL
UPDATED: Magic Mike XXL generated a confirmed $5.4m from 39 markets to stand at $30.5m. The drama added $1.7m from 398 screens in Australia to climb to $6.7m after two weekends and $814,000 from 408 in the UK for $8.5m after three. It opened in Germany this week followed by Brazil on July 30.
Horror release The Gallows ventured into a further four markets, delivering $2.2m from 18 territories to reach an early $4.3m. It opened in Mexico in third place on $764,000 from 385 and arrived in the UK on $522,000 from 316. Argentina has generated $984,000 after two weekends. The Gallows arrives this week in France, Australia, Russia and Brazil. San Andreas stands at $311.2m and Mad Max: Fury Road $217.3m.
FOX INTERNATIONAL
UPDATED: Spy grossed a confirmed $1.9m from 42 markets to reach $120.3m and arrived in pole position in Italy on $681,442 from 290 screens. UK audiences have generated an estimated $15.4m after seven sessions and and Spain an estimated $2.1m after four, while France has produced a confirmed $4.9m after five.
Paper Towns added $3.4m from five for a promising early $6.7m. The mystery-romance from The Fault In Our Stars author and YouTube video blogger John Green opened at number three in Australia on $1.5m from 225 and has grossed $4.5m in Brazil after two sessions. It is scheduled to open in North America this week via Fox.
Far From The Madding Crowd stands at $15.6m from 20.