JANUARY 11 UPDATE: Fresh from its record-setting $5.5bn global box office haul, Fox continued to demonstrate its international potency as Night At The Museum: Secret Of The Tomb ruled the roost, Penguins Of Madagascar crossed $200m and Taken 3 scored a $10.5m number one UK debut.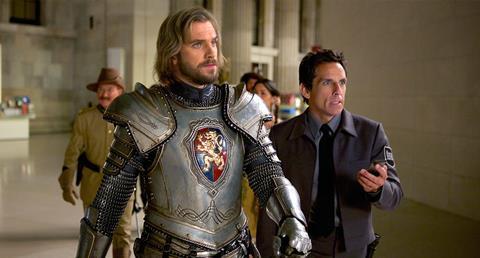 FOX INTERNATIONAL
UPDATE:Night At The Museum: Secret Of The Tomb grossed $45.9m from 66 markets powered by $26.7m from 3,887 screens in China, where the film ranks number one and has been in release for eight days. The overall international running total has climbed to $148.4m.
The comedy opened at number one in Russia on $6.1m on 1,690 screens and added $1.9m in Brazil for $6.8m after two sessions. After three the tally in Mexico climbed by $1.5m to $13.9m and by $1.1m in Australia to $9.3m. The UK produced $1m in the fourth session for $16.9m.
Secret Of The Tomb arrived in the Philippines in second place on $781,000 on 151 for a franchise record and scored a $819,000 number two debut in Argentina on 160.
Taken 3 produced $40.9m from 38 markets to propel the early tally to $52.1m as a $10.5m number one debut on 800 UK screens fired up the weekend. Non-Fox markets generated $8.6m led by Germany on $4m from 443.
The Liam Neeson thriller also scored a table-topping launch in Australia on $4.5m from 287 and arrived in Japan on $1.4m from 353. A trio of number one debuts in Taiwan, Malaysia and Singapore scored $1.9m from 165, $1.7m from 282 and $1.5m on 57, respectively.
Taken 3 added $3.2m from 534 in South Korea for $12.8m and rank second after two weekends. Russia, Spain and Holland lie in wait this week.
Exodus: Gods And Kings delivered $14.7m from 60 markets to surge to $167.9m. Russia generated $3.2m for $15.4m after two, Brazil $2.5m for $18.2m after three, France $1.1m for $12.1m after three. The UK has generated $11.8m and Germany $8.9m after three.
The action epic opened top in Peru on $782,000 from 177 and third in Venezuela on $733,000 from 56. Poland delivered a $630,000 debut from 180.
Dreamworks Animation's Penguins Of Madagascar crossed $200m as $9.7m from 50 markets elevated the haul to $209.4m. The film opened through a non-Fox distributor in South Korea in third place on $2.4m from 524 and added $2.1m in Australia in the second session for $7.6m.
Mexico has generated $18.4m after four sessions, France $14.9m after four, Germany $13.9m after seven and the UK $11.7m after six. The Penguins arrive in Brazil this week.
Birdman added $1.3m in its second UK session for $4.7m and opened in Spain on $829,000 from 247. Overall the dark comedy amassed $2.4m from four markets for $7.9m.
Gone Girl stands at $198.7m and has grossed $8.9m in Italy after four sessions, $8.6m in Japan after five and $1.2m in Venezuela after five.
Let's Be Cops opened in Germany on $2.2m from 364 and has taken $48.9m overall.
WARNER BROS PICTURES INTERNATIONAL
UPDATE: The Hobbit: The Battle Of The Five Armies surged to $545.1m internationally on the back of a $21.1m weekend.
Germany has been the most productive market to date on $74.4m after five weekends, followed by the UK on $61.2m after five, France on $44.3m after five, Russia on $29.5m after five, Australia on $23.9m after three and South Korea on $21.9m after four.
Brazil has produced $18.8m after five, Spain $18.6m after four, Italy $17m after four, Mexico $16.8m after five, Sweden $16.1m after five and Japan $11.7m after five.
American Sniper continued its storming run in Italy as $4.4m from 492 saw it climb to number one and reach a mind-boggling $14.8m for an all-time Clint Eastwood record after 10 days in release. It opens this week in the UK.
Horrible Bosses 2 added $2.7m from 36 to stand at $51.4m and opened in Italy on $1m from 320 screens. The comedy stands at $5.9m in the UK, $5.5m in Australia and $3.8m in Germany, $3.3m in Russia and $2.8m in Venezuela.
Honig Im Kopf added $6.9m from German-speaking Europe to reach $30.4m and ranked top in Germany in the third weekend on $5.9m from 742 for $26.6m.
CHINA UPDATE
CJ E&M's Miss Granny, the China-South Korea remake of the hit South Korean comedy, stormed into action on $15m.
Tsui Hark's The Taking Of Tiger Mountain added $7.5m for $116m.
WALT DISNEY STUDIOS MOTION PICTURES INTERNATIONAL
Big Hero 6 has become the eighth Walt Disney Animation Studios title to cross the $400m worldwide box office threshold
The family release grossed $12.6m from 54 territories in its 12th weekend to reach $194.5m. Japan remains the lead market and stayed top for the second consecutive weekend to reach $44.4m after four to become second only to Frozen in the Disney Animation pantheon.
Russia has produced $20.2m, Mexico $16.9m, Australia $11.9m, Italy $11.3m, Brazil $9.9m, Spain $9.2m, Argentina $6.3m and Malaysia $6.1m. Big Hero 6 is scheduled to land in Germany and South Korea on January 22 followed by the UK on January 30, France on February 11 and China on February 28.
Into The Woods grossed $7.6m from 15 territories over the weekend to climb to an early $15.3m. The musical opened on $3.8m in second place in the UK and also arrived in at number two in Australia on $3m. The film has generated $2.4m n South Korea and $1.6m in Russia. January debuts include Spain on January 23, France on January 28 and Brazil on January 29.
UNIVERSAL PICTURES INTERNATIONAL
UPDATE: Legendary's Seventh Son, which Universal is distributing worldwide, added a confirmed $8m from 34 territories as the tally climbed to $35.8m. The action film opened top in the Philippines, Bulgaria, the UAE and other Middle Eastern markets.
The film finished its first week in Russia as the top film and has generated $15m in 11 days. There are 28 territories to go in the coming months including Argentina, Ecuador, Mexico, Panama and Uruguay next weekend.
Angelina Jolie's war story Unbroken added $5.5m from 24 territories for $13.8m and opened at number two in France on $1.5m from 321 behind La Famille Belier, number four in South Korea on $1.5m from 297, number four in Sweden on $369,000 from 111 and number one in Portugal on $205,000 from 53.
There are 39 territories to open. This week brings debuts in Australia, Brazil, Germany and Russia.
Ouija grossed $5.7m from 13 for $33.9m and the horror film opened top in Mexico on $3m from 633. It arrived in fourth place in Italy on $1.2m from 257 and scored a number four debut in Colombia on $505,000 from 140.
The Theory Of Everything grossed $4.9m from 12 territories to reach $20.1m and consolidated last weekend's UK debut with a $3.7m follow-up from 542 that elevated the running total to $12.1m.
The Stephen Hawking drama scored a $259,000 limited debut in Mexico in 50 theatres. Italy and Spain lie in wait this week.
Dumb And Dumber To, which Universal is distributing in seven territories, grossed $2.6m for $20.8m. The comedy arrived in Australia on $2.1m from 208 for a Farrelly Brothers record. Australia and New Zealand were the final territories.
Boyhood stands at $20.9m and arrived in Hong Kong on $59,000 from nine.
STUDIOCANAL
Paddington consolidated its $100m-plus international status as $6.5m boosted the running total to $120m. Of this, $1.8m (£1.2m) came from the UK as that tally soared to $49.6m (£32.8m).
FILMNATION
UPDATE: The Imitation Game arrived in four new territories over the weekend and grossed $6.6m overall as the early international running total reached $41.8m.
The true-life story opened in the Netherlands on $391,000, Greece on $305,000, Israel in second place on $190,000 despite a major storm and the Middle East on $374,000.

Elsewhere Australia added $2.1m for $7.2m after two sessions, Italy $1.7m for $4.7m after two, Spain $547,000 for $2m after two, the UK $321,000 for $23.3m via StudioCanal after nine and Norway $496,000 for $1.9m after three.
SONY PICTURES RELEASING INTERNATIONAL
Fury brought in $4.2m to boost the tally to $115.6m, of which $70,7m comes via Sony markets and the $44.9m balance from the war film's financier and international sales agent QED International.
Spain led the weekend's three debuts with a $1.8m number one launch on 385 screens, while Venezuela delivered $300,000 on 25 for number five in the market.

After two sessions, the film stands at $3.4m in Mexico and $3.1m in Germany.

Annie grossed $1.4m from 19 territories for $19.4m and has amassed $14.8m through Sony and $4.6m via Village Roadshow. The musical debuted in China on Friday on more than 6,000 screens although results were not available at time of writing.
The UK has produced $9.9m after three weekends. Annie is scheduled to open in Germany this week followed by Mexico on January 23, Japan on January 24 and Spain on January 30.
PARAMOUNT PICTURES INTERNATIONAL
The Gambler took $583,000 from seven territories as the early running total climbed to $955,000. It opened in Mexico on $509,000 from 234 venues and will debut in Germany this week, followed by Russia and the UK on January 22 and 23 respectively and Australia on February 5.