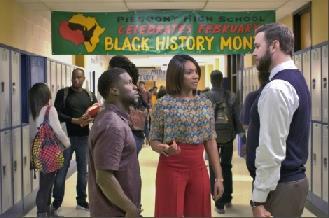 OCTPBER 1 UPDATE: Universal comedy Night School starring Tiffany Haddish and Kevin Hart stormed to the top of the North American charts on a confirmed $27.3m while Warner Animation Group's Smallfoot debuted well in second place on $23m.
In limited release, the acclaimed documentary Free Solo delivered a sensational debut through National Geographic Entertainment, opening at number 22 on $300,804 in four theatres for a $75,201 average. The film follows rock climber Alex Honnold as he scales Yosemite's El Capitan Wall without safety gear and delivered the best average of 2018 so far.
Fox Searchlight opened The Old Man & The Gun starring Robert Redford in what is said to be his final role at number 31 on an impressive $14,131 from five sites for a $28,426 average.
Night School debuted in 3,010 venues and demonstrated Haddish's strong following ever since her breakout performance in last year's Girls Trip and pits her against the popular Hart in the story of troublemakers forced to attend night school in the hope they will complete their exams. Malcolm D. Lee directed and reunites with Haddish from Girls Trip.
Smallfoot opened in 4,131 sites via Warner Bros and features the voice talents of Channing Tatum, Zendaya, Common, and James Corden, among others. The story tells of a curious yeti who encounters a human.
CBS Films' horror Hell Fest arrived through Lionsgate at number six on $5.1m in 2,297 venues. The film centres on a masked serial killer who runs riot at an amusement park.
Last weekend's champion The House With A Clock In Its Walls from Amblin Partners fell 52.6% and two slots to third on $12.6m for $44.9m. Michael Moore's documentary Fahrenheit 11/9 plummeted 63.1% in its second session and dropped out of the top 10, tumbling four slots to number 12 on $1.1m for $5.2m through Briarcliff Entertainment.
New Line horror The Nun stands at $109m through Warner Bros in its fourth session and ranks fifth, while Crazy Rich Asians is seventh on $165.6m after seven weekends.
Pinnacle released its take on the classic tale Little Women at number 17 on $705,063 from 643 theatres. Neon opened its police shooting drama Monsters And Men at number 33 on $130,979 in 18 sites.
Box office for the top 12 generated $94.6m, amounting to a 15.8% rise against last weekend and a 14.8% climb against the comparable session in 2017.
This week's wide releases are: comic book adaptation Venom starring Tom Hardy via Colombia Pictures; and Warner Bros' A Star Is Born directed by and starring Bradley Cooper, alongside Lady Gaga.
Confirmed top 10 North America Sept 28-30, 2018
Film (Dist) / Conf wkd gross / Conf total to date
1 (-) Night School (Universal) Universal Pictures International $27.3m –
2 (-) Smallfoot (Warner Bros) Warner Bros Pictures International $23m –
3 (1) The House With A Clock In Its Walls (Universal) Universal / Amblin Partners $12.6m $44.9m
4 (2) A Simple Favor (Lionsgate) Lionsgate International $6.5m $43m
5 (3) The Nun (Warner Bros-New Line) Warner Bros Pictures International $5.4m $109m
6 (-) Hell Fest (CBS Films-Lionsgate) Lionsgate International $5.1m –
7 (5) Crazy Rich Asians (Warner Bros) Warner Bros Pictures International $4.1m $165.6m
8 (4) The Predator (Fox) Fox International $3.9m $47.8m
9 (6) White Boy Rick (Sony) Sony Pictures Releasing International $2.4m $21.7m
10 (7) Peppermint (STX) STX International $1.8m $33.5m