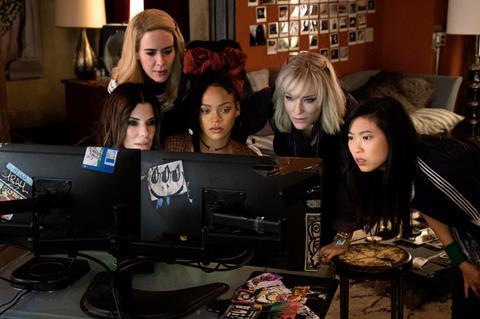 JUNE 11 UPDATE: Warner Bros' Ocean's 8 featuring a female ensemble led by Sandra Bullock and Cate Blanchett ruled North America on a solid $41.6m – the highest number in the 17-year-old rebooted franchise although the lowest when adjusted for inflation.
Ocean's Thirteen opened in June 2007 on $36.13m, which amounts to $43.41 in real terms. Ocean's Twelve debuted in December 2004 on $39.15m ($51.61m adjusted for inflation), and Ocean's Eleven opened in December 2001 on $38.1m ($54.01m).
Rounding out the eight are Rihanna, Mindy Kaling, Anne Hathaway, Awkwafina, Helena Bonham Carter, and Sarah Paulson. Gary Ross directed from a screenplay he wrote with Olivia Milch. Ocean's 8 opened in 4,145 theatres.
A24 released horror film Hereditary at number four on $13.6m in 2,964 sites. Toni Collette stars as the haunted daughter of a recently deceased family matriarch, alongside Gabriel Byrne and Ann Dowd. Ari Aster makes his acclaimed feature directorial debut.
Global Road's Hotel Artemis flopped in eighth place on $3.2m from 2,407 venues. Jodie Foster plays a nurse who runs a hospital for criminals.
Lucasfilm's Solo: A Star Wars Story dropped to second place following a 46.4% drop in the third session, adding $15.7m for a lacklustre $176.7m. The fairest comparison is the only other franchise spin-off to date – Rogue One: A Star Wars Story, which reached $532.1m in December 2016 and stood at $318.1m by the same stage.
Focus Features opened Morgan Neville's documentary Won't You Be My Neighbor? about US TV personality Fred Rogers at number on 19 on $419 from 29 sites, while Gunpodwer & Sky opened Sundance favourite Hearts Beat Loud at number 37 on $74,524 in four venues.
The top 12 generated $112.3m, up 11.9% on last weekend and down 19.2% against the comparable session in 2017 when Wonder Woman held on to top spot and crossed $200m in its second weekend.
This week's wide releases are: Pixar's The Incredibles 2 through Buena Vista; Warner Bros' comedy Tag starring Jon Hamm, Ed Helms, Isla Fisher and Jeremy Renner; and action release Race 3 via Yash Raj.
Estimated top 10 North America June 8-10, 2018
Film (Dist) / Est wkd gross / Est total to date
1 (-) Ocean's 8 (Warner Bros) Warner Bros Pictures International $41.6m –
2 (1) Solo: A Star Wars Story (Buena Vista) Walt Disney Studios Motion Pictures International $15.7m $176.7m
3 (2) Deadpool 2 (Fox) Fox International $14.1m $279.2m
4 (-) Hereditary (A24) A24 $13.6m –
5 (4) Avengers: Infinity War (1) (Buena Vista) Walt Disney Studios Motion Pictures International $7.2m $655.1m
6 (3) Adrift (STX) STX International $5.3m $21.9m
7 (5) Book Club (Paramount) Bloom $4.3m $56.9m
8 (-) Hotel Artemis (Global Road) Lionsgate International $3.2m –
9 (6) Upgrade (BH Tilt) Universal Pictures International $2.4m $9.3m
10 (7) Life Of The Party (Warner Bros) Warner Bros Pictures International $2.2m $50.3m