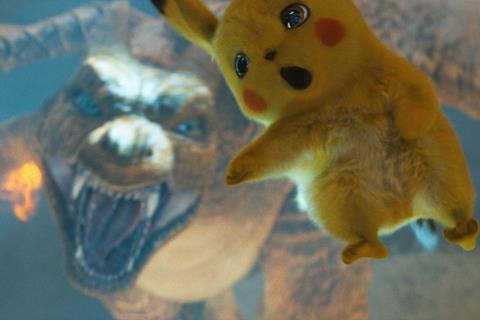 Pokémon Detective Pikachu became the new international box office champion at the weekend as Sunday estimates showed it earned $103m compared to a $102.3m haul by Avengers: Endgame.
The films swapped places in the global box office rankings and were still very close. Endgame brought in a further $165.4m for $2.486bn, compared to Detective Pikachu's $161m opening salvo. It also crossed $100m in the UK.
Meanwhile, Nadine Labaki's Lebanese drama and Cannes 2018 Grand Jury Prize winner Capernaum crossed $50m through Wild Bunch licensees.
WARNER BROS PICTURES INTERNATIONAL
Detective Pikachu opened day-and-date with North America in 62 markets, and combined with Japan (Toho), which opened last weekend and added $3m for $12.9m, to reach an early $170.4m worldwide. The international running total stands at $112.4m.
The family animation adventure, featuring the voice of Ryan Reynolds as the lead character, opened top in China through Legendary East on $40.8m, top in the UK on $6.6m, second in Germany on $5m, top in Mexico on $4.97m, second in France on $4.8m, and second in Australia on $3.5m.
The tentpole opened in South Korea in fourth on $3.2m, top in Italy on $2.8m, top in Spain on $2.2m, top in Indonesia on $2.1m, and second in Taiwan on $2.1m. It opens in Russia on May 16.
The Curse Of La Llorona grossed $3.5m from 75 markets for $62.2m, and $113.6m worldwide. The horror opened in Japan on $306,000, and in Poland on $293,000. It stands at $6m in France after four weekends, and $1.6m in the UK after two. Mexico remains the top market on $10.6m.
WALT DISNEY STUDIOS MOTION PICTURES INTERNATIONAL
Avengers: Endgame has reached $1.762m internationally and crosed $600m in China to consolidate its status as the highest non-local release in history on $610.1m. It ranks as the highest industry release in many markets, among them Brazil, Hong Kong, Singapore, Thailand, Chile, Ecuador, Peru and Uruguay, and is the highest all-time industry release across Latin America on $238m, as well as across Asia-Pacific on $1.057bn. It ranks eighth across Europe on $467m.
Endgame surged past $100m in the UK to stand at $104.9m, and has amassed $96.6m in South Korea, $72.5m in Brazil, $69.7m in Mexico, $58.4m in India, $54.5m in Germany, and $52.2m in Australia.
The Marvel Studios behemoth became the second highest release internationally and globally a while ago, and stands at $51.8m in France, $42.7m in Japan, $41.3m in Russia, $33.3m in Indonesia, $31.6m in Italy, $31.2m in Philippines, $28.5m in Spain, $26.5m in Hong Kong, $26m in Taiwan, and $25.6m in Thailand. Dumbo added $2.1m from 34 for $233.1m and $343.9m worldwide.
UNIVERSAL PICTURES INTERNATIONAL
Comedy The Hustle with Anne Hathaway and Rebel Wilson opened day-and-date on $12.5m from 27 territories, rising to $27.2m worldwide including the North American launch.
Russia led the way on $2.4m in second place, Germany on $1.809m in third, Australia on $1.808m in third, the UK on $1.5m in third, and Taiwan on $949,000 in third.
Revenge Of The Shiny Shrimps opened in fourth place in France on $1.6m. Jordan Peele's Us stands at $174.4m internationally and $253.5m worldwide.
WILD BUNCH
Nadine Labaki's Lebanese foreign language Oscar nominee and Cannes 2018 Grand Jury Prize winner Capernaum has crossed $50m through licensees, including more than $30m in China. The film centres on a miserable 12-year-old boy who sues his parents for bringing him into the world, and added $8.3m to reach $54.7m. Syrian refugee Zain Al Rafeea plays the lead.
PARAMOUNT PICTURES INTERNATIONAL
Stephen King horror adaptation Pet Sematary added $2.4m from 29 markets to reach $54.9m, fired up by debuts in Brazil on $904,000, and Italy on $699,000.
Family animation Wonder Park grossed $2.2m from from 40 markets and stands at $70.2m.