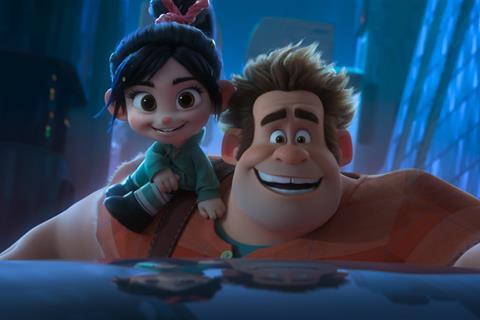 NOVEMBER 26 UPDATE: Walt Disney Animation Studios' Ralph Breaks The Internet opened top in North America on the second highest five-day Thanksgiving debut on $84.8m, while MGM's Creed II delivered a knock-out number two debut, and Fox Searchlight's The Favourite produced the best site average for a limited debut in almost two years.
Fantastic Beasts: The Crimes Of Grindelwald took a hit in its sophomore session, while Taron Egerton and Jamie Foxx starrer Robin Hood opened poorly in seventh place on $9.2m through Lionsgate-Summit in 2,827 theatres.
Universal's Oscar hopeful Green Book directed by Peter Farrelly and starring Mahershala Ali and Viggo Mortensen climbed 13 places to number nine in its second weekend and appears to be weathering the storm after Mortensen apologised for using the N-word at a post-screening Q+A recently. The studio expanded the theatre count from 25 to 1,063 and the resulting 1,617% box office hike delivered $5.5m for an early $7.9m running total.
Returning to Ralph Breaks The Internet, only Frozen has gone higher over the five-day Thanksgiving holiday session, while Ralph's $56.2m three-day portion of the weekend delivered the fourth highest Thanksgiving launch behind Frozen, Toy Story 2, and Moana. The debut in 4,017 theatres means Walt Disney Animation Studios holds the top three five-day Thanksgiving debuts, and The Walt Disney Studios holds the top five.
John C. Reilly and Sarah Silverman reprise their roles as the adventurous video game characters in the sequel to Wreck-It Ralph. The three-day result finished slightly ahead of the $49m three-day bow of the original in early November 2012, which adjusts for inflation to $54.8m. The first film finished on $189.4m.
Michael B. Jordan returned to the ring in Creed II alongside Tessa Thompson, Sylvester Stallone, and Dolph Lundgren and MGM's boxing drama opened well in second place on $35.6m in 3,441 sites, rising to $56m over five days. The debut was well ahead of the equivalent $29.6m three-day bow set by the original in late November 2015. That film went on to amass $109.8m in North America.
Warner Bros' Fantastic Beasts: The Crimes Of Grindelwald dropped 52.7% and three slots to number four in its second session, adding $29.4m for $116.6m. Studio chiefs will be concerned as the holiday weekend ends. By the same stage, the 2016 original Fantastic Beasts And Where To Find Them stood at $156m. Despite the below-par North American performance, Grindelwald still ranked as the number one worldwide release thanks to a strong international session. Universal's Dr. Seuss' The Grinch fell 21.2% in its third weekend, ranking third on $30.4m for $180.5m.
In its fourth session, Fox's Bohemian Rhapsody in fifth place continued to hit the high notes as it dropped a mere 12.7% and crossed $150m as $14m pushed the tally to $152.2m, while Paramount's comedy Instant Family held well, dropping 15.1% on $12.3m for $35.6m after two weekends.
Fox's heist thriller Widows from Steve McQueen is performing decently and dropped 33.4% in its second session, ranking eighth on $8.2m for $25.9m. Warner Bros' Oscar contender A Star Is Born is approaching the $200m milestone after eight weekends in release. The Bradley Cooper and Lady Gaga romance added $3m for $191m and ranks tenth.
Fox Searchlight's Oscar hopeful The Favourite delivered a spectacular debut, arriving at number 19 on $422,410 from four venues for a $105,603 average. This is not only the best site average by a limited release for the year-to-date, but the best in almost two years. La La Land averaged $176,221 from five sites in December 2016. Yorgos Lanthimos' Restoration comedy stars Olivia Colman, Rachel Weisz and Emma Stone and will expand in the coming weeks.
Hirokazu Kore-eda's Cannes Palme d'Or winner and Japanese foreign-language Oscar submission Shoplifters arrived via Magnolia at number 32 on a solid $89,264 from five sites.
Participant Media's ROMA from Alfonso Cuaron opened in three sites in Los Angeles and New York, however worldwide distributor Netflix does not report box office grosses. The theatrical releases are designed to qualify the film for awards consideration and Mexico's foreign-language Oscar submission will launch on the streaming platform on December 14.
Box office for the top 12 reached $208.1m over three days, marking a 25.7% gain on last weekend, and a 13.2% climb against the comparable three-day session in 2017.
The weekend after Thanksgiving is typically a slow session. The only new wide release this week is The Possession Of Hannah Grace via Screen Gems.
Confirmed top 10 North America Nov 23-25, 2018
Film (Dist) / Conf wkd gross / Conf total to date
1 (-) Ralph Breaks The Internet (Buena Vista) Walt Disney Studios Motion Pictures International $56.2m $84.8m
2 (-) Creed II (MGM) MGM $35.6m $56m
3 (2) Dr. Seuss's The Grinch (Universal-Illumination) Universal Pictures International $30.4m $180.5m
4 (1) Fantastic Beasts: The Crimes Of Grindelwald (Warner Bros) Warner Bros Pictures International $29.4m $116.6m
5 (3) Bohemian Rhapsody (Fox) Fox International $14m $152.2m
6 (4) Instant Family (Paramount) Paramount Pictures International $12.5m $35.8m
7 (-) Robin Hood (Lionsgate-Summit) Lionsgate International $9.2m $14.3m
8 (5) Widows (Fox) Fox International $8.2m $25.9m
9 (22) Green Book (Universal) Universal Pictures International $5.5m $7.9m
10 (7) A Star Is Born (Warner Bros) Warner Bros Pictures International $3m $191m