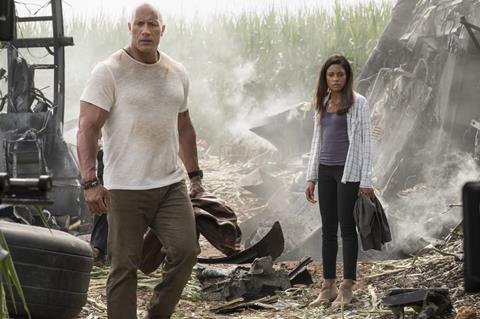 APRIL 23 UPDATE: Rampage ruled the world for the second consecutive session and retained the international crown as $58m from 61 territories boosted the tally to $217.6m and $283.3m worldwide.
WARNER BROS PICTURES INTERNATIONAL
UPDATED: The Dwayne Johnson action adventure about mutant beasts run amok in Chicago crossed $100m in China, where an additional $26.9m ensured the tentpole held on to number one and climbed to $106.4m.
Rampage added $3.4m in South Korea for number one and a $10.2m running total, and retained top spot in Mexico on $3.1m for $9.8m, the UK on $2m for $9.2m, and Malaysia on $1.8m for $6.2m. In Australia it ranks second on $1.5m and stands at $4.9m.
Brazil generated $1.5m for number two and a $4.3m tally, Russia $1.3m for number two and $5.2m, UAE $1.1m for number one and $3.8m.
Steven Spielberg's Ready Player One brought in $23m from 67 territories and climbed to $395.8m and $521.9m worldwide. The sci-fi adventure ranks as the number one Hollywood release in Japan as it opened on $4.4m.
China is the runaway lead market on $207.4m, followed by the UK on $21.7m, South Korea on $18.4m, France on $17.6m, Russia on $12.4m, Taiwan $11.4m, Australia $10m, Mexico $9m, Spain $7.7m, Germany $6.4m, Italy $5.8m, and Hong Kong $5.8m.
Warner Bros and MGM's Tomb Raider stands at $214.1m and $270.8m.
PARAMOUNT PICTURES INTERNATIONAL
Horror hit A Quiet Place brought in an additional $15m from 57 as the international running total vaulted to $74.8m for a $207.2m worldwide tally.
There were two debuts, in Spain on $891,000 for number two, and in Vietnam on $302,000 for number three.
The UK led the holdovers, producing $1.4m for $11.7m after three, while Australia's $1.3m boosted the tally to $6.7m, and Brazil and Mexico added $976,000 for $5.3m, and $908,000 for $6.6m, respectively.
In notable second weekend holds, Russia, South Korea and Germany added $1.3m for $4.1m, $1m for $3.7m, and $525,000 for $1.9m, respectively. Family animation Sherlock Gnomes grossed $1.7m from 29 markets for $18.1m, opening in the Netherlands on $157,000.
SONY PICTURES RELEASING INTERNATIONAL
Peter Rabbit is approaching the $200m mark after $6.4m boosted the tally to $195.7m to surpass the lifetime of both Paddington and Paddington 2. The UK is the lead market on $54.5m and the film ranks as the highest release there outside the James Bond franchise. China has returned $26.2m. Jumanji: Welcome To The Jungle added $920,000 and stands at $551.5m.
WALT DISNEY STUDIOS MOTION PICTURES INTERNATIONAL
Executives reported that Pixar's Coco grossed $1.4m for $587.9m and $797.6m worldwide. Marvel Studios' Black Panther added $1.2m for $642.9m and stands at $1.324bn worldwide.
FOX INTERNATIONAL
UPDATED: Isle Of Dogs grossed $5.5m from 14 markets to reach a relatively early $15.1m. Wes Anderson's stop-motion animation arrived in fourth place in China on $4.1m
Love, Simon added $1.5m from 14 markets, for a relatively early $13.1m and added $561,000 in its second weekend in Mexico for $2m.
Red Sparrow added $1.3m from 35 for $98.4m. The Greatest Showman used a $1.1m session from 10 to climb to $254.2m and has amassed an extraordinary $62.3m in the UK and $43.8m in Japan.
UNIVERSAL PICTURES INTERNATIONAL
UPDATED: Supernatural thriller Truth Or Dare added $4.1m for $7.9m and opened in 18 markets led by Mexico with a $1.3m number two debut. The UK delivered the top holdover in the second weekend on $556,000 for $2.4m. Australia generated $484,000 for $1.7m.
Comedy Blockers grossed $2.6m for $19.4m, while Pacific Rim: Uprising added $1.8m for $127.5m. Spanish local language release Champions (Campeones) added $1.7m for $8.3m after three weekends.
STX INTERNATIONAL
Gerrard Butler thriller Den Of Thieves opened in South Korea on $624,000 and overall the film stands at $34.6m.