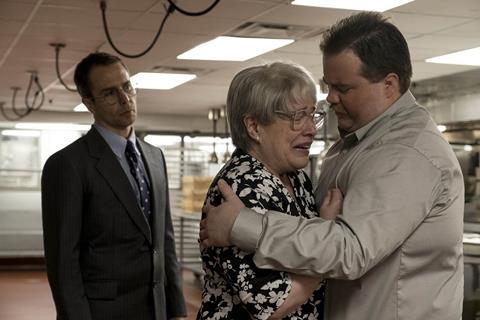 Richard Jewell, Clint Eastwood's Atlanta 1996 Olympics bombing drama that is already mired in controversy, delivered the director the second worst debut of his career at the weekend.
The film arrived in fourth place on an estimated $5m from 2,502 theatres via Warner Bros, making it rank only behind Bronco Billy as Eastwood's worst career debut as a director. That film opened on $3.7m in 1980 unadjusted for inflation.
Paul Walter Hauser plays the eponymous security guard whose quick thinking led to the evacuation of an outdoor concert area and saved numerous lives before a backpack laden with explosives detonated. Shortly after the terror attack, the FBI made Jewell a suspect in the bombing and he was hounded by the media. He was later cleared of any blame.
The film has stirred up a debate over its representation of deceased crime reporter Kathy Scruggs and the journalist's old newspaper has cried foul over the depiction of its reporters and intimated there may be a defamation suit in the offing. Warner Bros has defended the film and said it was diligent in researching the real characters in the film.
Last week on Twitter Olivia Wilde, who plays Scruggs, said: "Contrary to a swath of recent headlines, I do not believe that Kathy "traded sex for tips". Nothing in my research suggested she did so, and it was never my intention to suggest she had. That would be an appalling and misogynistic dismissal of the difficult work she did."
Sony's Jumanji: The Next Level opened top of the charts on an estimated $60.1m from 4,227 sites. Dwayne Johnson, Kevin Hart, Karen Gillan and Jack Black star in the adventure sequel, which delivered an excellent opening compared to $32.2m by Jumanji: Welcome To The Jungle two years ago.
Black Christmas, Universal's feminist remake of the 1974 slasher film of the same name, opened in fifth place on $4.4m via Universal from 2,625 venues. Imogen Poots stars.
Two awards contenders produced excellent limited debuts. A24's drama Uncut Gems from the Safdie brothers and starring Adam Sandler opened at number 14 on $525,498 from five venues for a mighty $105,099 average.
Lionsgate's #MeToo drama Bombshell, about the female Fox News journalists whose allegations of sexual harassment brought down network chief Roger Ailes, was also in fine form, earning $312,100 in 19th place from four venues in Los Angeles and New York for a $78,015 average.
The heavyweight awards contender expands wide next weekend. Charlize Theron, Nicole Kidman, Margot Robbie and John Lithgow star and Jay Roach directed from a screenplay by Charles Randolph. Bron Creative financed Bombshell.
Terrence Malick's conscientious objector drama A Hidden Life opened via Fox Searchlight at number 28 on $52,000 from five for a $10,400 average.