DECEMBER 16 UPDATE: Disney executives reported on Friday evening that Rogue One: A Star Wars Story grossed in the low $70m range on opening day Friday in North America.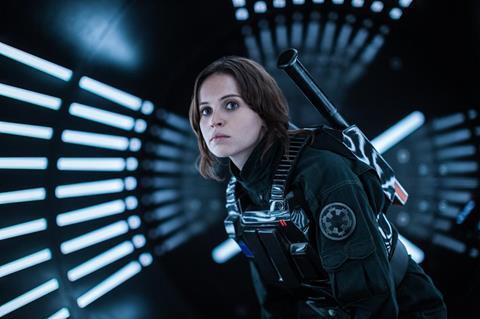 The figure combines with $29m from the biggest North American Thursday preview result of the year-to-date for at least $99m by the end of Friday. Top brass revised opening weekend predictions up to a $140m-$150m haul.
The only international update came on Friday morning as it emerged that Rogue One: A Star Wars Story had grossed $33m from 47 territories, resulting in a global haul of at least $132m heading into Saturday.
The UK led the way internationally on $5m, followed by Australia on $3.6m and Germany and France on $3.1m apiece.
Disney said the Lucasfilm action release posted the highest opening day of 2016 in Australia, Germany, Austria, Belgium, Scandinavia and Switzerland.
Remaining international territories open on Friday. The film lands in South Korea on December 28 and China on January 6.
The North American preview result beat the $27.7m posted by Batman v Superman: Dawn Of Justice and the $25m set by Captain America: Civil War earlier this year.
Universal and Legendary's The Great Wall stands at $24.3m in China including Thursday night previews. Zhang Yimou directed the action-fantasy starring Matt Damon.