Lucasfilm's Star Wars stand-alone overtook Finding Dory in a weekend that saw Hidden Figures hold on to number one in its fourth session.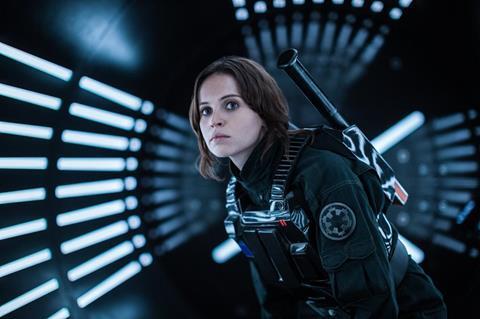 Hidden Figures added an estimated $26m for $60.4m to rule the four-day portion Martin Luther King Jr weekend, while Rogue One: A Star Wars Story dropped two slots to number four in its fourth weekend.
Rogue One became the highest grossing film to be released in 2016. The sci-fi added $17.1m to climb to $502.2m, having already overtaken the $486.3m 2016 benchmark set by Finding Dory on Friday.
A good weekend for Lionsgate saw La La Land climb two places after expanding by 333 theatres to 1,848 and add $17.5m for $77.1m after six weekends.
Stablemate Patriots Day vaulted 23 places to number seven as the Boston Marathon bombing drama expanded from seven to 3,120 sites on $13.6m for an early $14.5m after four sessions.
STX Entertainment's horror The Bye Bye Man starring Carrie-Anne Moss led a trio of lacklustre debutants, opening at number five on $15.3m from 2,220 theatres. The film reportedly cost $7.4m to produce although marketing costs were not disclosed.
Arriving at numbers six and eight were Paramount's family title Monster Trucks on $15m on 3,119 and Open Road's Jamie Foxx and and Michelle Monaghan crime drama Sleepless on $9.9m on 1,803.
Bollywood title OK Jaanu debuted via FIP at number 25 on $260k from 121 sites.
Overall box office for the top 12 amounted to $159.5m, representing an 11.9% drop against the comparable session in 2016.
This week's wide releases are: Paramount's thriller XXX: The Return Of Xander Cage starring Vin Diesel; M Night Shyamalan's horror Split starring James McAvoy and Anya Taylor-Joy; comedy The Resurrection Of Gavin Stone through High Top Releasing; and The Founder starring Michael Keaton via TWC.

Estimated top 10 North America January 13-16 (13-15) 2017
Film (Dist) / Est wkd gross / Est total to date
1 (1) Hidden Figures (Fox) Fox International $26m $60.4m ($20.5m $54.8m)
2 (3) Sing (Universal) Universal Pictures International $19.2m $238.4m ($13.81m $233m)
3 (5) La La Land (Lionsgate) $17.5m $77.1m ($14.5m $74.1m)
4 (2) Rogue One: A Star Wars Story (Buena Vista) Walt Disney Studios Motion Pictures International $17.1m $502.2m ($13.76m $498.9m)
5 (-) The Bye Bye Man STX Entertainment (STX International) $15.3m – ($13.4m – )
6 (-) Monster Trucks (Paramount) Paramount Pictures International $15m – ($10.5m – )
7 (30) Patriots Day (Lionsgate) Lionsgate International $13.6m $14.5m ($12m $12.9m)
8 (-) Sleepless (Open Road) Open Road International / FilmNation $9.9m – ($8.5m – )
9 (4) Underworld: Blood Wars (Sony/Screen Gems) Sony Pictures Releasing International $7.3m $25.4m ($5.8m $23.9m)
10 (6) Passengers (TriStar) Sony Pictures Releasing International $6.5m $90.9m ($5.6m $90m)