JAN 3 UPDATE: The stand-alone Star Wars sci-fi finished 2016 as the second highest grossing film between the January 1-December 31 period and will soon overtake Finding Dory to become the biggest film released in 2016.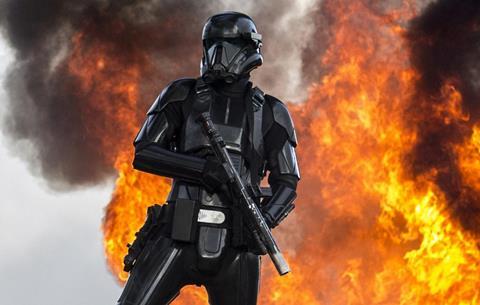 A further $65.5m over the four-day holiday session ensured Rogue One: A Star Wars Story saw out a 'record' year at the box office and stayed atop the charts for the third consecutive weekend of its mesmerising run.
It climbed to $440.9m in North America and reached an estimated $801.9m worldwide.
At this rate, the Disney-Lucasfilm release will glide past Finding Dory's $486.3m within days and has $500m well within its sights.
Illumination Entertainment's animation Sing continued on its storming run, adding $57.3m in the second weekend for a $180.9m running total with plenty still left in the tank for a feature that reportedly cost $75m to produce.
Sony's Passengers held firm at number three on $21.1m for $66.2m after two sessions – still far from where it needs to be given the $110m price tag not including marketing costs.
Disney's Moana in fourth place crossed $200m in its sixth session.
Meanwhile three awards contenders excelled. Paramount's Fences stepped up one place to sixth and added $13.1m for $32.8m after three weekends, promising much to come in the weeks ahead. It approaches Sunday's Golden Globes ceremony with Denzel Washington and Viola Davis in the running for acting honours.
Lionsgate's La La Land also gained one place to rank seventh as $12.6m propelled the tally to $37.3m after four. The musical heads to the Globes with several nominations including best picture – musical or comedy, acting nods for Emma Stone and Ryan Gosling, and a shot for director Damien Chazelle, among others.
In its seventh session Manchester By The Sea climbed three slots to number ten, adding $5.5m for $29.7m after seven weekends.
The film is up for several Globes including best drama, acting awards for Casey Affleck and Michelle Williams and directing kudos for Kenneth Lonergan
Amazon Studios acquired Kenneth Lonergan's drama at Sundance a year ago and brought on Roadside Attractions to distribute theatrically, which was a crucial move for Roadside.
The film has become its biggest release, capping the best year in the distributor's 13-year history. Its 2016 releases generated $75.7m overall with Manchester leading the way, followed by Hello, My Name Is Doris on $14.4m, Love & Friendship on $14m, and Southside With You on $6.3m.
A24 released its awards contender 20th Century Women from Mike Mills starring Annette Bening as an eccentric matriarch. The drama scored $144,582 from four sites for a terrific $36,146 average.
Bleecker Street launched Paterson, another contender starring Adam Driver as a poetic bus driver. It arrived on $92,499 from four, averaging a useful $23,125.
Box office for the top 12 generated $230.3m, representing a 11.3% drop against the previous weekend (the four-day Christmas span) but an 11.6% gain on the first weekend of 2016, which was a three-day session.
The three-day December 30-January 1 weekend generated $174.1m, down 15.6% on a year ago.
This week's wide release, the first of 2017, is Sony / Screen Gems' action-horror Underworld: Blood Wars starring Kate Beckinsale and Theo James.
Confirmed top 10 North America December 30, 2016-January 2, 2017
Film (Dist) / Conf wkd gross / Conf total to date
1 (1) Rogue One: A Star Wars Story (Buena Vista) Walt Disney Studios Motion Pictures International $65.5m $440.9m
2 (2) Sing (Universal) Universal Pictures International $57.3m $180.9m
3 (3) Passengers (TriStar) Sony Pictures Releasing International $21.1m $66.2m
4 (6) Moana (Buena Vista) Walt Disney Studios Motion Pictures International $15.2m $214.3m
5 (4) Why Him? (Fox) Fox International $13.1m $37.7m
6 (7) Fences (Paramount) Paramount Pictures International $13.1m $32.8m
7 (8) La La Land (Lionsgate) $12.6m $37.3m
8 (5) Assassin's Creed (Fox) Fox International $11.4m $42.4m
9 (12) Fantastic Beasts And Where To Find Them (Warner Bros) Warner Bros Pictures International $5.6m $225.6m
10 (13) Manchester By The Sea (Roadside Attractions) Universal Pictures International / Sierra/Affinity $5.5m $29.7m