UPDATED SEPTEMBER 21: Maze Runner: Scorch Trials was active in 66 markets over the weekend as the early running total climbed to $78m and counting.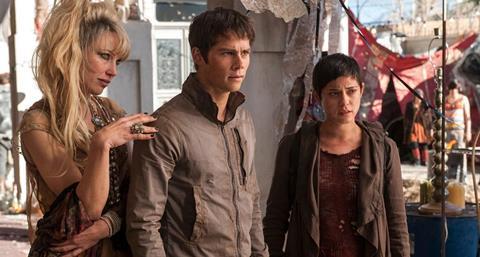 FOX INTERNATIONAL
UPDATED: The YA sequel opened in 30 markets day-and-date with the number one North American launch led by $7.2m from 804 in South Korea for the biggest Fox opening in the market so far this year.
Elsewhere Scorch Trials arrived in Russia on $4.1m, Brazil on $2.7m, Venezuela on $2m, Thailand on $1.8m, Spain on $1.8m, Holland on $1.2m and UAE on $1.1m.
The UK led holdovers on $2.3m for $8m, followed by Australia on $1.7m for $5m, Mexico $1.7m for $7.2m and Malaysia $1m for $4.2m. The film debuts in Germany this week.
Hitman: Agent 47 added $2.1m from 65 for $55.9m, while Fantastic Four grossed $1.4m from 31 for $108.1m.
UNIVERSAL PICTURES INTERNATIONAL
UPDATED: As the studio became the first to cross $4bn at the international box office, Everest launched in 36 territories day-and-date with the North American debut and grossed $28.9m.
Icelandic director Baltasar Kormakur's action thriller secured three notable number one results including previews in the UK on $4.9m, Mexico on $4.4m, Australia on $2.4m and India $1.4m.
It also opened top in Argentina, Bulgaria, Hungary, Iceland, India, New Zealand, Poland, Romania and South Africa.
Roughly $3m of the international weekend came from 172 Imax screens, feeding into a $9m global session that overtook $5.9m from Resident Evil: Retribution to set a new September opening record
Everest opened in second place in Germany on $2.9m and in Spain on $1.6m. Kormakur will doubtless be celebrating the biggest release of the year-to-date in Iceland on $144,000 from 11 venues.
This week the film arrives in 22 territories including Brazil, France, Italy, South Korea and Russia.
Universal and Illumination Entertainment's Minions added $23.5m from 55 as the tally soared to $785.9m internationally and $1.118bn worldwide. The film ranks number one in China where $19.5m boosted the eight-day total to $50m.
Straight Outta Compton grossed $3.7m from 20 for $30.1m and debuted top in France on $1.3m. The NWA biopic has crossed A$10m in Australia, crossing the local blockbuster threshold.
The Visit grossed $2.2m from 18 territories for an early $7.9m and added $878,000 in its second weekend in Spain to reach $3.5m. The UK tally after ten days stands at $3.1m.
Ted 2 stands at $129.7m and Jurassic World $1.009bn.
PARAMOUNT PICTURES INTERNATIONAL
UPDATED: Mission Impossible: Rogue Nation generated $21.2m from 53 territories to reach $464.7m after adding $18.2m in its second weekend in China for an eye-popping $120m. France has produced $20.4m after six sessions.
Capture The Flag grossed $773,000 in its fourth weekend in Spain for $8.3m.
CONSTANTIN FILM
German comedy Fack Ju Gohte 2 added $16m to reach $43m.
SONY PICTURES RELEASING INTERNATIONAL
UPDATED: Pixels delivered $15.4m from 70 markets to stand at $145.7m and opened in China on $12.1m from Tuesday through Sunday.
After two weekends, Japan has delivered $4.2m and Australia $3m. The UK has produced $12.7m, Mexico $12.1m and Germany $10.1m.
WARNER BROS PICTURES INTERNATIONAL
UPDATED: Following festival presentations in Venice, Toronto and Telluride and upcoming trips to San Sebastian and London, Black Mass is at the centre of a staggered roll-out.
The crime drama launched in a few smaller markets in Asia and Central America at the weekend and took $655,000 from five.

The Man From U.N.C.L.E. grossed $2.1m from 61 markets for $55.1m and opened in France on $945,000. The UK has delivered $9.8m, Russia $8.8m, Australia $3.3m and Spain $2.9m.
STUDIOCANAL
Legend added $3.9m from 544 UK sites following last weekend's stunning launch to reach $15.5m.