The opening weekend of the Maze Runner sequel is roughly on a par even when adjusted for inflation with the Fox original's $32.5m number one opening weekend exactly one year ago.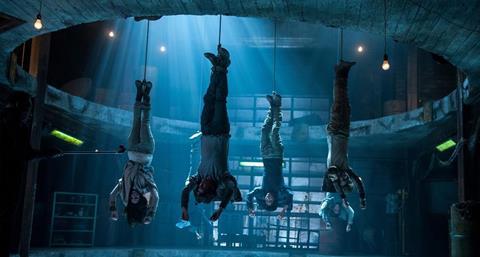 Maze Runner: The Scorch Trials grossed $30.3m from 3,791 sites and stars Dylan O'Brien, Patricia Clarkson, Barry Pepper and Lily Taylor.
Meanwhile Warner Bros released the Whitey Bulger gangster film Black Mass featuring acclaimed performances by Johnny Depp and Joel Edgerton in second place on $23.4m from 3,188 sites following festival screenings in Toronto, Venice and Telluride.
Baltasar Kormakur's Venice Film Festival opener Everest arrived at number five via Universal on an impressive $7.6m given the 545 theatre count and will expand in the weeks to come. Most of the gross came from Imax as the action thriller delivered $6m from 366 North American Imax screens, beating the $3.1m September record set by The Equalizer in 2014.
Universal, Working Title and director Baltasar Kormákur's epic EVEREST peaked to a best-ever September domestic opening for IMAX of $6 mil on 366 North American screens this weekend, shattering the previous September record (THE EQUALIZER's $3.109M). Further, Universal's IMAX focused launch strategy generated better than expected BO and fantastic world-of-mouth across ALL audience segments, which bodes well for the film's upcoming wide release on 9/25/2015.
Sicario directed by Denis Villeneuve delivered a sensational limited release, earning $390,000 from six venues via Lionsgate for a $65,000 average. Emily Blunt, Josh Brolin and Benicio del Toro star.
Paramount opened its spiritual drama Captive starring born-again Christian David Oyelowo alongside Kate Mara at number ten on $1.4m from 806.
Two low-budget films from the Sony fold continued to prosper as last weekend's number one release The Perfect Guy – with a stated production budget of $12m – dropped to number four and reached $41.4m after two sessions through Screen Gems.
War Room, which closed out the summer season as the top film two weeks ago via TriStar and reportedly cost $3m to make, ranks sixth and stands at $49.1m after four weekends.
A Walk In The Woods ranks seventh through Broad Green on a decent $24.3m after three weekends.
Bleecker Street opened the Cold War chess drama Pawn Sacrifice starring Toby Maguire and Liev Schreiber on $206,879 in 33 sites. The film premiered in Toronto last year.
Overall box office for the top 12 reached $98.8m and climbed 16.1% against last weekend and gained 6.7% against the $92.2m comparable session in 2014, when The Maze Runner opened top and A Walk Among The Tombstones arrived in second place.
This week's wide release are: Warner Bros' comedy The Intern starring Robert De Niro and Anne Hathaway; Sony's animation Hotel Transylvania 2; and the long-awaited release of The Green Inferno via High Top Releasing.
Estimated top 10 North America Sept 18-20, 2015
Film (Dist) / Est wkd gross / Est total to date

1 (-) Maze Runner: The Scorch Trials (Fox) Fox International $30.3m –
2 (-) Black Mass (Warner Bros) Bloom $23.4m –
3 (2) The Visit (Universal) Universal Pictures International $11.4m $42.3m
4 (1) The Perfect Guy (Screen Gems) SPRI $9.6m $41.4m
5 (-) Everest (Universal) Universal Pictures International $7.6m –
6 (3) War Room (TriStar/Affirm) $6.3m $49.1m
7 (4) A Walk In The Woods (Broad Green) IM Global $2.7m $24.8m
8 (5) Mission: Impossible – Rogue Nation (Paramount) Paramount Pictures International $2.3m $191.7m
9 (6) Straight Outta Compton (Universal) Universal Pictures International $1.9m $158.9m
10 (-) Captive (Paramount) Paramount Pictures International $1.4m –