Warner Bros' fantasy sequel dominates with $15.1m (£9.3m) debut; Disney's Frozen falls just 10% in second weekend.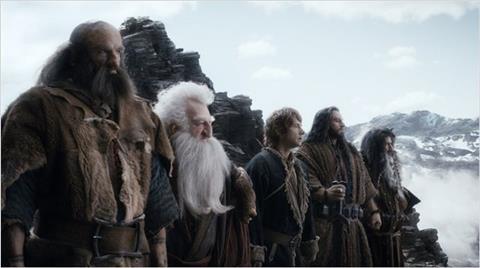 It may have been expected but The Hobbit: The Desolation of Smaug still impressed on its UK bow, dominating the competition to dethrone Frozen after one week.
Warner Bros' fantasy sequel scored a $15.1m (£9.3m) debut from its 588 sites, with 56.4% of its gross coming from 3D and IMAX screenings.
When looking purely at openings, that result does mark the lowest of the Lord of the Rings series. However, Smaug is the first to open without previews and based solely on Fri-Sun performances, it's the third strongest result behind The Return of the King's $15.9m (£9.8m) and An Unexpected Journey's $15.5m (£9.5m).
Desolation of Smaug's direct predecessor, An Unexpected Journey, went on to take $84.3m (£51.7m) in the UK and if Smaug is to challenge that, it'll need to enjoy a fruitful Christmas. As a comparison, Journey stood at $58.4m (£35.9m) on Dec 30, 2012 after three weeks in play.
Also for Warner Bros, critically acclaimed sci-fi Gravity grossed $962,000 (£590,000) in its sixth weekend and has so far amassed $41.9m (£25.7m) in the UK.
DISNEY
Falling just 10% in its second weekend, Frozen may have fallen from the top spot but continued to dazzle in the UK.
Disney's animation added an excellent $6.9m (£4.2m) for a ten-day tally of $16.8m (£10.3m). 2D screenings again provided the lion's share at 63.35%.
In terms of recent Walt Disney Animation Studios outings in the UK, Frozen will shortly overtake The Princess & The Frog's $18.2m (£11.1m) UK result. With schools breaking for Christmas, is in a strong position to overhaul Wreck-It Ralph's $38.6m (£23.7m).
Also for Disney, Saving Mr. Banks held well in its third weekend as it dropped a slim 22% for $586,000 (£359,134) and a running total of $4.6m (£2.8m).
Thor: The Dark World has taken $32.2m (£19.7m) to date.
LIONSGATE
Having surpassed The Hunger Games' UK result last week, The Hunger Games: Catching Fire dropped one place to third as it took an estimated further $2.2m (£1.4m).
Lionsgate's well-received sequel is now up to $47m (£28.8m) in the UK and will soon become the fifth biggest hit of 2013, overtaking Man of Steel's $48.6m (£29.8m).
EONE
Animation Free Birds posted a $312,000 (£191,462) third weekend to climb to $2.9m (£1.8m) in the UK through eOne. The upcoming festive school holidays should see it past £2m.
The Family has grossed $1.8m (£1.1m) to date.
PARAMOUNT
Alexander Payne's latest Nebraska added $117,000 (£72,000) in its second weekend for a ten-day tally of $561,000 (£344,000) through Paramount.
FOX
Philomena is now up to $17.1m (£10.5m) in the UK through Fox, following a non-final $84,000 (£51,516) seventh weekend.
Also for Fox, Black Nativity fell almost 50% in its second weekend as it added $37,000 (£22,737) for $195,000 (£119,315).
UNIVERSAL
In its third weekend, The Best Man Holiday added $64,000 (£39,000) for $550,000 (£337,000) to date through Universal.
Also for Universal, Oldboy fell a hefty 82% in its second weekend to gross $26,000 (£16,000) for $313,000 (£192,000). The original Oldboy made $513,000 (£312,866) during its UK run.
ARTIFICIAL EYE
Now in its fourth weekend of release in the UK, Artificial Eye's Palme d'Or winner Blue is the Warmest Colour took a further $54,000 (£32,911) for $811,000 (£497,240) to date.
Artificial Eye also released Fill the Void on seven screens, resulting in a $40,000 (£24,740)
ARROW
Re-released in 17 sites through Arrow (though some sites had just one screening over the weekend), Cinema Paradiso recorded a $20,000 (£12,374) take with Sunday seeing a 110% jump over Saturday.
UPCOMING RELEASES
This week sees the long awaited return of Ron Burgundy and the Channel 4 News Team as Paramount's Anchorman 2: The Legend Continues receives a saturation release from Wednesday (Dec 18).
Fox's Walking with Dinosaurs: The 3D Movie, Entertainment's The Harry Hill Movie and Universal's Moshi Monsters: The Movie also receive saturation releases, while Entertainment's American Hustle opens in the West End ahead of a nationwide release on Jan 1, 2014.