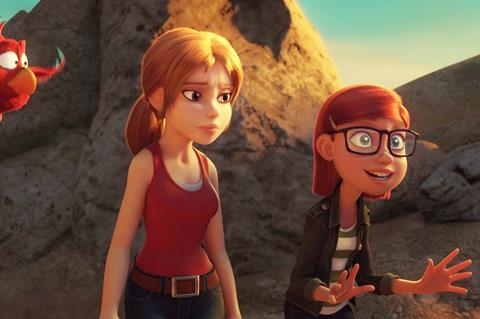 Animated feature Tad The Lost Explorer And The Secret Of King Midas emerged as the top local title in Spain in 2017 with a box office of $21m, in a year when local productions have managed to keep their share of the market at 14%.
Less encouragingly, 2017 hasn't brought a record-breaking Spanish film — last year, JA Bayona's A Monster Calls topped the box office with $28.2m. But this year has seen 19 Spanish films exceed the $1.2m (€1m) mark and a new record for the local film industry: one weekend in November saw seven Spanish productions (Marrowbone, The Bookshop, Gold, The Author, Deep, Toc Toc and Tad The Lost Explorer), in the box office top 10.
After a strong start to 2017, with admissions and box office showing healthy rises on 2016 for the first six months, progress has gradually been eroded. By the end of November, box office was down 2.1% and admissions were down 2.4% for the year, compared with 2016.
With $100m (€84.4m) in revenue for Spanish productions at the end of November, the hope is to hit the $118m (€100m) mark like last year. Alex de la Iglesia's comedy Perfect Strangers, released on December 1, could help close the gap.
Tad The Lost Explorer And The Secret Of King Midas is director Enrique Gato's sequel to his 2012 hit Tad: The Explorer, likewise featuring the wannabe archaeologist. Gato also directed 2015's Capture The Flag ($12.5m in Spain). Tad The Lost Explorer overall ranks third for the year, behind Disney's Beauty And The Beast and Universal's Despicable Me 3. Among other US triumphs, Universal's La La Land earned fourth place for the year with $14.5m.
After the success of Spanish Affair in 2014 and sequel Spanish Affair 2 in 2015, comedies are still strong, with It's For Your Own Good (Es Por Tu Bien) ($10.1m), Lord, Give Me Patience (Senor, Dame Paciencia) ($7.4m), Toc Toc ($7.0m), La Llamada ($3.2m) and De La Iglesia's black comedy The Bar ($3.1m) among 2017's local hits.
Horror, a long-popular genre in Spain, has seen a fall in popularity in recent years, but in 2017 Marrowbone has done well, grossing $7.3m since its release in October. Directed by Sergio Sanchez, the screenwriter behind Bayona's The Orphanage and The Impossible, it stars Anya Taylor-Joy, George Mackay and Charlie Heaton. Paco Plaza's Veronica has scored a decent $4.2m, but Jaume Balaguero's Muse performed less well, with $222,000 since its release on November 10. Historical drama Gold also underperformed despite its all-star Spanish cast.
For the future, all eyes are fixed on the impact of the reduction of the 21% tax on cinema tickets, currently the highest in Europe, to 10% for 2018.
Top 25 films in Spain
Jan 6 to Nov 30