NOVEMBER 16 UPDATE: Sony, MGM and EON Production's 007 thriller ruled the world for the second weekend, powered by a titanic international session that broke records in China and generated $153.3m overall.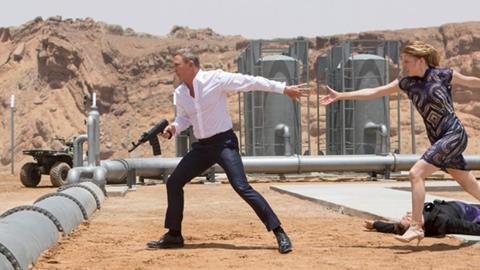 In the wake of the Paris attacks on Friday that left 129 dead, the Gaumont-Pathe chain was likely to remain closed until Monday while MK2, Les Ecrans de Paris and UGC reopened most of their Parisian theatres on Sunday.
SONY PICTURES RELEASING INTERNATIONAL
UPDATED: After grossing $142.3m over the weekend through Sony and $11m via MGM markets, Spectre has amassed $413.8m internationally and $542.8m worldwide. A running total of $357.9m comes from Sony markets and the $55.9m balance via MGM licensees. The film ranks number one in 63 of its 69 active markets.
James Bond was in bullish form in 14 new markets, setting one of several records in China for the Friday-Sunday debut of a 2D US film on $48.1m from 14,700 screens that is days away from crossing Skyfall's $m final gross.
France generated $15m while two results that included previews were roughly on par with Skyfall: Australia delivered $8.5m from 610 screens and South Korea $8.1m from 1,100.
Bond tore into Greece on $1.2m from 184, New Zealand on $1.4m from 136 and French-speaking Switzerland on $1.3m from 52.
In the third weekend in the UK the film UK dropped 36% to $11.9m from 2,100 for $120.2m to become the third highest grossing film ever in the market. The Netherlands added $2.7m for $11.9m.
In a string of notable second sessions, Germany produced $13.9m for $39.4m, Italy $3.2m for $10.1m, Russia $2.7m for $10.7m, Mexico $2.2m for $8.4m, Brazil $1.6m for $5.3m, German-speaking Switzerland $2.4m for $7.2m, Spain $1.5m for $5.6m and Hong Kong $1.2m for $4.2m. Vietnam has delivered $1.5m.
Spectre has become the top film of the year-to-date after three sessions in four Scandinavian markets via MGM licensees. The film added $1.7m for $10.5m in Denmark, $1.4m for $9.5m in Sweden, $1,1m for $7.4m in Norway and $939,000 for $6.3m in Finland.
The film added $13m worldwide via Imax and stands at the cusp of $40m. It set a new three-day November opening record in China on $4.6m from 246 screens and took $9m from 483 international screens.
Hotel Transylvania 2 added $8.4m for $254.1m.
FOX INTERNATIONAL
UPDATED: Fox International Productions and Fox Star Studios' Prem Ratan Dhan Payo generated the biggest Bollywood debut in India on a confirmed $26.5m over four days.
The film achieved a similar feat in the UK where it grossed $1.4m. It took $30.1m overall from seven markets.
The Martian grossed $5.8m from 63 for $270.9m and heads to China on November 25, an intriguing prospect given the heroic collaboration in the storyline between NASA and its Chinese counterpart.
Maze Runner: The Scorch Trials took $2.8mfrom 23 for $229.1m and stands at $28.8m in China.
The Peanuts Movie is still in its early days and added $2.3m from 14 markets for $7.9m, with the bulk of markets to follow over the year-end holidays.
DreamWorks' Bridge Of Spies took $1.3m from 24 markets for an $19.3m running total. The remaining markets will open mostly in early December.
ASIA UPDATE
South Korea's The Priests grossed $9.2m to climb to a $25m international running total. Jang Jae-hyun directed the exorcism thriller that stars Kim Yun-seok from Haemoo and The Thieves with Gang Dong-won. United Pictures launched international sales at Filmart last March. Ex-Files 2: The Backup Strikes Back added $5.5m for $34m.
LIONSGATE INTERNATIONAL
UPDATED: The Last Witch Hunter grossed $7.1m from 79 markets to reach $72.8m. Russia ranks as the lead market on $9m after three weekends. Sicario added $1.1m for $33.7m.
WARNER BROS PICTURES INTERNATIONAL
UPDATED: Pan grossed a confirmed $3.5m from 54 markets to reach $86.2m and opened at number three in Italy on $1.4m. The UK and Mexico are the top two markets on $12.9m and $7.2m, respectively.
Man From U.N.C.L.E. stands at $60m and opened in Japan on $918,000.
PARAMOUNT PICTURES INTERNATIONAL
Paranormal Activity: The Ghost Dimension grossed $3.2m from 47 markets to reach $56m, while Scouts Guide To The Zombie Apocalypse added $3.2m from 32 for $6.1m.
UNIVERSAL PICTURES INTERNATIONAL
UPDATED: Steve Jobs kicked off its international release in 14 territories including Germany and the UK to record $2.8m. The biopic opened at number five in the UK on $1.3m and arrived in seventh place in Germany on $598,000.
By The Sea debuted in Italy, Hungary and Sweden in limited release for $293,701. Everest stands at $155.3m and Australian production The Dressmaker added $1.6m to reach $8.9m in Australia, where it stands at $8.2m after 17 days, and New Zealand, where the tally climbed to $757,000 after the same time. Crimson Peak has climbed to $41.5m, Straight Outta Compton $39.2m and The Visit $27.2m.