NOVEMBER 9 UPDATE: The brand-new 007 episode from EON Productions, MGM and Sony maintained its stunning early form as approximately $117m saw it climb to $223.1minternationally – and close to $100m in the UK – to rank number one in all 77 of its active markets.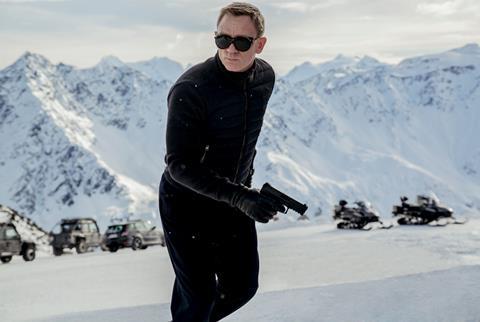 SONY PICTURES RELEASING INTERNATIONAL
UPDATED: Among the highlights of the $117.8m weekend haul were $20.1m in Germany including previews and powered by the biggest Saturday in history.
Spectre arrived in Italy on $5.6m, Russia on $6.3m, German-speaking Switzerland on $3.9m including previews, Spain on $3m, Belgium on $2.4m including previews and an all-time four-day holiday launch in Austria on $2.5m including previews.
The spy thriller added $19.9m in its second session in the UK to climb to $98.8m after 14 days. The Netherlands delivered $3.3m for $8.4m.
Eight Latin American debuts produced $12.4m, of which $4.5m came from Mexico and $2.9m in Brazil.
Southeast Asia generated $16m from eight as Taiwan produced $2.4m, Hong Kong $2.4m, Malaysia $2.3m and Singapore $1.8m.
Still to come are France, Australia, South Korea, Japan and China.
MGM licensees saw Poland deliver $3.1m, Portugal $871,000, Slovakia $425,000 and Bulgaria $219,000.
Denmark added $2.7m for $8.2m, Finland $1.4m for $4.9m, Norway $1.1m for $5.3m and Sweden $2.2m for $7m.
The overall Imax haul amounted to $15.4m on 2D screens worldwide beating the comparable $15.2m score set by Skyfall three years ago. The film generated $6.3m from 209 international screens to boost the tally to $12m.
Hotel Transylvania 2 grossed a further $15m from 80 markets to elevate the running total to $242.9m and the global haul to $402.4m.
Goosebumps added $3.8m from 44 for $25.8m.
LIONSGATE INTERNATIONAL
UPDATED: The Last Witch Hunter grossed $11.7m from 78 markets to climb to $58.9m.
FOX INTERNATIONAL
UPDATED: Maze Runner: The Scorch Trials opened in its final market of China to bring in $19.8m for the weekend from 4,902 screens. Overall weekend take was $21.4m and the international tally stands at $218.6m.
The Martian added $9.9m from 68 markets for $262m and DreamWorks' Bridge Of Spies $3.1m from 26 for $16.9m.
The Peanuts Movie took $4.6m this weekend from four markets including $2.8m from China and $1.2m from Italy. The bulk of major-market releases will be in December.
WALT DISNEY STUDIOS MOTION PICTURES INTERNATIONAL
Marvel Studios' Ant-Man grossed $1.2m for $337.9m. Pixar's Inside Out stands at $494.3m.
PARAMOUNT PICTURES INTERNATIONAL
Paranormal Activity: The Ghost Dimension grossed $6.9m in 46 markets for $50.8m.
Scouts Guide To The Zombie Apocalypse took $1.2m from 17 for $2.3m.
WARNER BROS PICTURES INTERNATIONAL
UPDATED: The Intern added $3.6m from 61 markets to reach $109.3m, while Pan grossed $3.1m from 56 for $81.6m.
UNIVERSAL PICTURES INTERNATIONAL
UPDATED: Everest from Universal, Working Title, Cross Creek and Walden added $13.7m from 49 territories for $148.7m and opened in China on Tuesday to reach $11.6m in six days.
Legendary's Crimson Peak grossed $2.3m in 57 for $39.5m.
Australian comedy-drama The Dressmaker starring Kate Winslet, Liam Hemsworth and Judy Davis stayed top in Australia in its second weekend on $2.3m for $6.4m.