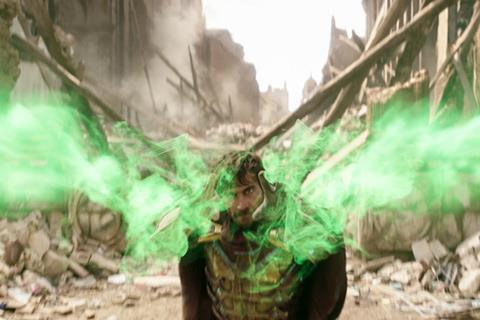 Spider-Man: Far From Home has got off to a highly promising start in China, where according to early estimates it grossed a record-breaking $35.5m including previews for the biggest opening day in the territory for Sony Pictures and a stand-alone superhero film.
The Tom Holland tentpole launched in China, Japan and Hong Kong on Friday (28) ahead of the July 2 North American debut, and was forecast to bring in $80m-$90m this weekend.
Trade volatility between China and the US led box office observers to dampen expectations, however the opening day hints at a final tally around or possibly higher than $100m for the three territories. Donald Trump and Chinese president Xi Jinping are preparing to meet on Saturday at the G20 summit in Japan.
When Spider-Man: Homecoming opened in China, Japan and Hong Kong in 2017 it grossed a combined $76.6m in its first three days – China accounted for $69.2m en route to a final $116.3m – taking current exchange rates into account. Homecoming grossed $545.9m internationally and $880.2m worldwide by the end of its run.
Meanwhile Warner Bros-Newl Line's Annabelle Comes Home has grossed an early $12.2m through Warner Bros Pictures International since it opened in 50 markets on Wednesday. Executives said the horror film ranked number one in 30 of those markets, and debuted in a further 13 on Friday to bring the weekend total to 63. The film opened in Mexico in second place on a non-traditional Thursday on $1.1m (rising to $1.5m including previews), roughly on par with Annabelle and some 55% ahead of The Conjuring.
Indonesia delivered $807,000 on its Wednesday bow to rank number one in the second highest opening day for a Warner Bros horror. After two days the gross has reached $1.7m. Russia produced $604,000 from Thursday 's opening day for number one; South Korea $447,000 after a Wednesday debut, rising to $733,000 including Thursday; Vietnam $442,000 following Wednesday, rising to $1m through Thursday. Australia generated $227,000 in third place.
The studio reported "strong openings in other Latin America markets" on Thursday and overall Annabelle Comes Home ranks as the highest opening day for a horror this year across the region. It opens in Germany on July 3), Italy on July 4, the UK and France on July 10), Spain on July 12, and Japan on September 20.