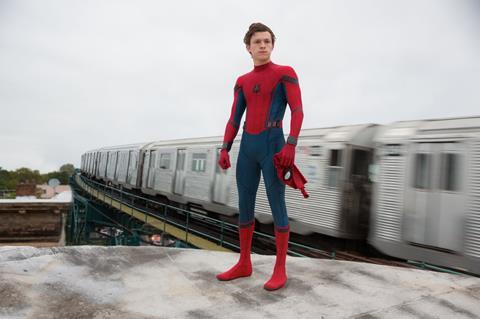 Andy Muschietti's IT debuts in six international territories, including the UK this weekend. Meanwhile, Christopher Nolan's Dunkirk nears $300m.
Friday, September 8 Update: Sony and Marvel's Spider-Man: Homecoming has reached $444.2m internationally after China generated $22.2m on its opening day. The latest incarnation of Peter Parker will have the opportunity to close the gap with The Amazing Spider-Man 2's $506.1m international haul as it begins its run in China this weekend. The Amazing Spider-Man 2 grossed $94.4m in China, which bodes well for the newest Spidey.
Annabelle: Creation has grossed $175.2m through Warner Bros Pictures International and has no new openings this week. The horror sequel has exceeded the lifetime international gross of its predecessor, Annabelle, which grossed $117.2m internationally in 2014.
Christopher Nolan's Second World War film Dunkirk has amassed $293.3m after two months in release through Warner Bros Pictures International. Warner Bros and DC's Wonder Woman has reached $404.6m internationally. Patty Jenkins' tentpole has no new openings this week.
Horror remake IT will try to scare up big returns from international audiences when it debuts in the UK, South Korea, Russia, Brazil, Australia, and Spain this weekend. Andy Muschietti directs the horror remake based on Stephen King's novel, which sees Bill Skarsgard don the iconic makeup of the titular homicidal clown. The horror currently stands at $1.1m.
Illumination's Despicable Me 3 has reached $740.5m through Universal Pictures International, while Charlize Theron spy thriller Atomic Blonde has reached $22.7m and is set to debut in Argentina, Paraguay and Uruguay over the weekend.
Tom Cruise vehicle American Made will debut in 10 territories this week, including Germany and Hong Kong. Doug Liman's action comedy has grossed $25m internationally, with several major territories yet to release.
Sofia Coppola's The Beguiled heads into the weekend on $10.7m, and will debut in nine territories, including South Korea and Mexico. Meanwhile, female-driven comedy Girls Trip has grossed $15.1m and debuts in three.
Fox International's War For The Planet Of The Apes enters the weekend on $220.7m and has no new openings. Matt Reeves' action film has some catching up to do if it wants to live up to the international performance of its predecessor, 2014's Dawn Of The Planet Of The Apes, which earned $502.1m. War will have the opportunity to narrow the gap when it opens in China on September 15.
Family offering Captain Underpants: The First Epic Movie has grossed $29.3m as it opens in Kuwait this weekend. Meanwhile, Geremy Jasper's Patti Cake$ stands at $313,000 after debuting in the UK last week. Acquired by Fox Searchlight following a bidding war at Sundance, the film centres on an overweight white New Jersey rapper trying to escape her dead-end life.
Sony Pictures Releasing International's Baby Driver has reached $102.2m and debuts in Italy this weekend, while Idris Elba and Matthew McConaughey action-adventure The Dark Tower has grossed $53.5m and has no new openings. Sony's animated film The Emoji Movie has reached $80.2m at the international box office.
Disney and Pixar's Cars 3 has amassed $ $620.9m and has no new openings this weekend. Walt Disney Studios Motion Pictures International's Pirates Of The Caribbean: Dead Men Tell No Tales has amassed $620.9m with all territories opened. Johnny Depp's most recent Pirates film falls short of the international run of its predecessor On Stranger Tides, which grossed $804.6m.
Paramount Pictures International's animated sequel Tadeo Jones 2 has reached $11m and had the best opening of a Spanish movie since December 2015. David Alonso and Enrique Gato's animation has no new openings this weekend. Michael Bay's Transformers: The Last Knight has reached $474.9m through Paramount Pictures International.
Lionsgate International's The Glass Castle, starring Brie Larson and directed by Destin Daniel Cretton, enters the weekend on $15.5m.