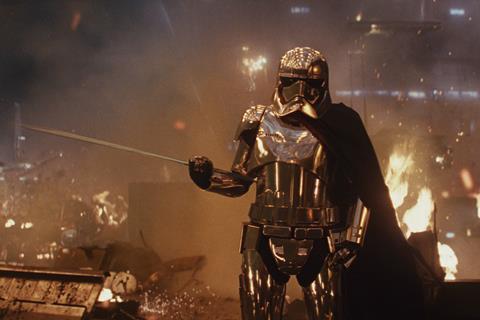 Lucasfilm's latest entry in the 40-year franchise vaulted to $745.4m worldwide as Star Wars: The Last Jedi brought in a further $143.6m in the second session.
WALT DISNEY STUDIOS MOTION PICTURES INTERNATIONAL
Last week the sci-fi adventure pushed The Walt Disney Company past the $6bn worldwide mark, and it was in fine form over the holiday weekend, adding $75.1m through Walt Disney Studios Motion Pictures International to stand at $380.3m, and has reached $365.1m in North America.
Heading into the full vacation period the UK leads the way on $67.4m ahead of the January 5 launch in China, while Germany has generated $40m, France $29.3m, Japan $28.5m, and Australia $26.9m.
Spain has delivered $13.6m, Brazil $12.1m, Russia $11.9m, Italy $10.7m, Mexico $10m, Sweden $8.5m, South Korea and Poland $7.1m, and Denmark $6.4m.
Star Wars: The Last Jedi ranks as the highest-grossing release of 2017 in Sweden and Denmark, the second in Australia, and the third in the UK. In Europe, Star Wars: The Last Jedi is the fourth highest grossing film of 2017, giving The Walt Disney Studios three of the top five films of the year.
The sci-fi opera added $19.7m globally from 776 screens through Imax for $75m, which executives said was the second highest total (excluding China) behind Star Wars: The Force Awakens.
Pixar's Coco added $13.3m to stand at $325m, leading in China on an exceptional $165.5m to establish it as the second highest-grossing animation there behind Zootopia. Mexico has delivered a similarly impressive $57.6m, followed by France on $17.7m, then Spain on $12.2m.
Next comes Russia on $9.2m, Germany on $5.9m, and Indonesia on $4.7m. The animation hit arrives in Australia and Italy this week and the global tally stands at $486.3m.
SONY PICTURES RELEASING INTERNATIONAL
Jumanji: Welcome To The Jungle arrived on $49.5m from 53 territories day-and-date with the North American release as the two combined for $100m worldwide.
The adventure reboot captured top spot in 28 territories, among them eight in Asia where it generated $14.8m overall led by an astonishing $7.1m in Malaysia including a record $2.3m in paid previews. Elsewhere the film scored $3.4m in Indonesia, $1.8m in Singapore including previews, $1.4m in Hong Kong including previews, and Vietnam on $790,000 including previews.
Jumanji debuted in second place in the UK on $10.1m including previews, and opened top in Russia on $4.8m before the bow of local favourite Yolki. Mexico produced $2.9m to lead the market, and there were number one results in France on $3.4M including previews, Germany on $2.5m including previews, UAE on $1.7m, Spain on $1.4m, and the Netherlands on $1.2m including previews.
This week brings debuts in Australia, followed in the first week of 2018 in Italy, South Korea and Brazil. Jumanji opens in China on January 12 and Japan on April 6.
CHINA UPDATE
Feng Xiaogang's Youth, about a group of dancers in the People's Liberation Army during the Cultural Revolution and the Sino-Vietnam War, grossed $34.5m for $115.5m.
Legend Of The Demon Cat opened in China on $33.5m. Bleeding Steel opened on $27.6m, Along With The Gods: The Two Worlds opened on $21m, and serial killer thriller The Liquidator starring Deng Chao arrived on $19.5m. Tiger Zinda Hai opened on $3.6m.
FOX INTERNATIONAL
The animation Ferdinand grossed a further $21.6m in its second session as the running total climbed to $30.7m. The bull opened in the UK at number five on $4.8m, France at number four on $2.1m, Russia and Mexico in third place each on $1.9m and $1.3m, respectively, and Italy in second place on $1.1m. Spain generated $1.1m for third. Australia delivered a $957,000 two hold for $4.1m, and Germany $632,000 for $1.8m.
Murder On The Orient Express used a $6.4m session in 36 markets to pull up to $212.3m. France and Japan were the weekend highlights on $1.3m for $4.1m and $987,000 for $8.4m, respectively.
The Greatest Showman starring Hugh Jackman as circus impresario P.T. Barnum ventured into its first three markets day-and-date with North America and arrived in South Korea as the top Western title on $2.8m, top in Taiwan on $698,000, and third in Hong Kong on $564,000.
UNIVERSAL PICTURES INTERNATIONAL
Pitch Perfect 3 starring Anna Kendrick and Rebel Wilson debuted day-and-date with North America in 14 territories and delivered $9.8m, combining with $27m from North America for $36.8m worldwide.
The singing troupe generally debuted at number three behind The Last Jedi and Jumanji 2 and opened in the UK on $5.9m including previews, Germany on $1.8m, Singapore on $491,000, and the Netherlands on $481,000.
Happy Death Day stands at $59.1m, Darkest Hour and early $5.4m, and Spanish hit Perfectos Desconocidos $12.2m after four weekends in Spain.
LIONSGATE INTERNATIONAL
Julia Roberts-Jacob Tremblay drama Wonder has reached $58.4m after a $7.3m weekend in 66 markets. The film debuted in Italy on $1.1m and has generated $12.6m in Brazil after three sessions, $7.7m in Australia after four, and $5.4m in the UK after four. Four sessions have produced $4.7m in Spain and $4.2m in Mexico. This week's new debuts are in South Korea and Belgium.
STUDIOCANAL
Paddington 2 crossed $100m internationally as the family sequel added $6.5m for $102.8m.
PARAMOUNT PICTURES INTERNATIONAL
Daddy's Home 2 added $3.1m from 55 markets for $68.3m and stands at $16.8m in the UK after five sessions and $9.2m in Australia after the same amount of time. Mexico has generated $10.2m after four.
CONSTANTIN
Comedy-drama Dieses Bescheuerte Herz opened in Germany on $2.2m.
WARNER BROS PICTURES INTERNATIONAL
Justice League grossed $1.7m from 65 markets to reach $646.7m. The lead market remains China on $103.9m, followed by Brazil on $39.2m, Mexico on $24.7m, the UK on $22.7m, and Australia on $14.9m.
STX INTERNATIONAL
A Bad Moms Christmas stands at $54.1m following a $1.4m haul. Jackie Chan crime drama The Foreigner has reached $106m.