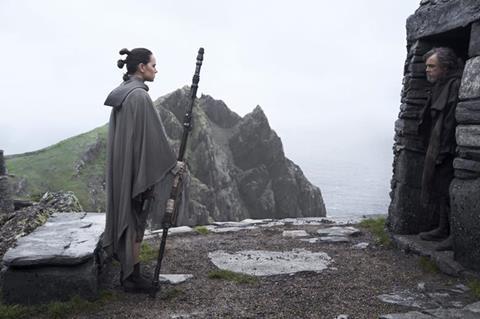 Lucasfilm's Star Wars: The Last Jedi will push The Walt Disney Company past the $6bn global mark on Friday (December 22).
The studio becomes the only one to accomplish the feat, and in fact has done so in two consecutive years. 2017 ranks as its second biggest year behind the $7.6bn achieved in 2016.
Beauty And The Beast is the key driver on $1.263bn worldwide, followed by Guardians Of The Galaxy Vol. 2 on $863.6m, Thor: Ragnarok on $844.4m, and Pirates Of The Caribbean: Dead Men Tell No Tales on $794.8m.
Lucasfilm's Star Wars: The Last Jedi grossed $36.7m worldwide on Thursday to propel the running total to $610.5m by Friday, when the sci-fi tentpole is expected to soar past $650m.
The Last Jedi grossed $18.9m through Walt Disney Studios Motion Pictures International to reach $314m outside North America, and brought in a further $17.8m in North America via Buena Vista for $296.5m.
The film stands at $54.2m in the UK, $32.3m in Germany, $23.7m in France, and $22.7m in Australia. Japan has produced $20.9m, Spain $10.9m, Brazil $10.6m, Russia $9.9m, Mexico $9m, and Italy $8.9m. The Last Jedi stands at $7.7m in Sweden, $6.3m in Poland, $6.1m in South Korea, and $5.6m in Denmark. It arrives in China on January 5.
The North American haul means the latest episode on the 40-year franchise has overtaken Despicable Me 3 to rank as the seventh highest release of the year-to-date.
It will pass Thor: Ragnarok on $307.9m on Friday and should at least overtake It on $327.5m and Spider-Man: Homecoming on $334.2m to rank fourth by the end of the weekend.