Clint Eastwood's drama Sully opened top at the weekend through Warner Bros on a confirmed $35m.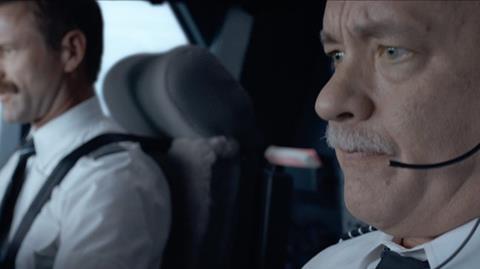 Tom Hanks stars as Chelsey Sullenberger, the commercial pilot who landed stricken US Airways flight 1549 on the Hudson River in January 2009, saving all 155 passengers and crew. The film premiered at the Telluride Film Festival.
Screen Gems' thriller When The Bough Breaks arrived in second place on $14m, while Lionsgate-Summit opened Robinson Crusoe-related animation The Wild Life opened in fifth place on $3.3m.
Relativity Studios' horror The Disappointments Room arrived at number 17 on $1.4m from 1,554 venues.
The late summer champion Don't Breathe dropped to number three and stands at $66.9m after three sessions through Screen Gems, while Laika Entertainment's Kubo And The Two Strings in sixth place stands at $40.9m via Focus Features after four.
STX Entertainment's Bad Moms on $107.5m after seven weekends ranks eighth and CBS Films' Hell Or High Water has amassed $19.7m after five and ranks ninth through Lionsgate.
Annapurna's Sausage Party fell five places to number ten in its fifth session and stands at $93.2m through Sony.
Overall box office for the top 12 combined for $84.5m, up 13.4% on last weekend's three-day Labor Day session and down a fraction on the comparable weekend in 2015.
This week's wide releases include: Universal's Bridget Jones's Baby starring Renée Zellweger and Colin Firth and Patrick Dempsey; Lionsgate's Toronto premiere Blair Witch, which receives its world premiere on Sunday; another Toronto selection in the form of Open Road's Snowden by Oliver Stone; and Pure Flix's faith-based release, Hillsong: Let Hope Rise.
Confirmed top 10 North America September 9-11, 2016
Film (Dist) / Conf wkd gross / Conf total to date
1 (-) Sully (Warner Bros) Warner Bros Pictures International $35m –
2 (-) When The Bough Breaks (Screen Gems) Sony Pictures Releasing International $14m –
3 (1) Don't Breathe (Screen Gems) $8.3m $66.9m
4 (2) Suicide Squad (Warner Bros) Warner Bros Pictures International $5.7m $307.5m
5 (-) The Wild Life (Lionsgate-Summit) $3.3m –
6 (3) Kubo And The Two Strings (Focus Features) Universal Pictures International $3.3m $40.9m
7 (4) Pete's Dragon (Buena Vista) Walt Disney Studios Motion Pictures International $3.1m $70.2m
8 (7) Bad Moms (STX Entertainment) STX International $2.6m $107.3m
9 (9) Hell Or High Water (Lionsgate) Lionsgate International $2.5m $19.7m
10 (5) Sausage Party (Sony) Sony Pictures Releasing International $2.3m $93.2m