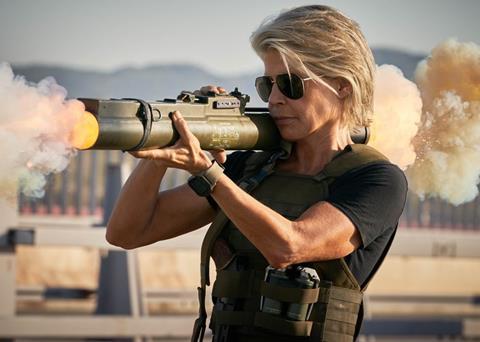 Terminator: Dark Fate opens in earnest this weekend, opening day-and-date with North America in all the major markets that did not contribute to last weekend's first wave, which has swelled to $19.5m.
The sci-fi starring Linda Hamilton, Mackenzie David, Arnold Schwarzenegger and Edward Furlong opens through Walt Disney Studios Motion Pictures International and executives will be looking to push Chinese drama Better Days off its global box office throne.
Dark Fate debuts in the following territories, with comparable opening weekends for summer 2015 release Terminator Genisys in parentheses: South Korea ($9.3m), Russia ($11.1m), Mexico ($4.8m), Brazil ($3.6m), Australia ($3.6m), Spain ($1.5m), Italy ($1.2m), Argentina ($2.3m), Colombia ($1.2m), and India ($3m), among others. Genisys finished on $350.8m internationally and $440.6m worldwide.
Maleficent: Mistress Of Evil has reached $255.3m after holding on to the Hollywood international box office crown last weekend and should have enough momentum to come close to, if not cross, $300m by the end of this weekend.
Joker will cross $900m at the global box office this weekend. The supervillain origins story starring Oscar contender Joaquin Phoenix has amassed $596.1m through Warner Bros Pictures International and stands at $878.3m It: Chapter Two has grossed $242.1m and opens in Japan, where the 2017 original arrived on $1.6m on the way to $19.3m.
Executives unleash The Shining sequel Doctor Sleep in the UK, France, Italy, and Spain – all of which reward elevated horror. Ewan McGregor stars as the grown-up Danny Torrance – the central child character in Stanley Kubrick's 1980 horror film based on the Stephen King novel – alongside Rebecca Ferguson.
Zombieland: Double Tap has grossed $21m via Sony Pictures Releasing International and opens this weekend in France, where the 2014 original debuted on $1.2m en route to $2.6m. The international tally for Angry Birds 2 stands at $102m.
Ang Lee's sci-fi Gemini Man starring Will Smith in a dual role has reached a lacklustre $78.5m at the international box office. Dora And The Lost City Of Gold stands at $55.4m.