AUGUST 7 UPDATE: Aviron's first release Kidnap places fifth; Detroit breaks into top 10 in underwhelming expansion.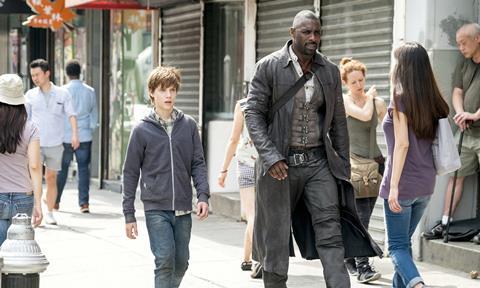 Sony's Stephen King fantasy adaptation The Dark Tower led a spectacularly weak North American box office session – the lowest of the year so far – as it opened a little ahead of last weekend's champion Dunkirk on a confirmed $19.2m.
The film arrived in 3,451 theatres and at a reported budget of $60m excluding marketing, will need to stay relevant in the weeks ahead to reach break-even. The Matthew McConaughey, Idris Elba saga has amassed an early $27.4m worldwide.
Kidnap, the thriller starring Halle Berry, opened reasonably in fifth place on $10m in 2,378 theatres and marked the maiden debut for Aviron led by Paramount Classics founder veteran David Dinerstein. The film had been in a holding pattern for two years and was set to open through Relativity Media before Aviron acquired rights.
Aviron Capital consortium led by film financier William Sadleir, itself backed by asset management titan BlackRock, backs Aviron. The distributor has a deal with Universal Pictures Home Entertainment, and Jason Resnick is part of the Aviron senior executive team as acquisitions executive.
Lotus Entertainment, the sales and financing company launched by Bill Johnson and Jim Seibel that has scaled back recently after Johnson embarked on a world trip with his family, handles international sales.
Dunkirk is holding well and dropped 35.6% in its third weekend to number two on $17.1m for $133.1m. The worldwide haul stands at $314.2m.
Detroit expanded wide in its second weekend through Megan Ellison's new distributor Annapurna Pictures and climbed eight places to number eight.
The Civil Rights drama starring John Boyega and Will Poulter expanded from 20 sites to 3,007, increasing by 1,934% and adding $7.1m for $7.4m. Observers expected the film to fare better after expansion. According to industry sources it cost $58m to make and will need to develop strong word of mouth to break even.
Atomic Blonde took a 55.4% hit and fell three slots to seven in its second weekend through Focus Features, adding $8.2m for $34m. A 51.1% drop saw Sony's The Emoji Movie fall one slot to third on $12m for $49.1m after two weekends, while Universal's hit Girls Trip in fourth stands at $85.4m after three weeks.
Participant Media's documentary An Inconvenient Sequel: Truth To Power in its second session through Paramount, expanded from four to 180 venues, climbing 12 slots to number 16 on $961,193 for $1.1m.
Taylor Sheridan's thriller Wind River with Jeremy Renner and Elisabeth Olsen opened at number 28 through TWC on $161,558 from four for a spectacular $41,042 average.
Sundance sensation and potential documentary awards contender Step, a girl empowerment story about a group of inner city dancers and aspiring college students, arrived at number 29 through Fox Searchlight on $146,053 from 29.
The coming-of-age drama Columbus opened in 47th place through Independent on $26,820 from two venues. Visit Film handles international sales.
The top 12 generated $110.4m, down 20.1% on last weekend and down 50.1% on the comparable session in 2016 when Suicide Squad opened top on $133.7m.
This week's wide releases are: Warner Bros horror Annabelle: Creation with Miranda Otto; Lionsgate's drama The Glass Castle starring Brie Larson, Woody Harrelson and Naomi Watts; and animation The Nut Job 2: Nutty By Nature from Open Road, which last week was the subject of reports that it is being courted for acquisition by Tang Media Group.
Confirmed top 10 North America August 4-6, 2017
Film (Dist) / Conf wkd gross / Conf total to date
1 (-) The Dark Tower (Sony) Sony Pictures Releasing International $19.2m –
2 (1) Dunkirk (Warner Bros) Warner Bros Pictures International $17.1m $133.1m
3 (2) The Emoji Movie (Sony) Sony Pictures Releasing International $12m - $49.1m
4 (3) Girls Trip (Universal) Universal Pictures International $11m - $85.4m
5 (-) Kidnap (Aviron) Lotus Entertainment $10m –
6 (5) Spider-Man: Homecoming (Sony) Sony Pictures Releasing International $8.8m $294.9m
7 (4) Atomic Blonde (Focus Features) Universal Pictures International, Sierra/Affinity $8.2m $34m
8 (16) Detroit (Annapurna) $7.1m $7.4m
9 (6) War For The Planet Of The Apes (Fox) Fox International $6.2m $130.4m
10 (7) Despicable Me 3 (Universal) Universal Pictures International $5.4m $240.9m