Universal behemoth to reach the milestone by Saturday.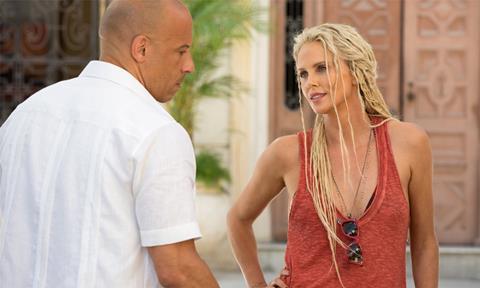 Universal Pictures International's The Fate Of The Furious is about to surge past the $1bn milestone at the worldwide box office.
The action thriller has reached $965m globally and will fight to retain pole position at the international box office, where is stands at $794.2m, as Disney unleashes Guardians Of The Galaxy Vol. 2 in its first wave of territories.
The eighth instalment of the franchise, directed by F. Gary Gray, has already surpassed lifetime grosses of the first six Fast And Furious films. It debuts in Japan this weekend.
Ricardo de Montreuil's drama Lowriders from Universal, Blumhouse and Imagine Entertainment will debut in the UK this weekend. The film stars Melissa Benoit, Eva Longoria and Theo Rossi.
Jordan Peele's Get Out stands at $19.6m and opens in six territories, while M. Night Shyamalan's horror Split has reached $136.7m.
Illumination and Universal Pictures' Sing has amassed $356.6m at the international box office.
Marvel Studios' Guardians Of The Galaxy 2 brought in $6.6m from its Tuesday international opening day in Australia, Italy and New Zealand through Walt Disney Studios Motion Pictures International.
The superhero release grossed $4.5m including previews in Australia, $1.5m in Italy, and $700,000 including previews in New Zealand.
The follow up to 2014's Guardians Of The Galaxy, which grossed $773.3m worldwide, sees Chris Pratt, Zoe Saldana, Dave Bautista, Vin Diesel and Bradley Cooper reprising their roles.
By the end of the weekend, the film will have debuted in more than 23 international markets, or 58% of its entire international market, including the UK, Germany, Brazil, Mexico and Spain. It opens in North America on May 5.
Live-action smash Beauty And The Beast stands at $641.1m, while Moana has grossed $391.1m.
Dreamworks Animation's The Boss Baby currently stands at $227.4m after opening in 15 territories through Fox International last week.
Meanwhile, Logan has generated $380.8m, and Hidden Figures $59.5m.
Family drama Gifted is in the early stages of release and opens in three territories this week, while Warren Beatty's romantic period drama Rules Don't Apply opens in four including Australia.
Paramount Pictures International's sci-fi action film Ghost In The Shell has grossed $123.5m.
Warner Bros Pictures International's Unforgettable, starring Rosario Dawson and Katherine Heigl, stands at $21m after debuting in 16 markets day-and-date with North America. The thriller debuts in Italy this weekend.
Meanwhile, Legendary and Warner Bros' tentpole Kong: Skull Island has amassed $395.4m, and heist comedy Going In Style has reached $21m.
The LEGO Batman Movie has amassed $133.4m and CHiPS $7.5m.
Lionsgate International's Power Rangers has reached $50m. The action film will not see its next debut until May 12 in China.
Mark Wahlberg starrer Patriots Day grossed an additional $1.1m from 19 markets for $14.5m and will debut in Brazil next month.