Fox International's space adventure goes up against the latest 007 instalment in what should produce a dynamic clash outside North America.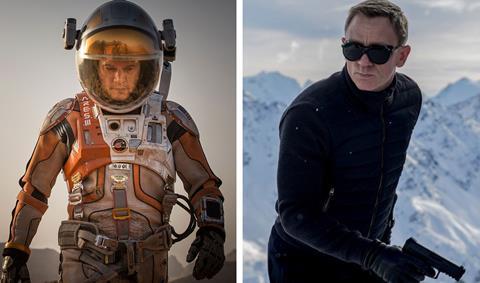 The Martian has amassed more than $223m and delivered Ridley Scott a palpable hit that will soar past the $400m global threshold this weekend.
Fox International also opens The Bride Wars – China Remake in Hong Kong. Hitman: Agent 47 on $60.1m opens in Italy and The Last Hero arrives in Russia.
Meanwhile James Bond appears to be in rude heath in his home country as Spectre has raced to more than $24m in its first three days in the UK via through Sony Pictures Releasing International.
The spy saga also debuts this weekend in the Netherlands ahead of next week's North American debut.
Hotel Transylvania 2 has grossed $182.2m and sinks its teeth into China this weekend.
Goosebumps has grossed an early $11.1m and ventures into approximately 20 markets including Argentina, Venezuela, Colombia and Chile.
The Walk on $25.2m opens in France and South Korea.
Lionsgate International opens The Last Witch Hunter in a further 23 territories this weekend, among them Australia, Russia, France, Mexico, Italy, Spain and Brazil.
This weekend the drug cartel thriller Sicario infiltrates Mexico – where much of the action in the story takes place. The film has grossed more than $27m.
Walt Disney Studios Motion Pictures International's Inside Out stands at $487.7m while Ant-Man has taken $321.6m and crossed $500m worldwide earlier this week.
Pan has reached $69m through Warner Bros Pictures International and opens this weekend in Japan, while Black Mass on $15.5m infiltrates Russia. The Intern has grossed $95.1m and the Spanish debut is expected to help the comedy cross $100m.
Crimson Peak stands at more than $26.1m via Universal Pictures International and debuts in Mexico and South Africa.
Paranormal Activity: The Ghost Dimension has grossed more than $23.6m through Paramount Pictures International.