OCTOBER 26 UPDATE: Fox's adventure hit prospered while others misfired, reclaiming pole position on an confirmed $15.7m to boost the running total to $166.2m.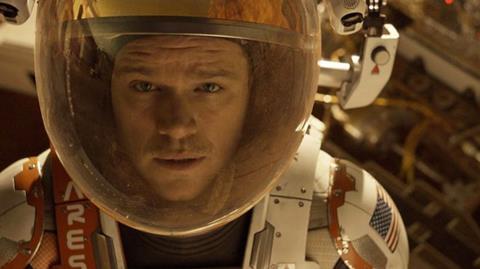 Ridley Scott's Matt Damon starrer has amassed $384.4m worldwide.
Summit's Vin Diesel fantasy horror The Last Witch Hunter arrived at number four via Lionsgate on a lacklustre $10.8m from 3,082 while Paramount's Paranormal Activity: The Ghost Dimension debuted in sixth place on $8.1m for the lowest opening in the franchise.
It is likely the studio expected low returns for a series that has performed an overall downward spiral since the 2009 original, hence the experimental revenue-sharing release plan with AMC and Cineplex in Canada that will see it roll out on digital platforms 17 days after the theatre count drops below 300.
The count is 1,656 and Paramount said AMC theatres generated $3.1m of the weekend total (20% of the film's total screens) as it noted that no other circuit delivered as much with a single film.
To this point it should be added that the window-shrinking strategy of Paramount, AMC and Cineplex meant the likes of Regal, Cinemark and Carmike all boycotted the film and this was not a session buoyed by high-achieving new releases.
Universal expanded its critically acclaimed Steve Jobs from 60 to 2,493 sites but the film only managed $7.1m and stands at $9.8m after three weekends.
There were two truly dismal launches. Bill Murray starrer and independent production Rock The Kasbah gave Open Road its worst debut on $1.5m from 2,012 and Jem And The Holograms rounded out a poor weekend for Universal with a $1.4m debut from 2,413.
Focus opened Suffragette on $76,244 from four, while FIP released its Bollywood title Shaandaar day-and-date with the $7.1m number one India debut on $384,000 from 136.
A24 expanded Room by 19 to 23 venues and the Brie Larson awards contender added $249,000 for $404,000 in its second weekend. SPC boosted Truth by 12 to 18 sites in its second session and the drama grossed $108,00 for $204,000.
Broad Green opened Sarah Silverman starrer I Smile Back on $15,758 from two, Abramorama debuted Heart Of A Dog in a single venue on $13,893 and The Orchard opened Nasty Baby on $8,023 in two.
Overall box office for the top 12 amounted to $95.5m and dropped 14.4% against last weekend and 7.4% against the comparable session in 2014 when Universal's Ouija opened top on $19.9m to help the top 12 gross $103.2m.
This week's wide releases are Bradley Cooper starred Burnt via TWC; Warner Bros' Our Brand Is Crisis with Sandra Bullock; and Paramount, AMC and Cineplex's second window-shrinking experiment in the form of Scout's Guide To The Zombie Apocalypse.
Confirmed top 10 North America Oct 23-25, 2015
Conf (Dist) / Est wkd gross / Conf total to date

1 (2) The Martian (Fox) Fox International $15.7m $166.2m
2 (1) Goosebumps (Sony) Sony Pictures Releasing International $15.5m $43.7m
3 (3) Bridge Of Spies (DreamWorks-Buena Vista) Fox International $11.4m $32.6m
4 (-) The Last Witch Hunter (Lionsgate-Summit) Lionsgate International $10.8m –
5 (5) Hotel Transylvania 2 (Sony) Sony Pictures Releasing International $9m $148.2m
6 (-) Paranormal Activity: The Ghost Dimension (Paramount) Paramount Pictures International $8.1m –
7 (11) Steve Jobs (Universal) Universal Pictures International $7.1m $9.8m
8 (4) Crimson Peak (Universal) Universal Pictures International $5.7m $22.6m
9 (7) The Intern (Warner Bros) Warner Bros Pictures International $3.8m $64.6m
10 (8) Sicario (Lionsgate) Lionsgate International $2.8m $39.3m