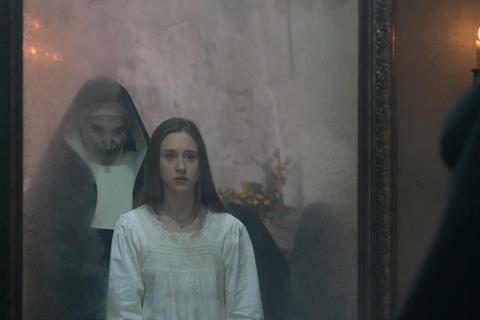 SEPTEMBER 10 UPDATE: Warner Bros' extraordinary late summer / early autumn continued as The Nun ruled the world thanks to a $79.3m international launch in 60 markets as the opening weekend climbed to $133.2m worldwide.
WARNER BROS PICTURES INTERNATIONAL
UPDATE: The horror film ranked number one in 55 markets and delivered the biggest opening weekend for a horror film in 22 markets including Brazil, Indonesia, Colombia, Spain, Poland, and UAE, and the biggest debut by a film from The Conjuring universe in 49 including the UK, Germany, and Mexico.
This was also Warner Bros' biggest opening weekend for the year-to-date in 39, among them Brazil, Spain, Sweden, and Indonesia.
Mexico led the way on $10.5m, followed by Brazil on $6.6m, Indonesia on $7.6m, the UK $5.3m, India $5.2m, and Australia on $2.7m.
The Meg added $11.3m from 67 for $360.4m, and $492.1m worldwide. Japan was the final market to receive the film and produced $3.3m for number one.
Crazy Rich Asians added $5.6m from 23 for $28.5m. The rom-com grossed $3m in its second weekend for $9.7m, and Singapore added has delivered $4.4m after two.
PARAMOUNT PICTURES INTERNATIONAL
Mission: Impossible Fallout added $38.6m from 65 markets to reach $514.5m, and $726.6m worldwide. The second session in China generated $32.4m for $137.7m after 10 days.
SONY PICTURES RELEASING INTERNATIONAL
Searching grossed $7.5m from eight markets for $17.7m, while The Equalizer 2 earned $6.5m from 52 for $72m, and Alpha added $6.3m from 41 for $27.5m. Hotel Transylvania 3: Summer Vacation grossed $5.8m from 62 for $332.4m, and Slender Man $1.7m from 43 for $17.6m.
WALT DISNEY STUDIOS MOTION PICTURES INTERNATIONAL
Marvel Studios' Ant-Man And The Wasp grossed $7m from 16 territories to reach $395.4m, and $610.2m worldwide. China has delivered $117.4m after 17 days, making it the fourth highest grossing Marvel Cinematic Universe film in China behind Avengers: Infinity War, Avengers: Age Of Ultron, and Captain America: Civil War.
Pixar's Incredibles 2 added $5.7m from 25 for $572.2m and $1.177bn worldwide, and Christopher Robin grossed $2.5m from 27 for $51.2m, and $142.9m globally.
UNIVERSAL PICTURES INTERNATIONAL
Mamma Mia! Here We Go Again added $5.9m from 68 for $257.3m, and $376.4m worldwide. The musical opened in Italy on $1.6m. BlacKkKlansman added $3.7m from 25 for $22.1m, and $65.5m worldwide.
STX INTERNATIONAL
Mile 22 took $2.8m for an $18.5m running total and stands at $53.6m worldwide. Adrift stands at $25.6m internationally.