AUGUST 3 UPDATE: The action icon who defies the slide of age returned to the fray over the weekend as Mission Impossible: Rogue Nation dominated the international arena on a confirmed $64.5m from 40 territories and ruled North America on $56m.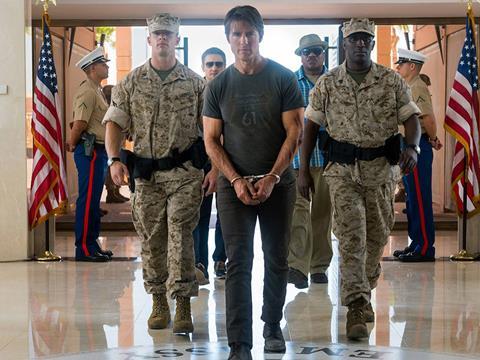 PARAMOUNT PICTURES INTERNATIONAL
UPDATED: The distributor claimed the international result finished 49% above Mission: Impossible – Ghost Protocol for the same territories and opened top in 33 of its territories, scored franchise highs in 32 and Cruise highs in 27.
South Korea led the way on $17m from 1,198 locations for franchise and Cruise records, the UK on $8.3m from 570 cinemas for a franchise best, Taiwan on $5.1m from 97 and Mexico on $5.m from 680 for best franchise and Cruise debuts in each and Australia on $3.8m from 145.
Paramount/Skydance's Rogue Nation opened in Malaysia on $2.7m from 133 for new franchise and Cruise marks and the studio's third biggest debut. Hong Kong produced $2.7m from 47 the same three records.
The film arrives this week in Germany and Russia. Imax delivered $4.1m from 135 screens with strong showing in particular in the Asia-Pacific region. The global haul was $12.5m. The Chinese launch is set for September 8.
Terminator: Genisys added $4.6m from 64 to climb to $229.9 and after four sessions has reached $19.5m in Japan and $8.7m in Germany. It enters China on August 23.
The Little Prince opened second in France on $3.3m from 727.
UNIVERSAL PICTURES INTERNATIONAL
UPDATED: Minions brought in a further $38.9m from 61 territories for $567.9m internationally and $855.5m worldwide.
The family smash overtook Shrek The Third's $799m to rank as the ninth biggest animation worldwide with five territories to go. It ranks sixth in the international pantheon, having surpassed The Lion King on $565m.
Minions opened in South Korea on $6.4m from 322 and has already grossed more than the lifetime total of Despicable Me 2. It arrived in Japan at number two on $6m from 330 for a record Universal launch.
The film stayed top in Germany for the fifth week in a row and has grossed $49.2m. It earned the same distinction in Argentina where it has earned $33.6m and ranks as the highest release in history.
Jurassic World grossed $4.4m in 62 for $928.3m internationally and $1.56bn worldwide. It is the third-highest-grossing film of all time worldwide. Japan will be the next and final release this week.
Ted 2 stands at $79.7m and opened in second place in Spain on $1.2m from 339. Pitch Perfect 2 has reached $99.2m and will cross $100m this week, while Trainwreck has grossed an early $636,200.
ASIA UDPDATE
Hollywood overshadowed China despite the US blockade. The action fantasy Monster Hunt added $27m to reach $279m, while Dynasty Woman: Yang Gui Fei added $9m for an early $13.5m and superhero spoof Jian Bing Man (Pancake Man) used a $7.7m weekend to climb to $158m. Monkey King grossed $6.7m for $121m.
South Korea's The Assassination grossed $12.7m for $44m.
WALT DISNEY STUDIOS MOTION PICTURES INTERNATIONAL
Marvel Studios' Ant-Man posted $20m in its third weekend from 50 territories to climb to $159.5m and is on the cusp of $300m worldwide. The UK remains the lead market on $19.9m, with Mexico on $13.2m and Brazil on $10.9m.
Pixel's Inside Out posted an estimated $17.8m from 51 for $272.7m. With China, Germany and Italy to come, Mexico is the top earner on $30.6m, followed by South Korea on $27.2m and the UK on $26.6m.
Marvel Studios' Avengers: Age Of Ultron has amassed $941.5m. China is the top earner on $235.5m followed by South Korea and the UK on $82.2m and $73.7m, respectively.
SONY PICTURES RELEASING INTERNATIONAL
Pixels arrived in a further 18 markets and generated $19.3m for $56.6m with 20 markets to go. The comedy adventure opened in Germany on $2.5m from 875 and arrived at number one in Italy on $1.5m from 370 including reviews.
Mexico is the top market on $8m, followed by Brazil on $7m, Argentina on $5.1m and Russia on $4.7m.
Insidious: Chapter 3 has climbed to $57.3m from 23 SPRI markets with the final major debut in Brazil producing $1.1m.
WARNER BROS PICTURES INTERNATIONAL
UPDATED: Magic Mike XXL grossed $3.5m from 43 markets for $46.8m and delivered a $365,000 opening weekend from 171 screens in Brazil that roughly doubled that of the original.
The top five markets are the UK on $10.4m, Australia on $8.7m, Germany on $5.6m, Holland on $2.6m and Russia on $1.6m.
The Gallows has reached $13.5m from 28 and debuted in Spain on $233,000 from 215.
FOX INTERNATIONAL
Paper Towns added $5.7m from 59 markets as the running total climbed to $25.4m. The YA adaptation opened in Germany on $729,003 on 383 screens and has grossed $3.5m in Mexico after two weekends and $3.3 in Australia after three.
Spy stands at $123.9m and has grossed $1.9m in Italy after three sessions.