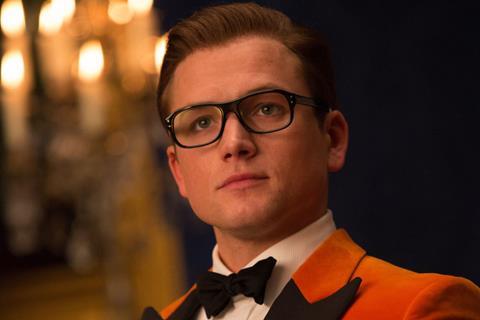 UK TOP FIVE
| Ranking | Film/Distributor | Weekend gross | Running total |
| --- | --- | --- | --- |
| 1 | Kingsman: The Golden Circle (Fox) | $11.5m (£8.5m) | $11.5m (£8.5m) |
| 2 | It (WB) | $3.84m (£2.84m) | $35.8m (£26.44m) |
| 3 | Victoria And Abdul (Universal) | $1.67m (£1.24m) | $6.5m (£4.83m) |
| 4 | mother! (Paramount) | $490,000 (£362,345) | $2.26m (£1.67m) |
| 5 | The Emoji Movie (Sony) | $483,000 (£357,000) | $18.9m (£14m) |
(Note - Dollar conversions are based on today's rates)
FOX
Kingsman: The Golden Circle scared off It as it posted Matthew Vaughn's biggest ever UK debut.
Fox's sequel scored an impressive non-final $11.5m (£8.5m) from its 603 sites, including around $3.1m (£2.3m) in previews. It's worth noting that its Fri-Sun tally of $8.3m (£6.2m) would have also seen it land top.
That's double the $5.7m (£4.24m) bow of Kingsman: The Secret Service and tops Vaughn's previous best, X-Men: First Class' $7.4m (£5.44m) from 507 sites, including $2.7m (£2m) in previews.
Kingsman: The Secret Service is Vaughn's highest grossing UK release with $22.5m (£16.6m), a tally that The Golden Circle shouldn't have any problem surpassing.
Also for Fox, Captain Underpants has reached $10.6m (£7.81m) after nine weeks in play.
WARNER BROS
It dropped to second as it fell 53% with a $3.84m (£2.84m) third weekend.
Warner Bros' horror is now up to an excellent $35.8m (£26.44m) to make it the highest grossing horror of all time at the UK box office, not taking inflation adjustment into account.
It will soon become the sixth release of 2017 to hit the £30m mark in the UK.
Also for Warner Bros, Dunkirk added $249,000 (£184,000) for $75.9m (£56.08m) to date, and should just edge past The Dark Knight Rises' $76.2m (£56.3m) to become Christopher Nolan's biggest ever film.
UNIVERSAL
Victoria And Abdul enjoyed a strong hold as it dropped only 33% with a $1.67m (£1.24m) second weekend.
Universal's biopic has now marched to $6.5m (£4.83m) after ten days in play, having taken a healthy $2.35m (£1.74m) across its first Mon-Thurs period. It will need similar holds to reach Philomena's $15.5m (£11.44m) UK haul.
Also for Universal, Despicable Me 3 took a further $264,000 (£195,291) for $63.2m (£46.71m) to date, while American Made has reached $7.2m (£5.35m) following a $205,000 (£151,910) third weekend.
PARAMOUNT
mother! fell 56% on its way to a non-final $490,000 (£362,345) second weekend as it dropped to fourth.
Paramount's divisive psychological horror is now up to $2.26m (£1.67m) and will at least hope to match The Wrestler's $3.4m (£2.5m) UK result, although Black Swan's $21.9m (£16.19m) is a long way ahead.
SONY
In its eighth weekend, Sony's The Emoji Movie fell only 9% with $483,000 (£357,000) for $18.9m (£14m) to date, almost eight times its opening weekend.
The critically derided animation hasn't left the top five since its opening.
EONE
Falling a slim 23% despite its soft opening, eOne's The Jungle Bunch swung to an extra $390,000 (£288,358) for $991,000 (£732,491), and should continue to do weekend business until The LEGO Ninjago Movie arrives next month.
LIONSGATE
Falling 57% (excluding previews), Lionsgate's American Assassin added $354,000 (£262,042) for $1.85m (£1.37m) after 11 days in play.
Also for Lionsgate, prison escape drama Maze was a hit in Ireland as it broke out with $167,000 (£123,647) from its 65 sites, marking a $2,573 (£1,902) site average over its opening weekend.
The Hitman's Bodyguard and The Limehouse Golem have grossed $9.8m (£7.23m) and $1.61m (£1.19m), respectively.
STX INTERNATIONAL
In its third weekend, STX International's Wind River fell 54% with $160,000 (£118,206) for $1.63m (£1.2m) so far.
CURZON ARTIFICIAL EYE
Tennis biopic Borg Vs McEnroe didn't quite serve an ace with a UK opening of $138,000 (£101,888) from its 145 sites, a site average of $951 (£703).
PECCADILLO PICTURES
From its seven sites through Peccadillo Pictures, In Between posted a non-final UK debut of $20,000 (£14,498) with previews still to be added.
UPCOMING RELEASES
This week sees saturation releases for STX International's Home Again, Sony's Flatliners and Fox's Goodbye Christopher Robin.
Arrow Films' Zoology, Altitude's Daphne, Thunderbird Releasing's Brimstone and Vertigo Releasing's Killing Ground are among the films receiving a limited release.