Worldwide tickets sales for the year-to-date reached a new high for the studio of $3.819bn on Monday.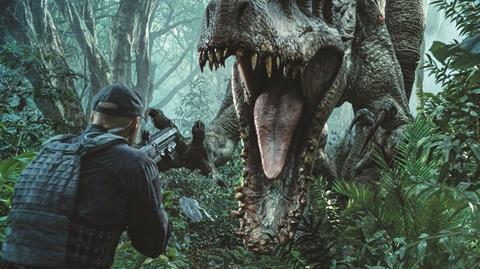 The latest accomplishment in this most remarkable of years for Universal beat the previous mark of $3.691bn established in 2013.
The development follows previously reported industry speed records to $1bn box office in North America, $2bn internationally and $3bn worldwide.
"This has been a fantastic year for our studio, as we've had the privilege of releasing some of the most highly- anticipated films of 2015," said chairman of Universal Filmed Entertainment Jeff Shell. "Together with my partners Ron Meyer and Donna Langley, I'm incredibly proud to lead a team of people at Universal who are the truly best in the business."
"We are fortunate to be in business with some of the most talented filmmakers in the industry today," said Universal Pictures chairman Langley. "Together with our Universal team, we're thrilled to celebrate a slate of fantastic films that audiences have embraced all over the globe. From production to marketing and publicity, music, and the front lines of distribution, it is that passion, commitment and hard work that makes an achievement like this possible."
Universal has recorded several notable achievements in the first half of 2015:
Jurassic World becomes the fastest film to reach $1bn worldwide in 13 days;
Record $208.8m North American, $316.8m international and $535.6m global opening weekends set by Jurassic World, the first film to gross more than $500m in a single session;
Record second-weekend grosses in North America on $106.6m and internationally for a day-and-date release on $163.4m set by Jurassic World;
Fast & Furious 7 becomes the fourth-highest-grossing film of all time worldwide behind Avatar, Titanic and The Avengers and the third biggest internationally behind Avatar and Titanic;
Universal Pictures' films have held the number one spot at the worldwide box office for eight weeks this year, more than any other studio so far in 2015.
Four films – Fifty Shades Of Grey, Furious 7, Pitch Perfect 2 and Jurassic World – have opened top at the North American box office for a total of nine weeks in pole position, more than any other studio so far in 2015;
Universal films account for four of the top seven North American debuts this year: Jurassic World in first place on $208.8m, Furious 7 in third on $147.2m, Fifty Shades Of Grey in sixth on $85.2m and Pitch Perfect 2 in seventh on $69.2m.
Fifty Shades Of Grey, Furious 7 and Jurassic World set all-time opening weekend records for February, April and June, respectively.
Fifty Shades Of Grey is Universal's highest-grossing R-rated film of all time, the highest three-day February weekend opening, the highest three-day Valentine's Day weekend opening and the highest opening for a female director, Sam Taylor-Johnson; and
Pitch Perfect 2 scored the biggest film musical opening and the second biggest PG-13 comedy opening.
With half of 2015 still to go, Universal's slate includes this week's release Ted 2, Minions from Illumination Entertainment, action-adventure Everest, the drama Steve Jobs from Danny Boyle, Guillermo del Toro's Crimson Peak, the drama By The Sea directed by Angelina Jolie Pitt and starring Brad Pitt and Jolie Pitt and the comedy Sisters starring Tina Fey and Amy Poehler.