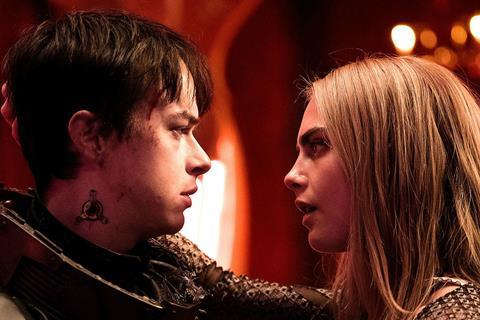 Europacorp's Valerian And The City Of A Thousand Planets will likely retain its position atop the international box office after dethroning Annabelle: Creation last weekend.
The needed glimpse of success was propelled by the sci-fi's $40.8m debut in China following the lifting of a non-Chinese film summer blackout. The film finished its first week in China at number one on $51.7m. Luc Besson's space opera currently stands at $157.8m internationally and $197.6m worldwide.
Russia has generated $1.5m so far this week for a running total of $12.9m, while France, at the end of its fifth week, heads into the weekend on $33.5m. The film debuts in South Korea and Greece over the weekend.
Annabelle: Creation has reached $148.3m through Warner Bros Pictures International and has no new openings this week. The horror sequel has surpassed the lifetime international gross of the original, 2014's Annabelle, which grossed $117.2m internationally.
Christopher Nolan's Dunkirk has grossed $243.3m after seven weeks in release through Warner Bros Pictures International. The Second World War action drama has reached $417.5m worldwide.
Warner Bros and DC's Wonder Woman has amassed $401.3m and stands at $808.1m worldwide. Patty Jenkins' tentpole has no new releases this week. King Arthur: Legend Of The Sword has reached $109.1m, while teen romance drama Everything, Everything stands at $21.4m.
Fox International's War For The Planet Of The Apes stands at $216.3m and has no new openings this week. Matt Reeves' action film is lagging behind the international performance of its predecessor, 2014's Dawn Of The Planet Of The Apes, which earned $502.1m at the international box office. War will have an opportunity to close the gap with several major markets left to open, including China on September 15.
Captain Underpants: The First Epic Movie has reached $27.6m as it opens in Kuwait this weekend. Alien: Covenant stands at $158.8m.
Geremy Jasper's Patti Cake$ will debut in the UK this week. Acquired by Fox Searchlight following a bidding war at Sundance, the film centres on an overweight white New Jersey rapper trying to escape her dead-end life.
Illumination's Despicable Me 3 has grossed more than $718m internationally through Universal Pictures International. The Despicable Me franchise is the highest grossing animated franchise of all time globally.
Charlize Theron spy thriller Atomic Blonde has reached more than $32m and is set to debut in Brazil, South Korea, and Greece over the weekend.
Tom Cruise's latest starring vehicle American Made is set to debut in four territories this weekend, including Brazil. Doug Liman's action comedy has reached more than $6.1m, with several major territories yet to release.
Sofia Coppola's The Beguiled has grossed more than $8.3m, while female-driven comedy Girls Trip has earned more than $12.1m and has no new openings.
Sony Pictures Releasing International's Baby Driver has reached $90.1m after debuting in China last week on $9.6m. The film opens in Indonesia this weekend.
Idris Elba and Matthew McConaughey action-adventure The Dark Tower stands at $56.3m and opens in the Philippines, Hong Kong and Taiwan over the weekend, while Baby Driver stands at $90.1m. The Emoji Movie has earned $67.9m at the international box office as it debuts in Brazil this week.
Spider-Man: Homecoming has earned more than $418.1m internationally. The latest incarnation of Peter Parker is within reach of The Amazing Spider-Man 2's $506.1m international haul. Homecoming will get its chance to catch up when it debuts in China on September 8, where The Amazing Spider-Man 2 grossed $94.4m.
Cars 3 stands at $182.6m and opens in Denmark, Norway, Sweden and Singapore this weekend. Walt Disney Studios Motion Pictures International's Pirates Of The Caribbean: Dead Men Tell No Tales has amassed $620.1m with all territories opened, falling short of the international run of predecessor On Stranger Tides' $804.6m.
Paramount Pictures International's animated adventure sequel Tadeo Jones 2 debuted last week in Spain at number one, grossing $3.1m, making it the best opening of a Spanish movie since December 2015.
Meanwhile, Baywatch has grossed $119.7m internationally, while Transformers: The Last Knight has amassed $474.1m through Paramount Pictures International.
Lionsgate International's The Glass Castle, starring Brie Larson and directed by her Short Term 12 director Destin Daniel Cretton, stands at $12.9m as it enters the weekend.