MAY 31 UPDATE: Fox's X-Men: Apocalypse launched summer and propelled the four-day Memorial Weekend into the all-time top ten with a muted $79.8m debut, while Buena Vista's Alice Through The Looking Glass flopped.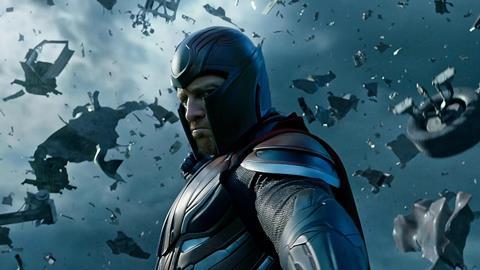 Apocalypse's estimated four-day debut arrived in 4,150 theatres and trailed by 27.8% the $110.6m four-day launch of X-Men: Days Of Future Past exactly two years ago.
Alice In Wonderland arrived at number two on a dismal $33.5m over four days, which is a little over one-quarter of the $116.m three-day launch of 2010's Alice In Wonderland when the earlier film's opening weekend is adjusted for inflation to $127.4m.
The poor debut has inevitably steered the conversation towards whether audiences were turned away by last week's publicised divorce filing and restraining order against Johnny Depp by his estranged wide Amber Heard.
SUNDAY MAY 29 THREE-DAY REPORT: X-Men: Apocalypse kicked off summer season in relatively muted style, delivering a confirmed $65.8m that ranked outside the top ten in the all-time Memorial Day Weekend pantheon and keeps alive the belief in some quarters that there is a slow-burning ennui among audiences.
The three-day debut arrived in 4,150 theatres and trailed that of X-Men: Days Of Future Past exactly two years ago by 27.6%, yet it brushed aside with ease the challenge of Buena Vista's Alice Through The Looking Glass.
That film, whose star Johnny Depp is beset by reports of a divorce filing by Amber Heard, arrived in second place on $26.9m. Again, comparisons do not hold up well: the new release grossed just under one-quarter of the $116.1m March 2010 launch scored by Alice Through The Looking Glass, falling to 22% when the earlier gross is adjusted for inflation.
The Angry Birds Movie slipped two places to number three on $18.8m for $66.4m after two sessions through Sony, while Captain America: Civil War ranks fourth on $372.9m through Buena Vista after four.
The Nice Guys dropped three slots to number seven in its second weekend and added $6.5m for $21.9m. Bloom handles international sales. Another out-of-competition Cannes selection, Money Monster, ranks eighth via TriStar on $4.3m for $33.9m after three weekends.
Roadside Attractions pushed Whit Stillman's period drama and Sundance premiere Love & Friendship into the top ten as the film climbed five places to number nine on $2.4m for $3.4m in its third weekend. Protagonist Pictures handles international sales.
Yorgos Lanthimos' surreal drama The Lobster – another Protagonist international sales title – climbed seven places to number 11 via A24 after expanding by 92 sites to 116 in its third weekend, grossing $751,000 for $1.6m.
Combined three-day box office for the top 12 reached $158.8m and drove a 22.2% climb against last weekend, and a 17.4% gain on the $131.1m comparable session in 2015 when San Andreas opened at number one on $54.6m through Warner Bros.
The studios will report four-day grosses on holiday Monday.
This week's wide release are: Teenage Mutant Ninja Turtles: Out Of The Shadows through Paramount; comedy Popstar: Never Stop Stopping via Universal; and romance Me Before You through Warner Bros.
Confirmed top 10 North America May 27-30, 2016
Film (Dist) / Conf wkd gross / Conf total to date
1 (-) X-Men: Apocalypse (Fox) Fox International $79.8m –
2 (-) Alice Through The Looking Glass (Buena Vista) Walt Disney Studios Motion Pictures International $33.5m –
3 (1) The Angry Birds Movie (Sony) Sony Pictures Releasing International $24.6m $72.2m
4 (2) Captain America: Civil War (Buena Vista) Walt Disney Studios Motion Pictures International $20m $377.5m
5 (3) Neighbors 2: Sorority Rising (Universal) Universal Pictures International $11.4m $40.7m
6 (5) The Jungle Book (Buena Vista) Walt Disney Studios Motion Pictures International $9.5m $341m
7 (4) The Nice Guys (Warner Bros) Bloom $8.3m $23.6m
8 (6) Money Monster (TriStar) Sony Pictures Releasing International $5.6m $35.3m
9 (14) Love & Friendship (Roadside Attractions) Protagonist Pictures $3.2m $4.1m
10 (8) Zootopia (Buena Vista) Walt Disney Studios Motion Pictures International $1.1m $336.2m
Confirmed top 10 North America May 27-29, 2016
Film (Dist) / Conf wkd gross / Conf total to date
1 (-) X-Men: Apocalypse (Fox) Fox International $65.8m –
2 (-) Alice Through The Looking Glass (Buena Vista) Walt Disney Studios Motion Pictures International $26.9m –
3 (1) The Angry Birds Movie (Sony) Sony Pictures Releasing International $18.8m $66.4m
4 (2) Captain America: Civil War (Buena Vista) Walt Disney Studios Motion Pictures International $15.4m $372.9m
5 (3) Neighbors 2: Sorority Rising (Universal) Universal Pictures International $9.4m $38.6m
6 (5) The Jungle Book (Buena Vista) Walt Disney Studios Motion Pictures International $7.1m $338.6m
7 (4) The Nice Guys (Warner Bros) Bloom $6.5m $21.9m
8 (6) Money Monster (TriStar) Sony Pictures Releasing International $4.3m $33.9m
9 (14) Love & Friendship (Roadside Attractions) Protagonist Pictures $2.4m $3.4m
10 (8) Zootopia (Buena Vista) Walt Disney Studios Motion Pictures International $801,747 $335.8m