MARCH 7 UPDATE: Disney's latest family film delivered the biggest three-day opening for Walt Disney Animation Studios on a confirmed $75.1m.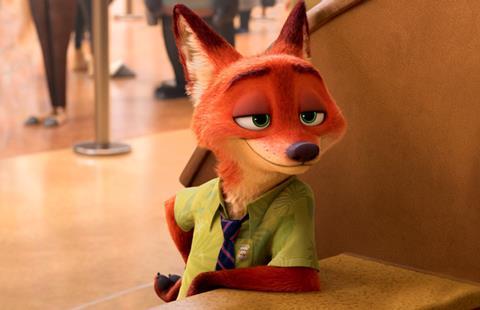 The result beats the $67.4m three-day portion of Frozen's $93.6m five-day 2013 Thanksgiving holiday debut.
Zootopia generated $5.2m on 366 North American IMAX screens for the large-screen company's second best animated debut behind Toy Story 3's $8.4m.
Millennium Films' thriller sequel London Has Fallen starring Gerard Butler opened at number two on $21.6m from 3,490 theatres. The result does not compare well to the $30.4m number two debut of Olympus Has Fallen in 3,094 theatres almost three years ago.
Paramount's Tina Fey comedy Whiskey Tango Foxtrot scored a dismal number four debut on $7.4m from 2,374 theatres.
Another Gerard Butler film, Lionsgate's Gods Of Egypt, fell three places to number five in its second session on $5.2m for $23m.
Fox's The Revenant – winner of three Academy Awards last weekend including best lead actor for Leo DiCaprio and best director – climbed two places to number eight in its eleventh session on $3.4m or $176.1m despite withdrawing from 157 to 1,488 sites.
Best picture Oscar winner Spotlight surged 140% and seven places to number 14 through Open Road Films after expanding by 542 theatres to 1,227 and grossing $1.8m for $41.6m in the 18th weekend.
Horror tale The Witch at number 10 has grossed $20.9m after three sessions through A24. Stablemate Room also capitalised on Brie Larson's best lead actress Oscar triumph and climbed three places to number 20 in the 21st sessions after expanding by 35 into 565 sites and adding $461,000 to $14.2m.
Broad Green Pictures opened Terrence Malick's ensemble drama Knight Of Cups with Christian Bale, Cate Blanchett and Natalie Portman on $60,551 from four sites.
Overall box office for the top 12 films amassed $146.9m and gained 52.3% on the traditionally slow Oscar weekend last week and 46.7% on the comparable session in 2015.
This week's wide releases are: Paramount thriller 10 Cloverfield Lane; starring Mary Elizabeth Winstead and John Goodman; and Columbia Pictures comedy The Brothers Grimsby with Sacha Baron Cohen and Mark Strong.
Confirmed top 10 North America January February March 4-6, 2016
Film (Dist) / Conf wkd gross / Conf total to date
1 (-) Zootopia (Buena Vista) Walt Disney Studios Motion Pictures International $75.1m –
2 (-) London Has Fallen (Focus Features) Nu Image $21.6m –
3 (1) Deadpool (Fox) Fox International $16.7m $311.5m
4 (-) Whiskey Tango Foxtrot (Paramount) Paramount Pictures International $7.4m –
5 (2) Gods Of Egypt (Lionsgate-Summit) Lionsgate International $5.2m $23m
6 (4) Risen (Columbia Pictures (Sony Pictures Releasing International) $3.9m $28.7m
7 (3) Kung Fu Panda 3 (Fox-DreamWorks) Fox International $3.6m $133.9m
8 (10) The Revenant (Fox) Fox International $3.4m $176.1m
9 (6) Eddie The Eagle (Fox) Fox International $3.1m $10.9m
10 (7) The Witch (A24) Universal Pictures International $2.5m $20.9m