Breaking Dawn easily on top, Arthur Christmas posts consecutive week-on-week increase.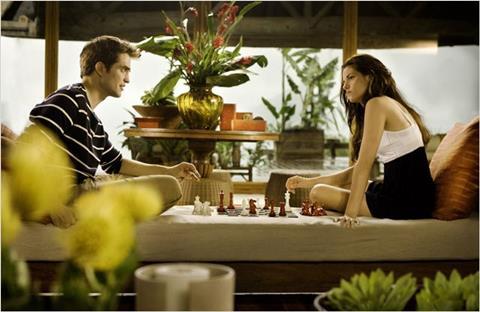 Twilight Saga: Breaking Dawn took another $7.1m (£4.6m) from 546 sites (resulting in an excellent screen average of $12,962/£8,379) over its second weekend for $36.2m (£23.3m) cumulative.
The fourth in the franchise (released by eOne) is already the seventh biggest film released in the UK this year and outscored the second weekend box offices of previous two instalments Twilight: Eclipse on $5.3m (£3.4m) and Twilight: New Moon on $6.7m (£4.3m).
Arthur Christmas continued to score well, taking a further $3.9m (£2.5m) from 474 screens for $12.5m (£8m) and a strong screen average of $8,245 (£5,330). In its third week the film posted a 9% week-on-week box office improvement, the second consecutive time it has improved its take. This boost went hand in hand with a 3% increase in locations.
So far, Sony has proved those sceptical of the film's early release strategy wrong with the film gaining momentum over its three weeks. This is in large part thanks to the lack of challengers for its target audience. This week the competition hots up with Hugo and Happy Feet Two entering the fray.
My Week With Marilyn saw the best returns of an unimpressive batch of newcomers, with Entertainment's romance-drama starring Michelle Williams as Marilyn Monroe taking $1.2m (£749,819) from a huge 397 screens at a mediocre opening average of $2,922 (£1,889).
Lionsgate's 50/50 was best of the rest, shaving $634,658 (£410,251) from 228 locations at an average of $2,784 (£1,799). However, the total was the bankable Seth Rogen's second-weakest UK opening behind 2009 comedy Observe and Report.
Warner Bros' Dream House and Sony's Moneyball both failed to ignite on $470,658 (£304,239) and $357,122 (230,848) respectively while Eros' Desi Boyz scored the week's third-best screen average of $7,253 (£4,688) after scoring $377,146 (£243,792) from only 52 screens. Artificial Eye's release of Terence Davies' The Deep Blue Sea made $168,263 (£108,767) from 53 screens.
This week sees saturation releases for Universal's The Thing, Warner Bros' Happy Feet Two, Entertainment's Hugo and a wide release for Fox's The Big Year.