Busan International Film Festival's Asian Project Market will once again bring together the continent's film-makers with major players from the European industry.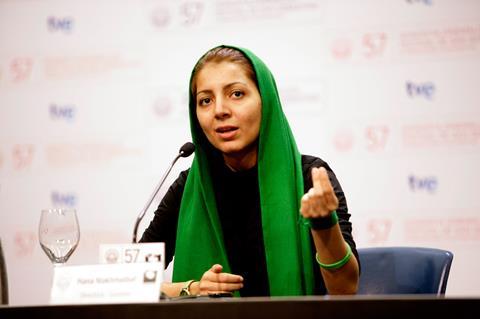 Scroll down for APM selection list
In its 18th edition, Busan's Asian Project Market (APM) is this year showcasing 30 projects from 15 countries, including Hana Makhmalbaf's London Stories, Yu Lik Wai's China-France-Hong Kong co-production A Mean To An End and Yang Ik-june's Gabsooni & Soo-ah.
Jay Jeon, director of the Asian Film Market, says, "This year, a lot of projects where you can see the next generation of directors were selected for the APM. Not just the directors, but the projects themselves are youthful and promising."
One such film-maker is Indonesian director Mouly Surya, who returns with Marlina The Murderer In Four Acts after previously participating in the 2010 APM with What They Don't Talk About When They Talk About Love. That film went on to screen in Sundance's World Cinema Dramatic Competition, and to win the NETPAC Award at Rotterdam.
"For me, [APM is about] networking, first and foremost," says Surya. "It is where Asian projects get the limelight, as the people who are coming are people who are looking for Asian projects. Then, it is a film school in itself. I got a new understanding about my own project," she explains of the process of pitching and getting feedback at around 10 meetings per day at APM.
Another returning face is Isabelle Glachant, producer of Wang Xiaoshuai's 11 Flowers, which won the Pusan Award in 2007 at the project market (then called the Pusan Promotion Plan). This year, Glachant is bringing Eddie Cahyono's Indonesian project The Wasted Land to APM, and is also attached to A Mean To An End.
"APM is a great event to launch a project, to test the water with international industry representatives," says Glachant. "In Busan, you have, during a few days, European and Asian major players that you meet in one-on-one sessions, or catch at night in the many parties where everybody continues networking.
"APM also helps a lot as they bring advice to new players and play the role of a matchmaker. They are a bridge between Europe and Asia, bringing the most international companies from Europe to Asian talents.
"Those European companies, very Asia-friendly, come to Busan not just because of APM, but also because of the strong Asian selection of Busan International Film Festival and because of the film market," Glachant continues. "The combination of those three makes Busan a great place to be if you are a European who wants to work with Asia, or if you are an Asian who wants to work with Europe and Asia."
Speaking about this year's market attendees, Jeon says, "We expected the China boom to continue from last year but MERS [Middle East Respiratory Syndrome] reared its head right before Asian Film Market registrations, and then the China shock that shook the global economy happened, so we are expecting fewer Chinese companies. Fortunately, the initiatives we've started this year, the E-IP Market and the Asian Casting Market, look to keep the number of participants from China from decreasing. We also have participants from Nepal and Paraguay for the first time, and can say this is a very encouraging result."
The Asian Film Market runs from October 3-6, with APM being held on October 4-6, at BEXCO in Busan, South Korea.
Asian Project Market 2015 Selection List
Acetylene Love (Phil)
Dir Adolfo Borinaga Alix Jr
Prod Lou Gopez
The Adventure Of Hanmeimei (Chi-Kor)
Dir Kim Junghan
Prod Ahn Dongkyu
Agra (Ind-Fr)
Dir-prod Kanu Behl
Prod William Jehannin
Another Day In Baghdad (Iraq-UK-Fr-Ger)
Dir Maysoon Pachachi
Prod Talal Al-Muhanna
Birdshot (Phil-Qat)
Dir Mikhail Red
Prod Pamela L Reyes
Bombay Rose (Ind-Fr)
Dir Gitanjali Rao
Prod Clara Mahieu
Brother (Kor)
Dir Kim Tae-yong
Prod Kim Jeong-min
Cha Cha Cha (Viet)
Dir Do Quoc Trung
Prods Phan Dang Di, Tran Thi Bich Ngoc
Gabsooni & Soo-ah (Kor)
Dir Yang Ik-june
Prod Kim Joori
Glooming Flower (Kor)
Dir Jeon Gyesoo
Prod Jang Sojung
Ireesha, A Daughter Of The Elf King (Kor)
Dir Chang Hyung Yun
Prod Cho Young-kag
London Stories (UK)
Dir Hana Makhmalbaf
Prod Maysam Makhmalbaf
The Lottery Boy (Viet)
Dir Tran Dung Thanh Huy
Prods Nguyen Hoang Diep, Nguyen Trinh Hoan
Manto (Ind)
Dir-prod Nandita Das
Marlina The Murderer In Four Acts (Indo)
Dir Mouly Surya
Prods Rama Adi, Fauzan Zidni
A Mean To An End (Chi-Fr-HK)
Dir/prod Yu Lik Wai
Prod Francois Da Silva
No One Else (Jap)
Dir Iguchi Nami
Prod Tanaka Miyuki
Photographer's Boy (Kor)
Dir-prod Jeon Soo-Il
Prod Ku Jae-Jun
The Princess Spring (Tur-Fr)
Dirs/prods Cagla Zencirci, Guillaume Giovanetti
Second Breath (Kor)
Dir Min Yongkeun
Prod Shim Hyunwoo
Silent Mist (Chi-Fr)
Dir Zhang Miaoyan
Prod Guillaume De Seille
Smoke On The Water (Jap)
Dir Tomina Tetsuya
Prod Hatanaka Mina
Sunrise (Kazak)
Dir Adilkhan Yerzhanov
Prod Olga Khlasheva
Swallow (Kor)
Dir Leesong Hee-il
Prod Kim Ilkwon
The Sweet Requiem (Ind-UK)
Dirs Ritu Sarin, Tenzing Sonam
Prod Ritu Sarin
Tuition (Sing)
Dir Lei Yuan Bin
Prod Tan Bee Thiam
Unlosable (Tai)
Dir CJ Wang
Prod Michelle Yeh
Venice (Georgia)
Dir/prod Rusudan Chkonia
Prod Vladimer Katcharava
The Wasted Land (Indo)
Dir Eddie Cahyono
Prods Ifa Isfansyah, Isabelle Glachant
Yellow Apples (Iran)
Dir Shahram Mokri
Prod Mohammad Atebbai