The full line-up of world premieres playing in Cannes at 70 screenings at the 70th Cannes Film Festival with details on each title including sales contacts.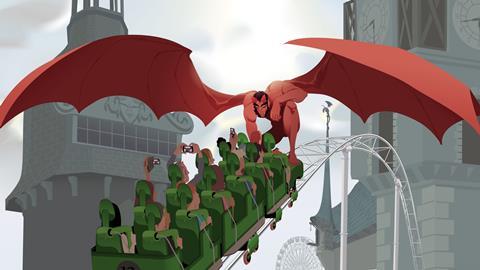 Zombillénium (Fr-Bel, pictured)
Dirs: Arthur de Pins, Alexis Ducord
This animation is based on comic books by co-director de Pins, and is set in a Halloween theme park where monsters hide in plain sight. When a human called Hector threatens to disclose their real identities, the manager is forced to hire him. Zombillénium is the filmmakers' feature debut; de Pins won the audience award at Annecy for his 2004 animated short The Crab Revolution. Produced by Maybe Movies in France and Belvision in Belgium.
Contact Urban Distribution International sales@urbangroup.biz
Golden Years (Fr)
Dir: André Téchiné
Veteran French filmmaker Téchiné has been a Cannes stalwart in a career that stretches back nearly five decades. He appeared in the first ever Directors' Fortnight line-up with his 1969 feature debut, Paulina Is Leaving. Since then, he has screened twice more in Directors' Fortnight, twice in Un Certain Regard, and six times in Competition, scoring the best director prize in 1985 for Rendez-vous. Golden Years, his 22nd feature, is set around the First World War and follows a deserter who disguises himself as a woman with the help of his wife. The film stars Stranger By The Lake's Pierre Deladonchamps and Rust And Bone's Céline Sallette, and is produced by ARP Sélection in France.
Contact Celluloid Dreams info@celluloid-dreams.com
Djam (Fr-Gr-Tur)
Dir: Tony Gatlif
Algerian-born French filmmaker Gatlif returns to Cannes with Djam, which follows a young Greek woman sent to Istanbul by her uncle to find an engine part for their broken boat. There she meets a French humanitarian volunteer, whom she takes under her wing. Gatlif won the Un Certain Regard award for his documentary Latcho Drom in 1993, as well as the best director prize in 2004 Competition for drama Exiles. Djam is a France-Greece-Turkey co-production, with Princes Production in France and Guverte Film in Turkey.
Contact Bérénice Vincent, Les Films du Losange b.vincent@filmsdulosange.fr
Filmworker (US)
Dir: Tony Zierra
Zierra's documentary tells the story of Leon Vitali, a young actor who appeared as Lord Bullingdon in Stanley Kubrick's 1975 epic Barry Lyndon before deciding to give up his career to become Kubrick's right-hand man. Vitali, who helped the legendary director behind the scenes for more than two decades, candidly reveals details of their complex relationship and the creative processes of one of cinema's most brilliant yet demanding figures. Filmworker is produced by True Studio Media and Elizabeth Yoffe.
Contact Cinetic Media sales@cineticmedia.com
Screen's Cannes guides: