As Cannes approaches, Screen casts its eye back at the winners and losers of 2013 according to our jury of critics.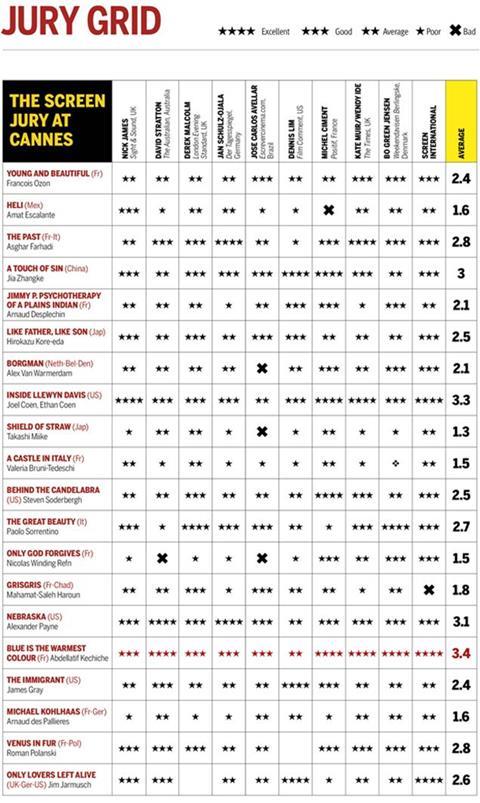 Each year, Screen International's Jury Grid collates the verdicts of an international panel of critics to provide an impressively reliable prophecy of the year's top prizes.
In 2013, the Screen International's jury grid of critics were in complete agreement with the Cannes jury, and gave their top spot to Abdellatif Kechiche's coming-of-age romance Blue Is The Warmest Colour.
The film, which the jury grid gave 3.4 out of 4, went on to win both the Palme d'Or and the FIPRESCI prize. It also made Cannes history by being the first film to be officially awarded the festival's top prize for the work of its leading actors - Adèle Exarchopoulos and Léa Seydoux – alongside director Kechiche.
In second place, with 3.3, was Joel and Ethan Coen's black comedy Inside Llewyn Davis. It was the Coen brothers' eighth film to play in Competition at Cannes and won the Grand Prize of the Jury, bringing the pair's total number of prizes up to five.
Next up was Alexander Payne's poetic road movie, Nebraska, with 3.1 out of 4. Payne's leading man Bruce Dern won best actor for his portrayal of drunken, curmudgeonly man-on-a-mission.
Other favourites with the Jury Grid critics were Jia Zhangke's Chinese drama A Touch of Sin, which scored 3 and picked up the award for best screenplay and Japan's Hirokazu Kore-eda, who was in Competition for the fourth time with Like Father, Like Son, which scored 2.5 and won both the Jury Prize and a special mention from the Ecumenical Jury.
However, the Jury Grid was significantly less keen on Nicolas Winding Refn's ultra-violent thriller Only God Forgives, awarding it only 1.5 out of 4. He will have another chance to win them over this year though, with evocative psycho-drama The Neon Demon. Refn is the only director in 2013's line-up that is also in Competition this year.
More violence was to be found in drama Heli by Mexico's Amat Escalante. The film attracted widespread criticism for its explicitly graphic torture-scene finale and failed to impress Screen's jury of critics, which gave it only 1.6. Nevertheless, the Cannes jury, chaired by Steven Spielberg, went against the grain and awarded Escalante best director.
Elsewhere, the line-up boasted big names including Paolo Sorrentino with The Great Beauty, which got 2.7 from the critics and went on to win the Oscar for best foreign film.
The jury gave Arnauld Desplechin 2.1 for Jimmy P - the French director's fifth film in Competition, and gave Steven Soderbergh's Liberace biopic Behind the Candelabra 2.5 out of 4.