Amazon executives discussed sales companies, emerging filmmakers, women directors and disruption.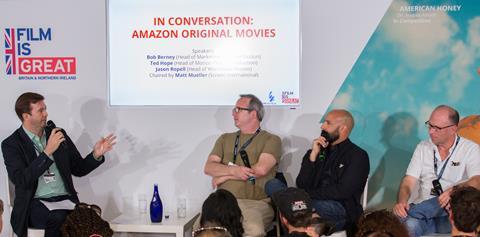 With five films in Official Selection and multiple splashy pre-buys Amazon has been the talk of the festival and market in Cannes this year.
In a wide ranging session yesterday key executives from the company outlined strategy and vision for the retail giant's rapidly expanding film business.
Jason Ropell, Amazon's head of worldwide film, told a packed industry session at the UK pavilion that Amazon sees the theatrical experience as vital to its strategy:
"Dispruption can be overplayed," said Ropell. "We're not particularly disruptive to the theatrical eco-system. We really believe in the theatrical experience and the romance of the experience. It is an essential component of film. Our customers believe that too. Romance and commercial viability don't need to be mutually exclusive."
Speaking about evolving distribution models, Ted Hope, Amazon Original Movies' head of production, described sales companies as "critical" to the film industry but acknowledged that increasingly there are different ways to get films financed.
"The world has changed. There are different buyers and different platforms. We have relied on a market-based approach to bring films to buyers. But along the way the internet happened."
"One of the main challenges is that the industry gets stuck in thinking things are one way. It becomes a destiny you can't escape," he said
"There's a common belief that you can bring a film to a market like Cannes and you can have a feeding frenzy and get your highest number. That's generally true for one or two movies."
"Last year, there were a lot of promos at the festival and we bought two of them. This year there's not so many and we haven't bought any. Would I have loved to come here to buy two promos that we could position to show here next year? You better believe it."
Amazon's market activity this year included a pre-buy of Lynne Ramsay's next project You Were Never Really Here while it was also reported that it has boarded Mike Leigh's Peterloo.
It is financing films with budgets ranging from $5-$25m+.
Hope told the audience that the studio is looking to work with directors with "unique" and "original" voices, including emerging filmmakers who he said will play a key role in the company's strategy: "We jumped in right away with Ben Dickinson and Creative Control," said Hope.
"We totally believe in the emerging filmmaker space. There are a few down the pipe. It's a critical area. Customers and audiences want that."
Hope praised the shorts work (including the well-received Spider) of stuntman turned director Nash Edgerton, with whom Amazon is now working on a feature.
Following the observation from an audience-member that the current slate lacks women directors, he told industry the Amazon line-up would be a diverse one: "If you delved into our slate you would see by far the greatest proportional representation of any studio. If you know me and the folks I work with you'll see that."
Ropell also discussed the outfit's distribution strategy in the UK: "Currently we are in UK, Germany and Japan with our video platform. We're evaluating different models for ensuring that the films we finance and own rights to are seen by our customers there.
"In the UK, we're having discussions about selling all rights in the territory but reserving the rights for our platform. In lieue of that reservation we'll provide the all rights buyer or their customer with a rate card indexed to local box office. That will drive a desire on their part to invest in PA to drive up the theatrical revenue which would then be reflected in the rate card. That would then reflect the value we put on that film when it hits our window."