Sevigny makes her directorial debut with Kitty, a short that plays in Critics' Week at this year's Cannes.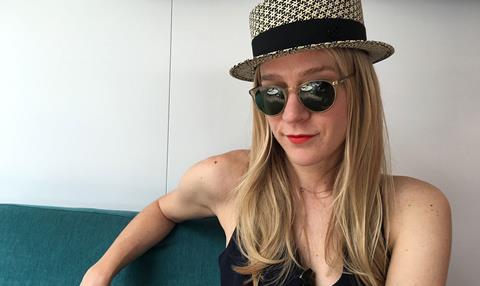 Following a nine year-break from Cannes, Chloe Sevigny returns to the festival in the director's chair with Kitty, a 15-minute short adapted from a story by Paul Bowles that follows a dreamy young girl's transformation into a cat.
While the prolific actress has ventured into other arenas, including fashion, she insists her heart still lies where her career began: in the world of independent cinema.
Before the premiere of Kitty, which is one of three short films closing Critics Week today (May 19), Sevigny spoke to Screen.
Why this story for your directorial debut?
When I first read the story in my early 20s, it had all these elements – childhood fantasy, transformation, a mother not recognising something in her daughter, the daughter thinking she is something she isn't – that made it such a rich, sad and mysterious story. I wanted to explore that.
Your leads are a young girl and a young cat. What was the casting process like?
I hired Laray Mayfield, who has cast me in many things in my career including David Fincher's Zodiac. We did a general casting call. I needed a little girl but she needed to be over seven years old to be on set. When I met Edie [Yvonne], I fell in love with her. She had her hair down to her waist with big blue eyes. There was a stillness to her, she just seemed innately like the character.
There are so many challenges with cats. First of all, they are very expensive. So that took a lot out of our budget. And a lot of cat trainers can be weird – but we found this great trainer who loved the script and who has a lot of star cats that get a lot of work [in film and television]. She wanted us to break down every action, because she has different cats for almost every action. We ended up working with five cats in total. We were all so frightened how they might perform, especially since the film was shot on 35mm and we couldn't see the footage right away. But they came to set and really churned it out.
Your creative team on Kitty included DoP Seamus McGarvey, costume designer Jennifer Johnson and production designer Chilly Nathan. How did you line up such a strong bunch?
The first person to come on board was Seamus. We first worked together on A Map Of The World. I wanted to have someone there who I trusted and had a friendship with; he's also someone who has a great handle on special effects. A lot of the other people came on board because they responded to the material. I knew I wanted to hire as many female department heads as possible.
There has been a lot of discussion about female film-makers here in Cannes. What is your take given you are now one yourself?
I am only directing a short so I feel like I am just at the beginning. But it's something I have always wanted to do. For me, it was important to surround myself with as many women as possible – my producers, my department heads and my first AD who I have worked with before. I knew I could be emotional around them and not be judged. It's important not to pretend to be something I wasn't or to hide the emotions I was feeling.
I have been saying this a lot – male directors are celebrated when they are eccentric. But if you're a woman and eccentric, you can't get work in this industry. We are labelled as crazy. I have seen this happen time and time again. It's the double standard, and it is really disturbing to me.
Which female film-makers have inspired you?
Lynne Ramsay's Ratcatcher was a big influence for Kitty – I loved what she didn't show. I also learned a lot from Kimberly Peirce [Boys Don't Cry] – how she talked to me as an actor is the way I want to talk to my actors. It has really stuck with me how invested she was in the characters, and how open she was.
You have had a great career in television, including Big Love and American Horror Story. How does it feel venturing back into independent cinema?
As much as I love TV, it's more of a writer's medium. Not that directors don't bring a lot to it. But I have worked in it for a while, and I have had a lot of success, I've learned so much, grown so much. But I want to make my way back to film, it's my first love.
Film feels like a novel and TV more like a magazine. Film has more of a permanence. I would like to direct a short or two, and experiment a bit more with the camera and continue to find my voice because I have such respect for the process. And then hopefully work on a feature. That is the plan of attack – get it girl!
What can you tell us about your upcoming film projects?
I can't talk about Lizzie Borden yet. We are still trying to get the money. But I have just worked with Tomas Alfredson on The Snowman. He directed Let The Right One In which was a big inspiration for Kitty. He gave me a real love for film-makers again.