Writer-director Shahrbanoo Sadat and producer Katja Adomeit talk to Wendy Mitchell about the challenges involved in making the Afghanistan-set drama Wolf And Sheep, which is premiering here in Directors' Fortnight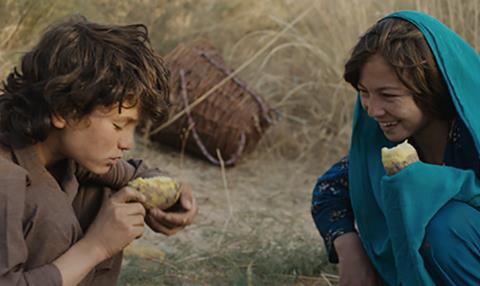 To tell a beautifully simple story on screen, the team behind Wolf And Sheep faced a hugely complex off-screen challenge. The debut feature of Shahrbanoo Sadat is inspired by the isolated village in central Afghanistan where she grew up and tells the story of the young boys and girls who act as shepherds for the rural community.
One 11-year-old girl with sight problems is an outsider in the story, which uses the folktales of the local community to add a touch of magical realism to proceedings. "It's about this region and how people see life," explains Sadat, who now splits her time between Kabul and Copenhagen.
"Most films are blind to what this country is really like." Shahrbanoo Sadat
The 25-year-old film-maker is frustrated with how most films from — and about — Afghanistan portray life in the country. "I am the most critical person about films from Afghanistan," she says. "They give this one picture to the entire world. They are blind to what this country is really like."
The production could not shoot in central Afghanistan for safety reasons — not least because the lead crew was all female — so they scouted in Tajikistan for 14 days before finding a valley convincing enough to satisfy the details-obsessed Sabat.
"We built a complete Afghan village and flew in the Afghan villagers," says producer Katja Adomeit of Adomeit Film. The 38 villagers who made up the non-professional cast had to travel through a Taliban stronghold to reach Kabul and fly to Tajikistan. Many had never before left the village, and certainly none had any acting experience.
The shoot itself was anything but straightforward: equipment from France arrived a week late; the 37-strong crew were sick after drinking the water in the remote area; and the cast and crew stayed in tents or shared an old guesthouse, where the production had to buy the beds.
"Every single thing was so hard," says Sadat. "I had to take all my creativity to make it look like Afghanistan."
Sadat's story
The film-maker was born in 1990 in Tehran to Afghan refugee parents. When she was 11, her family moved from the bustling Iranian capital to a remote village in Afghanistan that had no electricity, no phones and no school that girls could attend (Sadat eventually did go back to school, walking three hours each way).
It was a huge culture shock. "It was a desert," she says. "There was nothing, just high mountains, dust, people I didn't know. It was completely crazy." Vision-impaired herself, Sadat was ostracised for wearing her spectacles so stopped using them for several years.
After seven years in the village, she moved to Kabul to finish school and attended the French documentary workshop Ateliers Varan, where she made her first short fiction, Vice Versa One, which was selected for Directors' Fortnight at Cannes in 2011. In 2010, aged just 20, she was selected for Cannes' Cinéfondation Residence. Sadat says of the workshop and later being at the Paris Residence: "I learned the basics of cinema. I started to watch good films. I didn't have that chance before."
Adomeit, a former Screen Future Leader whose credits include Force Majeure (as co-producer), was introduced to Sadat through CPH:DOX's CPH:LAB in 2012 and found herself inspired by Sadat's story and how it came alive in this fictional film. "She can write in such a real way and she can direct the kids in such a real way," says the German-born, Copenhagen-based producer.
The film's young cast give touchingly realistic portrayals. Sadat never gave them a script, instead explaining each scene to them about five minutes before they started to shoot. Sometimes, she would let the camera roll for an hour on a single shot while she gave directions from behind the camera. "They put so much of themselves into it," she says. "They take it as a game. The rules are that they shouldn't talk to me, they shouldn't say anything they don't say in real life and they shouldn't look at the camera."
As if working with 80-plus sheep, cows, donkeys and goats wasn't challenging enough, there were 21 international financiers and partners for Adomeit to manage — from Eurimages and MEDIA to the Danish Film Institute's New Danish Screen funding strand. The total budget was about $920,000 (€800,000). The co-producers are La Fabrica Nocturna Productions (France), Sadat's Wolf Pictures (Afghanistan) and Zentropa Sweden. Alpha Violet is handling sales and the film has its world premiere tomorrow in Directors' Fortnight.
Adomeit and Sadat are planning a 2017 shoot for her next film, based on the diary of her best friend, who was sent from a small Afghan village to a Russian orphanage in Kabul. For now, Sadat is happy that an Afghan-set film is being shown in Cannes. "Maybe it will give another view of Afghan cinema and will inspire other film-makers there."